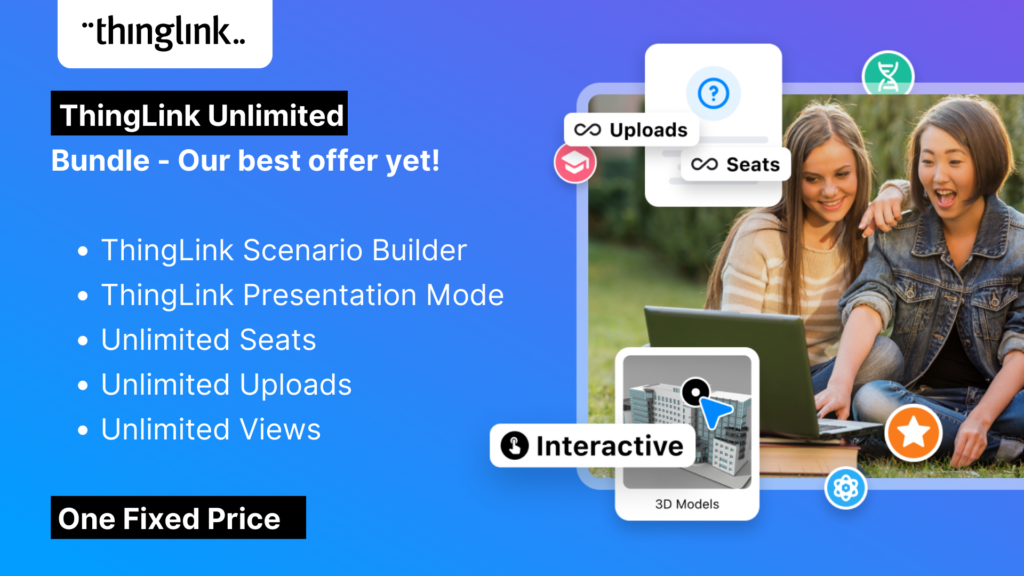 Education Pricing Offer: ThingLink Unlimited
Our Best Pricing Offer to Date!
We've listened to educators who said they wanted to enable all students and staff to create with ThingLink but were limited by numbers of seats, uploads or views, they also said they wanted access to our latest ThingLink products. With that in mind we've created a new ThingLink Unlimited Bundle Offer for Education.
The ThingLink Unlimited Bundle includes all premium features in one package with unlimited use for your school or organization. Don't miss this opportunity to empower your students and staff with the best interactive platform for immersive learning content development. The Unlimited Bundle includes unlimited uploads, views and seats at a fixed price for one year. Future years are price protected at the same price.
Included in the Unlimited Bundle:
ThingLink Multimedia Editor
ThingLink Scenario Builder
New Unity plugin for sharing 3D spaces
Certified ThingLink Creator Course
Unlimited views, seats and uploads
Dedicated support for setup and data privacy check
Meet a product expert
If you'd like to learn more about what ThingLink can offer to your school, college or university, schedule an online meeting with one of our product experts below.
K-12 Schools offer, ideal for a whole school approach
Easily create professional-looking interactive visual experiences to improve engagement and learning results. Collaborate and share with your class, school or for the wider public.
The benefits ThingLink will bring to your school:
Make your school accessible online – ThingLink's Immersive Reader integration makes visual communication materials accessible in multiple languages.
Give students access to create individual and group projects that teach digital skills while creating a portfolio of work.
Allow teachers and staff to collaborate while creating engaging learning materials.
Help your students develop new skills and capabilities in real-world environments with virtual tours and branched learning scenarios.
"It is always a pleasure working with your awesome tool. It opens new levels in educational learning."
Christian David, Hanns-Seidel-Gymnasium Hösbach, Germany
Colleges & Universities offer, ideal for a whole campus
The fastest and easiest way to create immersive, interactive experiences for learning and communication.
Use ThingLink in your college or university for:
Campus tours and introductions: Keep your campus open for students and their parents. Virtual campus tours will increase campus visits and drive new admissions.
Virtual tours, field trips, simulations, and escape rooms: Give students an opportunity to develop new skills in virtual environments using simulations and branched scenarios.
Interactive videos and other visual learning materials that benefit from multi-modal or accessible formats. Empower staff and students with essential tools for interactive multimedia creation and research in immersive environments.
Technical education: Interactive 3D models with text and voice annotations
Helping students graduate faster with better grades. Research shows that interactive learning materials improve student performance and motivation.
"What we loved most about the tool was that you don't need to be a developer to build tours; you can build engaging interactions really easily. ThingLink offered us a quick, easy solution to a really big problem".
Wade Holdraker, Rochester Medical School
Meet a product expert
If you'd like to learn more about what ThingLink can offer to your school, college or university, schedule an online meeting with one of our product experts below.