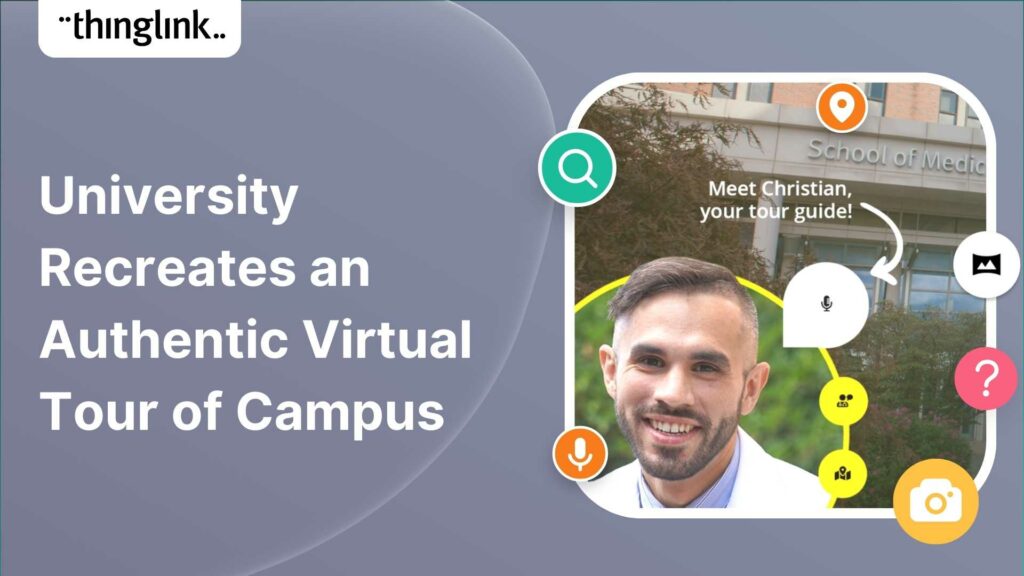 University Recreates an Authentic Virtual Tour of Campus
During the pandemic the University of Rochester realised that their popular in-person tours couldn't take place – which was a serious blow to student recruitment. The website team had research which proved that prospective students really valued these in-person tours. Visits give them an insight into living and studying at Rochester. Most importantly, students often made their choice to apply to or accept a place at Rochester on the basis of connections made with current students during a campus visit. As a result, the university created a virtual tour to solve the problem.
Meet a product expert
If you'd like to learn more about what ThingLink can offer to your school or university, you can schedule an online meeting with one of our product experts below.
Authentic student guides to the virtual tour
The University of Rochester Medical Center is one of the foremost academic medical centers in the US, with 96 MD and PhD students admitted to its medical school annually. It includes 6 regional hospitals, including one with 866 bed spaces, and employs 3000 scientific researchers. But besides their impressive facilities, the asset that really sells Rochester as a great place to live and study is the people. Current undergraduates are passionate and knowledgeable about the medical school, and the most powerful asset in recruiting high quality students.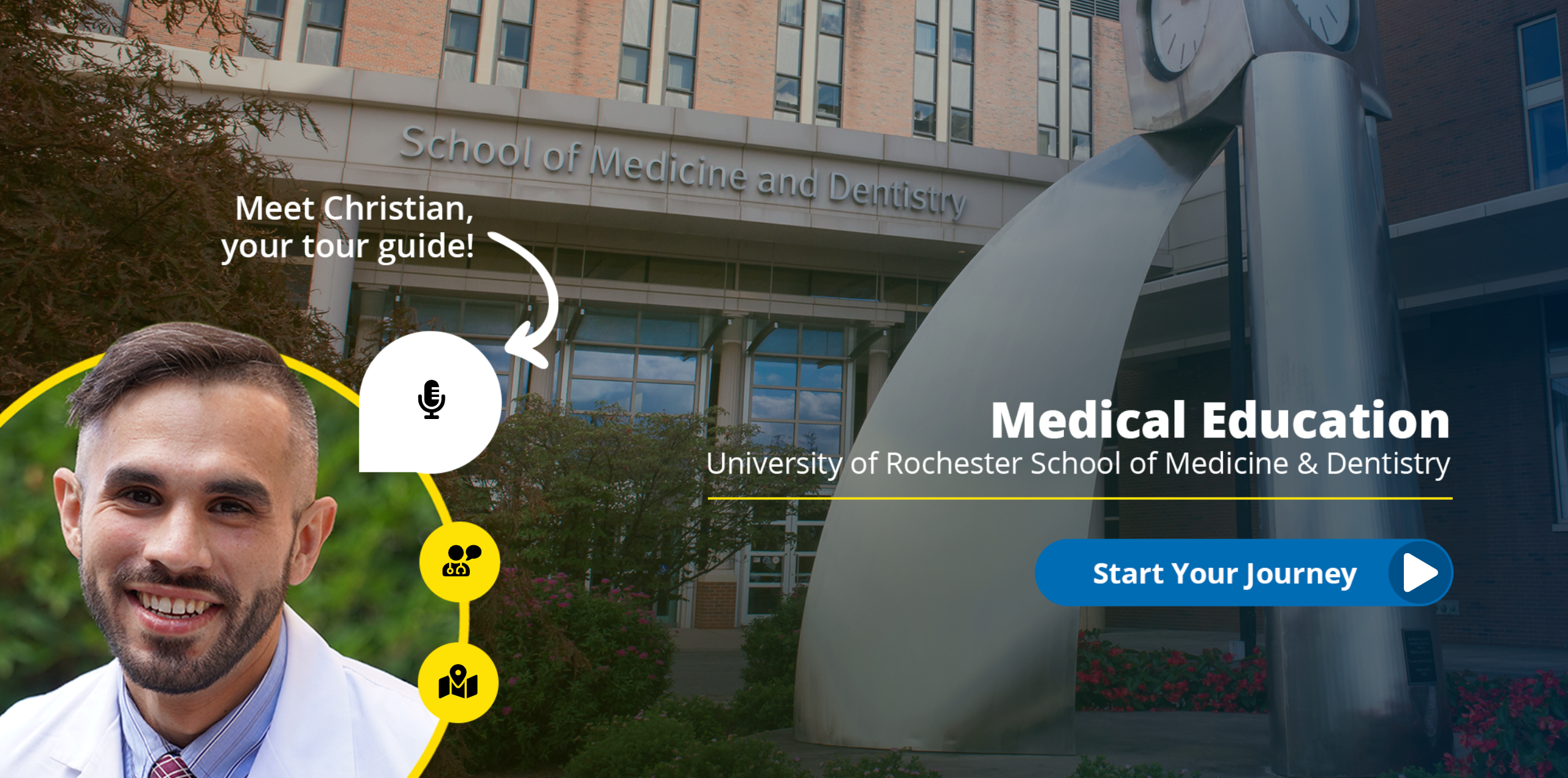 Challenge for the web team
The web team had to create a solution that was both dynamic and immersive, that showed the personality of current students as well as their world-class facilities. "We had to come as close to that in-person tour as we could – virtually" says Wade Holdraker, Assistant VP, Web Services.
It was clear that authentic student voices needed to come across in the online tours. As a result, the team decided that students should film their own pieces with GoPro cameras. Christian Griffin was one of the first to sign up to present. Christian had already hosted many of the in-person tours, so it made perfect sense for him to lead and introduce the virtual tour. His warm personality really shines through the audio on the introduction page. "That was what our virtual students craved – to have that connection" says Wade.
The Solution – the Virtual Campus Visit
An externally commissioned, bespoke campus tour would have been expensive and taken more time than the web team had available – particularly with the added complications of Covid-19. Giving the students their own cameras saved time. The project only took 2 to 3 months from start to finish. This included scripting, sourcing and collating existing resources, shooting and editing new videos and the images and putting it all together. In part the virtual campus visit was delivered so quickly because so many users were involved in its creation. Because of the ease of use of ThingLink, the web team was able to divide the project between multiple students and staff and ask them to build it out according to certain rules.
"What we loved most about the tool was that you don't need to be a developer to build tours; you can build engaging interactions really easily. We needed to deploy a tour quickly and easily and ThingLink really helped us do that. It was a quick, easy solution to a really big problem".

Wade Holdraker, Assistant VP, Web Services.
The tour is now embedded in their website and student pages. It was also emailed directly to applicants and to those who had been invited to interview.
"The possibilities are endless…."
The web team report impressive use figures as well as great feedback. And that all-important personal, authentic connection? The web team found that the tour actually did a great job of connecting people after the tours. Call to action buttons were added at the end of the tour lead visitors to the admissions site; from there they can be put in touch with current students that they can connect with.
We can use ThingLink for many more things
"We're starting to discover we can use ThingLink for so many more things…
The students, the marketing and PR department and communications team have all been inspired – the tour has sparked further ideas of ways in which ThingLink could be used. For example, GoPros have now been given to all current residents so they can create their own personal video tours for their programme pages on the website. ThingLink is used within the videos, linking each resident to their social profile to learn more about them."

Wade Holdraker, Assistant VP, Web Services
Virtual Field Trips and Virtual Labs
There are so many more applications for ThingLink for universities and colleges. Linked below are some standout case studies from the last few years from higher education.
Virtual Tours are Easy with ThingLink
We love the creative uses of ThingLink made specifically for school, classroom or campus tours. Explore some of our featured examples.
Read the full University of Rochester Case Study in a PDF format here.
Meet a product expert
If you'd like to learn more about what ThingLink can offer to your school or university, you can schedule an online meeting with one of our product experts below.