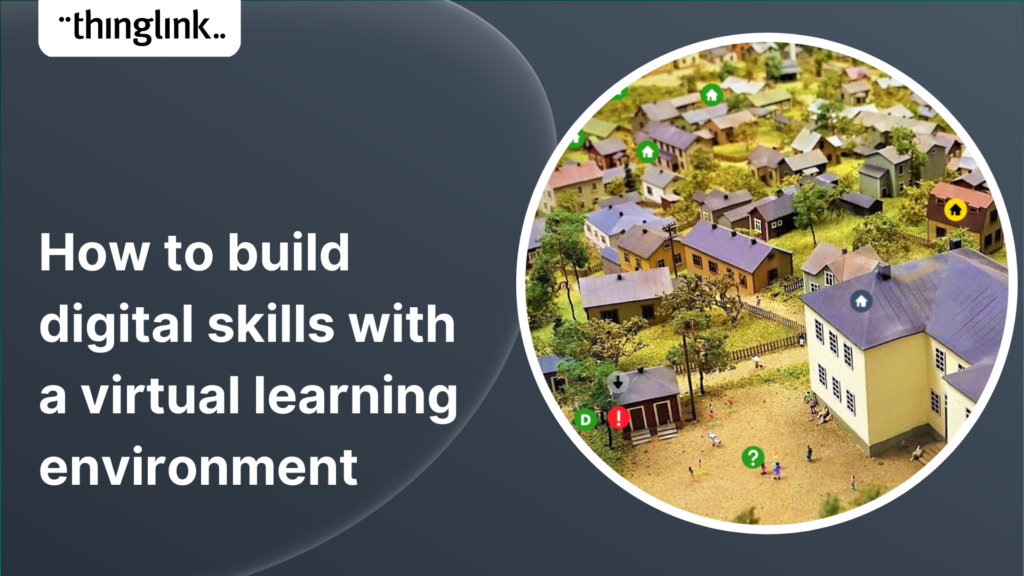 How to build digital skills with a virtual learning environment
In this case study we examine how a Finnish University used ThingLink to create a virtual learning environment (VLE) where home care professional could practice their skills.
What is meant by Virtual Learning Environment?
A virtual learning environment (VLE) is an educational technology system or platform that creates an interactive educational experience and is designed to be used as a teaching and learning tool. VLEs are also known as e-learning platforms, managed learning environments, or online learning platforms. A VLE typically contains course materials and resources, communication tools, and assessment features.
Meet a product expert
If you'd like to learn more about what ThingLink can offer to your university or organization, you can schedule an online meeting with one of our product experts below.
VLEs for care professionals
Home care workers need a wide range of digital skills in their work and play a key role in motivating the clients to use digital services. However during a busy work week, the threshold for updating skills can be high. At Tampere University of Applied Sciences TAMK in western Finland, the challenge was solved by creating an interactive Village of Homes virtual environment for learning with ThingLink, through which home care professionals can practice digital skills in real-time in a virtual space which replicates the homes of example clients. During the pandemic, the material was also widely included in social and health studies and the feedback has been excellent.
Great example of a virtual learning environment
Tampere University of Applied Sciences TAMK offers teaching in more than 40 degree programs, including sociology, welfare technology training and professional teacher training. TAMK's lecturers Nina Eskola-Salin, Sanna Keskikuru and Tony Torp decided to create a learning environment called Village of Homes ('Kotien Kylä' in Finnish) to increase the confidence and competence of home care employees to utilise digital skills in their own work.
Village of Homes was implemented in 2018-2020 as part of the DigiSkills project ('DigiTaito') funded by the European Social Fund (ESF) and the 'I can and dare' ('Minä osaan ja uskallan') training package. The target group for the project was home care professionals over the age of 40 who needed support in practicing digital skills. Another target group were the supervisors of the home care workers so that they could support their subordinates in using well-being technology.
The social and health sector is digitizing rapidly. Examples of digital skills required include remote care, remote measurement, the use of a robot as a medication dispenser, safety technology, online services, and the use of digital documents. As the population ages and the number of customers grows, digital services will help in the work of home care, when, for example, the time required for travel decreases. However, for some employees, digital skills are still weak and the threshold for the introduction of digital services feels high. If the digital services feel challenging to the caregiver, it is also difficult for him or her to recommend them to clients or motivate them to try something new.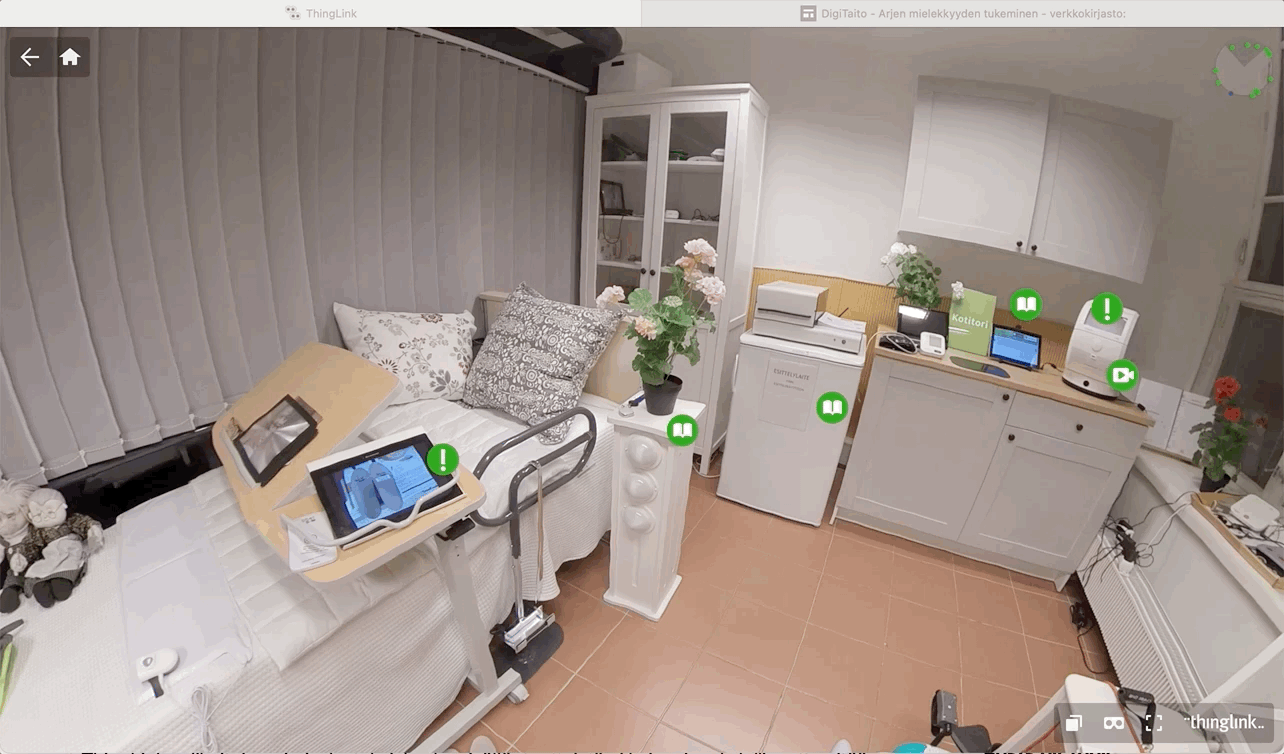 The goal for Nina, Sanna and Tony was to create an open and easily accessible learning environment where no login was required and where the learner could move at their own pace and focus on practicing digital skills that are important for their own work, at a time that suits them. From the beginning, the dream was a case-based solution where the learner could virtually visit real homes and could learn through authentic, scripted case studies. The key digital competence needs of home care and the learning paths based on them were formed through face-to-face interviews with employees and supervisors.
Create a Virtual Learning Environment in ThingLink
ThingLink was selected as the learning platform because the content creation team appreciated the opportunity to keep content updates, material development, and editing in their own hands. The creation of such a diverse and carefully considered learning environment naturally took time, as the work included, among other things, 360 filming at the home of the volunteers, as well as creating numerous learning topics as videos and interactive Thinglink images. However, using ThingLink felt smooth and creating content in a multi-professional team was inspiring and rewarding.
The team appreciated that they could embed Google Forms queries in the platform, for example. Similarly, embedding ThingLink on Google Sites felt natural. The team learned how to use ThingLink while creating the material, often testing different learning path options, and considered how navigating the learning environment would be as clear to the user as possible. The Village of Homes was created with the old Ruovesi user interface, and Nina states that with the new Saimaa user interface, creating the learning paths would have been even smoother when, for example, conditional transitions had been in use.
Village of Homes

as a learning experience
Village of Homes is an excellent example of a learning process that is designed to be user-friendly and where the learning path is built creatively. You can get started with a clear instructional video (in Finnish) that explains the use of the Village of Homes. Navigation is also supported by the use of themed cards and a map view, which makes it easy to see what you can learn in different themes and where you can access the thematic learning paths in the residents' homes. Along the thematic paths, you can learn, for example, how to assess which customers could benefit from the medication dispenser robot, watch videos instructing the use of the devices, and test your own skills with the help of embedded Interact quizzes. You can always conveniently return from the residents' homes back to the map view.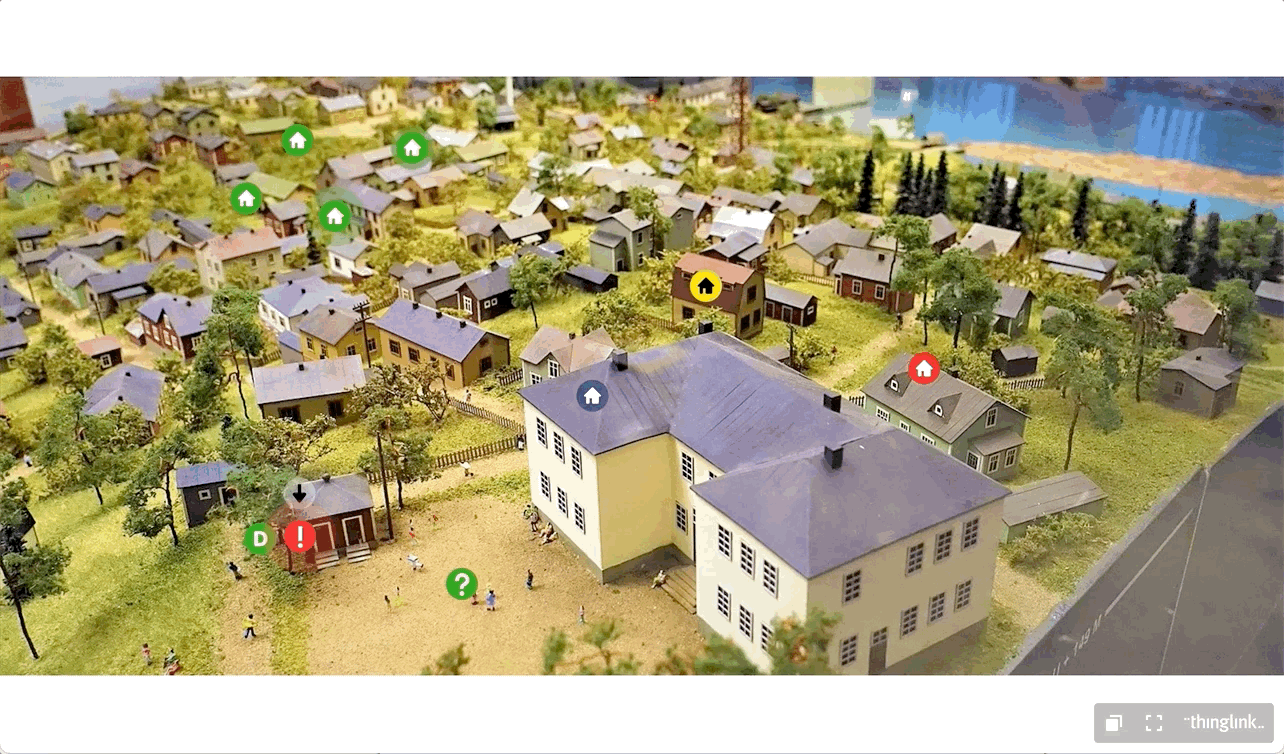 The course content was also compiled on a separate learning management system (LMS). However, contextual learning in real virtual homes felt most rewarding to users when they were able to identify with cases. Users also wished for an online library where they could search for more information on various topics. This was accomplished with an interactive image from ThingLink that provides links to a library built on Google Sites. The Google Sites library also includes embedded ThingLink content that is familiar to the user along the learning path.
Navigating the learning environment
The Village of Homes's main page is shown above. Please note that the site is in Finnish. Press the red exclamation mark in the image to watch the instructional video. Through the greenhouse symbols, you can visit the residents of the Village of Homes, read their stories and access the themed learning paths. The green question mark provides access to self-assessment tests, with which it is worth starting to get acquainted with the different entities to be learned. The actual learning path starts from the Home Care team room behind the red house symbol. From there, you can see the themes to be learned, through which you can access a map presenting each theme. Information has been gathered here about what it is possible to learn about different themes, and from here you can move on to the theme's learning path to the resident's home.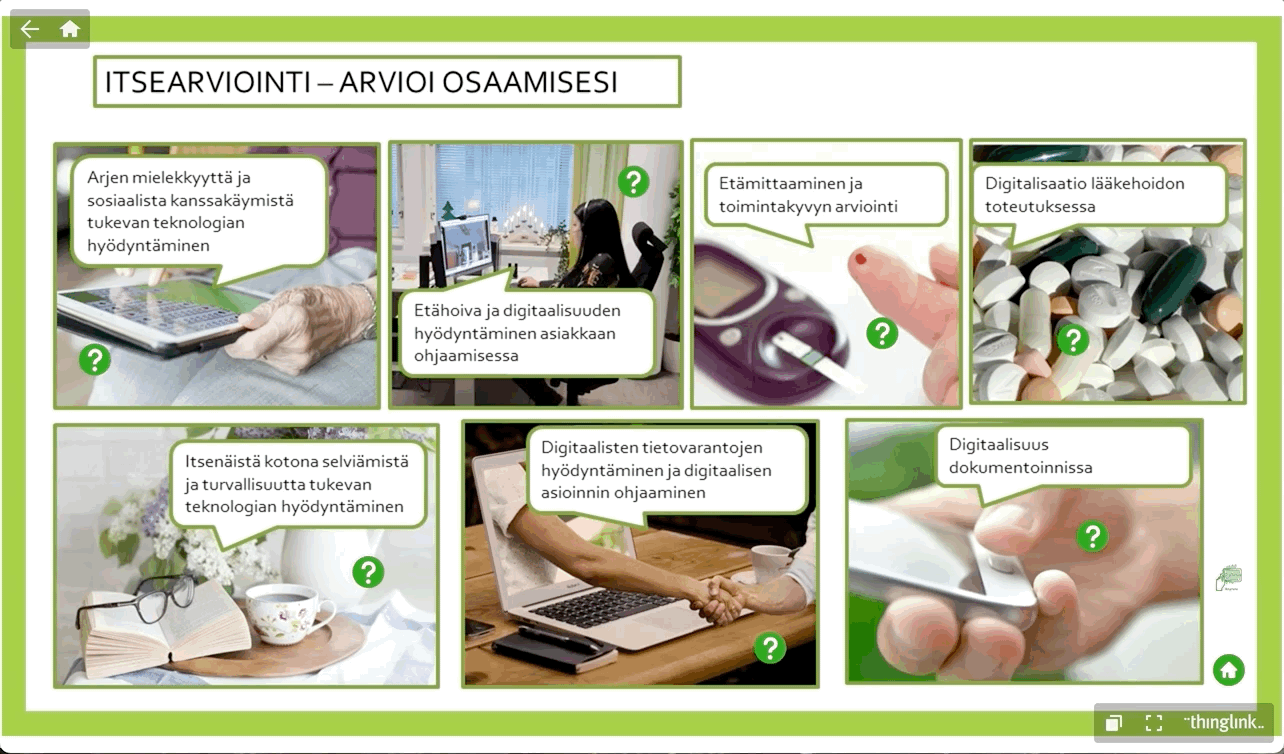 From homes, you can also easily return to the map view, which helps with navigation and allows you to move to a new theme in the middle of the path. During the learning paths, the theme is introduced through videos, links and info tags and you can do assignments which encourage reflection and discussion on the topics to be learned with your own team.
Once the user has gone through the theme at the resident's home, they can take a test in Microsoft Forms, embedded in the ThingLink. You can also take the test several times and return to acquire more skills if necessary. You can review and get more information with the help of the online library. In addition, from the start screen, you can access the Device Market, where you can get acquainted with various devices and aids – and present them to the customer via ThingLink.
Digital skills improvement
Nina, Sanna and Tony also wrote an article in Finnish about the Village of Homes, for which feedback was collected from users. The results were really positive: almost 90% of the respondents were satisfied or very satisfied and about 50% of them very satisfied. Less than 5% were dissatisfied. Users said the learning environment was inspiring, the content was of a high standard, and the environment was visually pleasing and smooth to use. The team had tested suitable learning paths several times and honed them to be user-friendly, and it was reflected in the feedback: the learning environment was easy to use and the progress was logical and effortless. With the help of the learning environment, home care professionals started to implement digital skills and well-being information technology widely into their own work.
"The learning environment is rich in content and interesting in its implementation"

Feedback survey respondent
The popularity of the Village of Homes is perhaps best reflected in its success even after the project is over. Although the team itself no longer markets the learning material, it still collects a plethora of views each month. The package has been widely used throughout Finland not only among home care professionals but also among social and health care students and teachers. The Village of Homes was almost ready at the onset of the covid pandemic when social and health education had to be quickly transferred to distance learning. So the Village of Homes also became a learning material package for a number of social and health care students across the country.
ThingLink ideas for the future
The team is already starting to think about implementing the next learning environment. Nina says that similar teaching material is being considered for work with disabled people, for example. In addition, teaching materials are being created for teacher students to familiarize them with different learning environments and the pedagogical use of different classroom spaces.
The team has also been involved in conducting training for social and health care teachers and introducing the use of interactive multimedia platform ThingLink to them and teacher students. The training has shown that ThingLink is also a good web-based platform for student-teacher portfolios: one's own skills, interests and ideas for the future can be presented smoothly with images, text, videos and links in an interactive portfolio.
Virtual environments and virtual reality for training
It has been shown that training professionals in virtual environments and using VR or AR technology has an enormous number of pedagogy benefits. We have summarised recent research in this handy download.
Knowledge and skills retention are improved
Soft skills like problem-solving and collaborative working can be practised in a way that they simply can't in a traditional classroom setting.
Learning outcomes are often reached faster, learning resources are more cost-effective to produce
They can be delivered in a number of different ways according to individual student learning needs: synchronous, asynchronous, via distance education, in online groups via videoconferencing or forums.
For this reason they are being used increasingly by employers in professional development as well as in higher education institutions – in virtual classrooms, virtual labs and virtual field trips to name a few examples. Read this blog "Evidence of Impact" to see some examples.
Meet a product expert
If you'd like to learn more about what ThingLink can offer to your university or organization, you can schedule an online meeting with one of our product experts below.