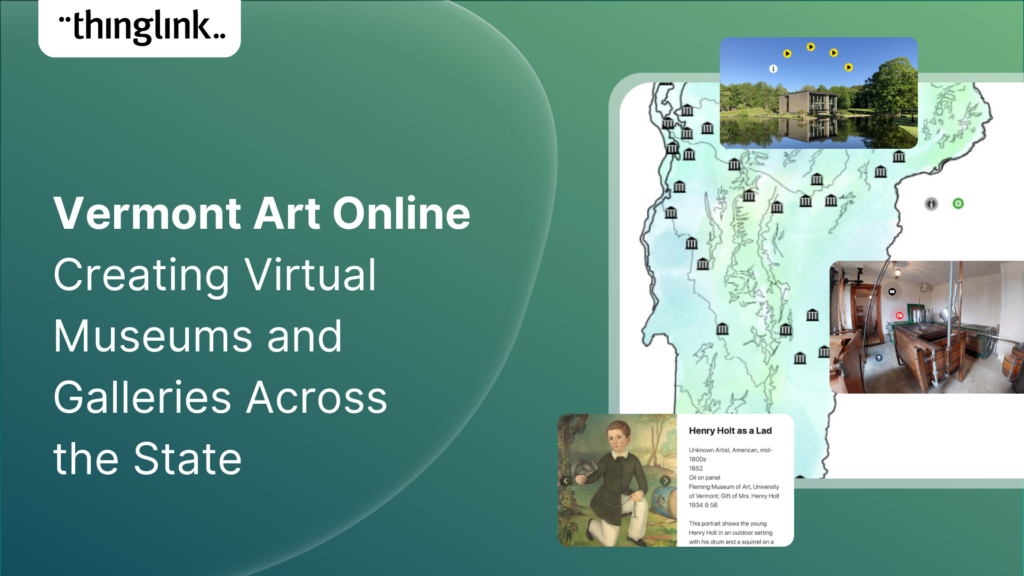 Vermont Art Online create virtual museums and galleries during Covid19
Curators at Middlebury College Museum of Art in Vermont, Sarah Laursen and Sarah Briggs, developed Vermont Art Online in direct response to the COVID-19 crisis.
Vermont Art Online is a resource for teachers and families that offers virtual tours of art museums and galleries throughout the state of Vermont.
"At a time when billions of people around the world are separated from one another, museums can bring us together." – Ernesto Ottone, UNESCO Assistant Director-General for Culture
Meet a product expert
If you'd like to learn more about what ThingLink can offer to your organisation, you can schedule an online meeting with one of our product experts below.
Visible social impact
As well as benefiting those visiting the online museums, the virtual museum and gallery site also helps to increase institutions' visibility by increasing traffic to their web pages. As curators and educators with digital media backgrounds, they used their skills and local connections to empower fellow curators. "The fact that we have such a close-knit network in Vermont made it possible to carry out this collaboration in such a short time frame." Sarah Laursen
ThingLink Media
The ThingLink exhibits were embedded in the Vermont Art Online website, which was distributed to media outlets, cultural institutions, and educational networks. The landing page for the ThingLink tours is an interactive map of Vermont. Clicking on a museum icon brings visitors to the landing page of an individual museum or gallery. From there, icons link to information about the institution and ways to support it, and an arrow leads the visitor into the site and through up to three linked photo spheres. In cases where 360 photos could not be taken because of safety concerns, 2D installation shots were used instead. The tours are annotated with text, photos, external links, and video provided by the Vermont curators and their websites.
Google Street View* was integral to their approach. "We sent curators a video tutorial for the Google Street View app and asked them to send us photospheres, high-res images, and content to annotate them. I (Sarah Laursen) began working on the ThingLink pages and Sarah Briggs designed a Squarespace site with educational resources. Within ten days, we had signed on about 30 institutions, secured funding, built and launched the site and conducted a few press interviews!"
Sarah and Sarah knew that many staff members and even directors would be discouraged or barred from entering their galleries within a matter of days due to social distancing measures, so they asked the Vermont Curators Group to put out an immediate call to museum and gallery curators across Vermont, stressing the time-sensitive nature of the task. Once all the materials from participating institutions were collated, ThingLink was used to stitch them together into immersive virtual exhibits of the rooms, artefacts and artworks.
"Culture never stops, & it is crucial that museums keep going too, especially in the face of #COVID19"  UNESCO 2020.
NEW! The easy way to create 360 images: Pano to 360
*Google Street View was deprecated in June 2023 so ThingLink developed an amazing solution to fill the gap! Read more below!
Creating virtual tours, exhibitions, escape rooms and other immersive content just got even easier! ThingLink has now launched Pano to 360 by ThingLink: an easy way to create a 360 photosphere from a panoramic image using any smartphone. For more information, including step-by-step instructions see this helpful support article.
Try the free Pano to 360 converter
The Pano to 360 photosphere converter is free to use for anyone, no ThingLink account required! Upload a panoramic image to see it in action.
What are some benefits of a virtual museum?
Vermont Art Online benefits two groups: communities, and the participating institutions. Parents, teachers, and individuals looking for high-quality online arts programming have few obvious resources to turn to, especially for local content. With Vermont Art Online, a single place was created where the public can easily find a range of engaging and educational experiences. This also benefits the museums and galleries who are featured on the site because it makes them visible to new audiences who might not have heard of their institution before, or thought to go to their site for online programming.
"We hope that people will discover arts and cultural organizations they have never been to, and put it on their bucket list to go when doors reopen". Sarah Laursen and Sarah Briggs
With many thanks and well wishes to Sarah and Sarah – Vermont Art Online. They can be contacted at info@vermontartonline.org
How does a virtual museum work?
A virtual museum is really any representation of a museum or gallery in an online space, and one which can generally be navigated around by the user, with varying degrees of guidance. The Covid19 pandemic resulted in many museums accelerating their online offering and improving the online user experience. (See more on this in Museums facing COVID-19 challenges remain engaged with communities.)
We show you how easy it can be to create virtual museums in these selected case studies, which have all used ThingLink for their online exhibition design and hosting.
How do I create an online museum exhibit?
Get started today with a trial account thinglink.com Build virtual tours of your space using 360 images, upload 3D models of your artefacts, share your tours via embed, social media or even in virtual reality mode!
Try ThingLink today
Try ThingLink for yourself with a free trial account!