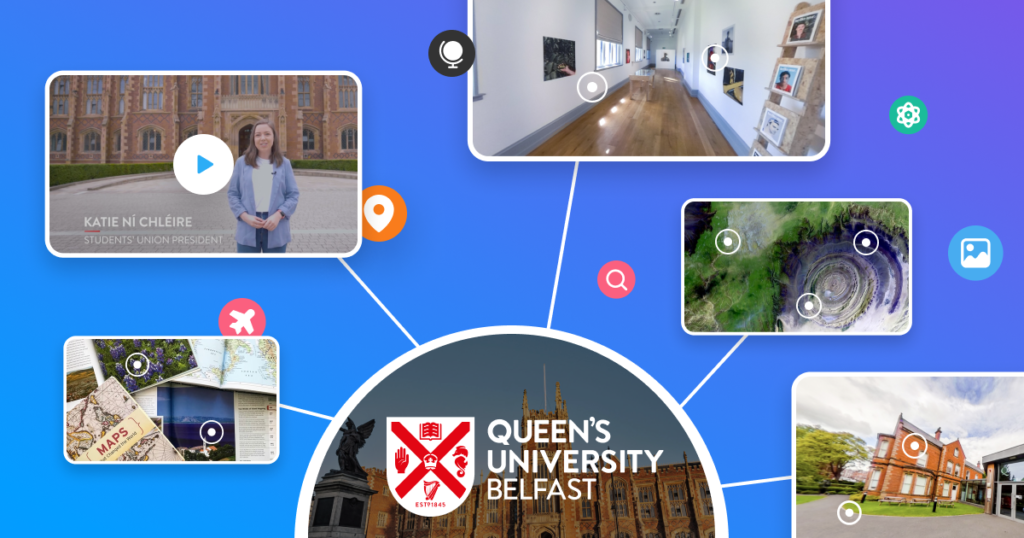 University Post-Grad Field Trips Move Online: Defying Student Expectations With Award-Winning Results
Dr. Neil Reid is Senior Lecturer in Conservation Biology at Queen's University Belfast (QUB) and has been Programme Director for an MSc in Ecological Management & Conservation Biology since 2017. When Neil took up the post, student intake had dropped to single figures students and the course consisted of traditional lectures and laboratory-based practical exercises.
Neil is a firm proponent of experiential field-based teaching and introduced weekly field trips of 3-6 hours after students had received two 2 hour lectures on the theoretical background. Students visit 10 locations around Northern Ireland, including nature reserves, special areas of conservation and landscape management projects. They meet representatives from business and industry to gain an insight into workplace applications of conservation.
Students really valued field experience with student intake and associated academic fees income increasing dramatically to the point of needing capped annually to ensure the course was logistically deliverable.
The Arrival of the Pandemic
With almost 80% of Neil's teaching off-campus, the COVID-19 pandemic during 2020/21 had a profound impact on how he taught. Most lecturers moved traditional lecture delivery easily enough to remote teaching using Microsoft Teams but this could not be easily done for field-based teaching creating a major problem.
Virtual Field Trips
Introduced to ThingLink by a colleague, Senior Technician Gillian Riddell who discovered the platform at a conference, Neil saw ThingLink as a solution to his problem. Over summer 2020 (when COVID restrictions were relaxed) he visited each of the ten field sites. Using his mobile phone, a tripod and a wireless microphone he recorded the sites, himself lecturing to camera and interviewing site managers. He also recorded 360o site tours on his own 360 camera. Many hours of video footage was recorded and edited down to ten 2-5 minute bite-sized video clips for each site addressing different subjects and themes. Videos were edited to splice in imagery and footage of the specific animals, habitats, or equipment mentioned making them dynamic.
He estimates he spent around 8 days filming, 16 days editing and a further 4 days creating the series of hierarchically nested ThingLinks tours. As well as his own videos, he added images, reading material, and additional external YouTube videos. All ten ThingLinks were accessed via the main page, presented in the form of a map of Northern Ireland, making it incredibly easy to navigate. "ThingLink was the easiest part of the process – it was so intuitive", says Neil.
Lowered Expectations
Students select Neil's MSc because they are attracted by the field experience provided. So an online questionnaire at the beginning of the Semester suggested that anticipated enjoyment of field trips dropped from 75% positive for physical delivery to just 37% positive for proposed virtual delivery. This suggested transitioning to online delivery would have an overwhelmingly negative impact on student expectations and morale.
Reality
Considering the concern that students had at the start of the course about virtual delivery, Neil was relieved and delighted to receive a student e-mail in Week 2 to thank him for the quality of the recorded teaching materials.
At the end of the term, students assess taught modules scoring them on taught resources, experience, and quality. The results were overwhelmingly positive. The average score for 2020/21 when field trips were delivered virtually using ThingLink was 90% positive comparing favourable to 95% positive for the year before where field trips were physical. Student attainment was also equally matched, with near-identical marks in both years.
The students were so impressed and delighted with ThingLink and the virtual delivery of field trips they nominated Neil for a University-wide Teaching Award which he won in 2021.
Post-Covid Blended Teaching
As teaching moves back to "normal", Neil is now using ThingLink virtual field trips to augment physical teaching in a blended approach. Each week the students take the field trip and on their return, the corresponding virtual version is shared with them. These are mostly used as a revision tools and to cover anything which they may have missed on the day.
They are also ideal when students have to self-isolate or are otherwise unable to attend in-person field trips. Neil sees ThingLink as a viable option for courses which find themselves constrained either in terms of numbers or the geographical limitations on-site visits. For example, field trips to mountainous areas can be difficult. Access is hard or even impossible for some students, plus the weather conditions can make it hard to communicate effectively outdoors.
International Field Trips
Neil suggests that as travel continues to be subject to COVID-19 restrictions, that ThingLink could be used for virtual international field trips allowing students to visit sites of conservation projects around the world. This would provide an international experience without physical and financial constraints opening up foreign conservation to all students without the need for long-distance travel.
What Could Virtual Field Trips Do for Universities?
Using virtual alternatives to field trips in ThingLink means that numbers on these types of courses and modules could be increased. Courses could be opened up to international students or those with other physical limitations. This might mean for example that caps on student numbers for popular courses could be increased or removed altogether, which would have obvious financial benefits for universities and colleges.
Looking to create your own virtual field trip? Create an account on ThingLink today, or connect with our team to book a demo.
DOWNLOAD THE CASE STUDY HERE