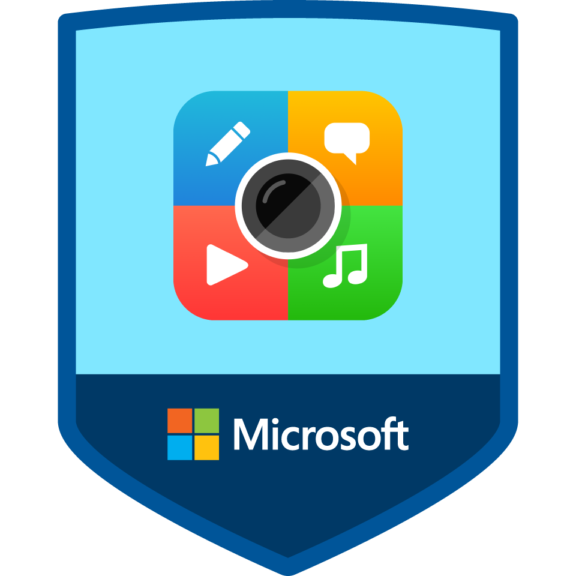 ThingLink launches a MEC course on creating visual learning materials for blended learning
To help educators overcome some of the practical challenges related to blended learning environments, ThingLink launches a new course in the Microsoft Education Centre called "Creating Visual Learning Materials". 
In this beginner-level introductory course aimed at teachers and education professionals, educators will learn how they can create visual learning materials to engage their students and publish to school communities to keep connected.
'Creating Visual Learning Materials' course consists of eight modules each comprising an interactive tutorial video taking educators through a journey to create interactive learning assets and explore the possibilities for their learning and teaching.
The modules are followed by a simple multiple choice quiz, and on completion educators will receive ThingLink's Microsoft Education Center Digital Badge and by completing a form (when shipping allows) an exclusive ThingLink lanyard and a wooden medal.
Three examples of projects you can create after taking the course
"We have recently seen a surge in inspiring examples from educators who use ThingLink to overcome some of the practical challenges related to working remotely, including transitioning students to a new school and keeping them engaged and connected. This course shows how teachers and staff can easily create tours to support school transitions as well as choice boards and virtual classrooms to encourage engagement and connecting with students."  – Ulla-Maaria Koivula, Founder & CEO, ThingLink
1. A virtual school experience for connecting with students
"As a result of school closure due to Coronavirus, we wanted to ensure that pupils still felt a sense of belonging to the school. We wanted to create a virtual version of our school that pupils could visit on demand to pick up video and audio messages from their teachers and other staff to feel part of the Penybont school family". – Robbie Owen, Headteacher from Penybont Primary School, Bridgend, Wales, United Kingdom.
360 image tour: Click the icons to explore Penybont Primary and discover the messages from the teachers in the classrooms
2. A choice board for visualizing distance learning tasks and resources
This choice board was created by Lorrie Salome from Austin Independent School District in Texas to weave together a wealth of resources and simplify the visual presentation of these for students, their parents and carers. More of this example in this post.
Image: Click the icons to explore Lorrie's  playful home learning design
3. Virtual classrooms with text, audio, and video instructions
Amanda Pickard, a primary teacher and MIEExpert from South Ayrshire in Scotland created this virtual classroom to make home learning more simple and engaging, and even enlisted the help of her trusty pooch to introduce tasks related to building sentences for her young learners. Explore the number tags to hear directly from Amanda and Travis!
Image: Click the icons to explore Amanda's classroom with building sentence tasks for little learners
We hope these examples have given you new ideas for how to use ThingLink to engage and support your students in a blended learning situation. To learn details about how to create your own visual learning materials today, sign up to the ThingLink course on Microsoft Education Centre.
If you do not yet have a ThingLink account, get started today by going to thinglink.com/edu or Microsoft Teams app search and create your free teacher account.
About ThingLink 
ThingLink is a visual learning solution for schools and workplaces. You can use it to bring images, video and 360-degree virtual tours to life with further information. This can include any combination of voice, text, and video notes, as well embedded 3rd party tools and web resources such as Microsoft Forms.  Educators can use it to create engaging, accessible  learning materials in multiple languages, and students can use it to document projects and assignments at home. ThingLink is fully integrated with Microsoft Teams, providing opportunities to making the real world accessible via Teams Chats and Channels.
For more information on partnerships, school organization accounts or professional development options, please contact me at Louise@thinglink.com.