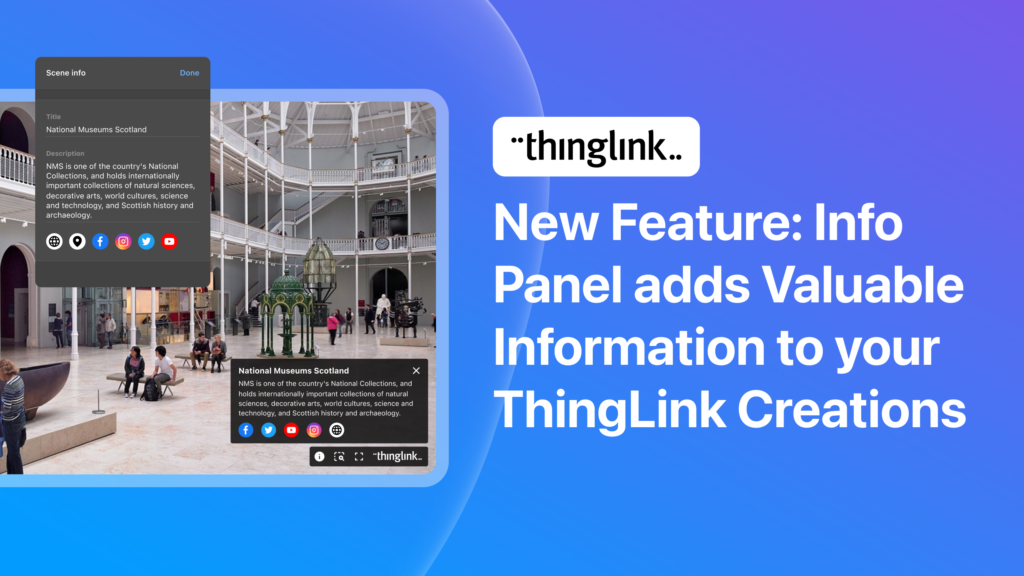 New feature: Info Panel adds Valuable information to your ThingLink Creations
There's a reason ThingLink is rated the best virtual tour software! And, we just keep getting better and better! A new feature is available now for all our ThingLink creators.
You can now add in instructions, explanations or just a little initial information for your viewers with the new optional ThingLink Information Panel. It is a small window of text, with web or social media links, which automatically appears when a viewer opens a scene or clicks on the Information icon thereafter. The window also includes Microsoft's Immersive Reader making your handy info available in over 80 different languages.
When might this be useful?
We've heard from some of our ThingLink creators that this kind of additional information would be very useful at the beginning of virtual tours. For example this could be handy tips or hints for navigating the experience. This might help to guide your viewer towards what to do next or which icons to click. Or you could add instructions or information about the place or creator for example. There is no set character limit, so you have ample room to add in all the information you need to.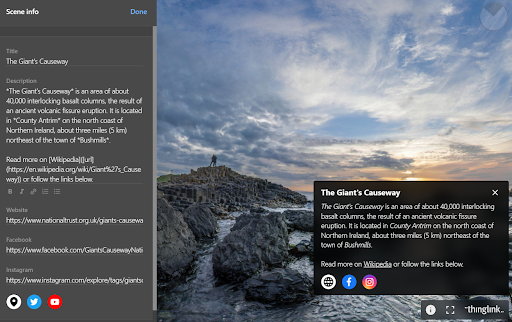 Add links to your social media channels
You can also add in any or all of the following links, each with their own handy icon: hyperlink, Google maps, Facebook, Instagram, YouTube, Twitter. The icons and links will appear directly below your text description.
How do I use it?
In the ThingLink editor, choose the scene you want to add an information panel to. Choose Edit > Settings > Info Panel. You can add a title and description. Format your text with italics, bold, bullets, numbers or inline links. You have unlimited characters.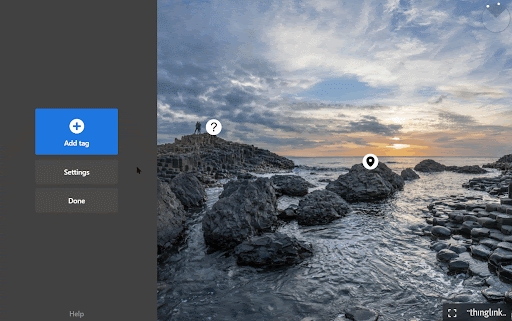 Tips for Making the Most of the New Information Panel
In the settings you are also able to hide other information symbols, such as connected scenes, enlarge the width, zoom in and VR viewing, as well as hide the ThingLink logo. Play around with the new Information Panel and think about how it can engage your viewers in your own contexts.
This is another improvement to the ThingLink experience we have made in response to your ideas. So if you have any other suggestions for us to improve, please use the pop-up in your ThingLink account or feel free to contact us directly on info@thinglink.com
Links to other innovative ThingLink ideas and Support:
For further details, see our Support Article on the Information Panel
Get started with ThingLink today with a free trial and see just how easy it is to create your own immersive and engaging content!