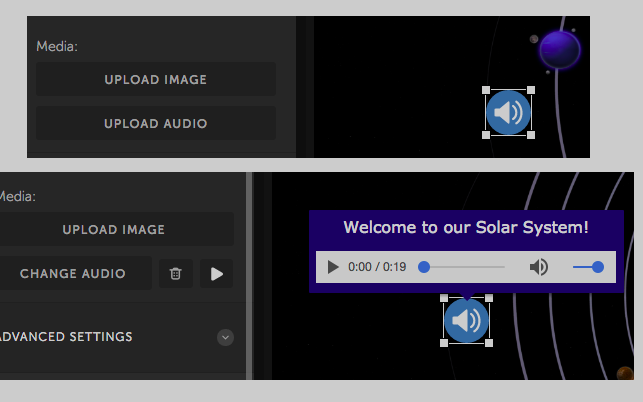 New feature: Upload Your Own Sound Recordings (or other Audio Files) to ThingLink Images!
---
Starting today, ThingLink PRO and PREMIUM users can upload MP3 and M4A audio files directly into ThingLink tags. This means you have another cool way to make your images truly engaging with narration, interviews, nature sounds, music, or sound effects. The audio files will autoplay on mouseover.

---
How to create Audio Tags
Creating Audio Tags is as easy as creating your standard image tag. Click to create your tag, then in the tag editor, click the Upload Audio button. Select an MP3 or M4A file from your computer to upload and you're ready to listen! Audio tags will autoplay when opened, so you can also add an image and text, and let the audio play in the background. 

Ways to Use Audio Tags
Audio tags are great for adding narration, nature sounds, interviews, your own music, or editorial comments that give context or create a special ambiance for your image. 
Here, an audio file from NASA takes this image from purely visual to a multi-sensory experience. The audio also increases the time the viewer spends on the tag as they listen to the clip instead of just glancing at the image. 
In this 360 image, the creator narrates the text in each tag. Not only does this create a more rich experience, it results in a more accessible image that can be enjoyed by those who may not be able to read the text. If you're a teacher, this is a great way to encourage your students to create in many mediums. 
Try it Out
Ready to test it out? Here's a project to help you get started with audio tags. Make sure that you have one of our paid plans to access this feature.
Introducing Your Class or Business
This project was created with both business and edu users in mind. Please adjust the instructions as necessary. In this project, we'll be using ThingLink and audio tags to provide a brief introduction to your class or business.
To start, upload a background image that represents your subject. I'd just suggest an image of your storefront or product, or for educators, a photo of your classroom
Now, record a few audio clips that will help give the space context. I suggest using Sound Recorder on a PC or Quicktime on a Mac. If you have an iPhone, you can use Voice Memos, and send them to your email.  Here are some prompts to help you come up with some audio clips:
Why did you get started in your business field or in teaching? 
Explain the space around you. What can we see in this image?
Where is this space located? If someone wanted to visit your business or school, how can they?
What is your product or what do you teach? Tell us all about it.
Back on your image, click to add a new tag. In the icon selector choose the play button, audio symbol, or microphone so viewers receive a visual prompt on what they're unlocking. Now, use the Upload Audio button to add one of your clips. If you want, add an image and text as well to give your audio a label.
If you'd like to add a sound you can't record yourself, try searching freesound.org. They host thousands of audio clips sourced from members that you can download and add. Find anything from the wind in the trees, to a helicopter whiring, to the sound of a barbecue being opened. 
---
Now that you've learned all about audio tags it's time to get started! If you don't yet have the feature you can purchase a plan that includes it here. If you want to learn more about how to use this and all our other features, schedule a demo with a ThingLink expert. Happy Tagging!
{{cta('f3903730-8051-4ca2-8c48-4716245ce78e')}}