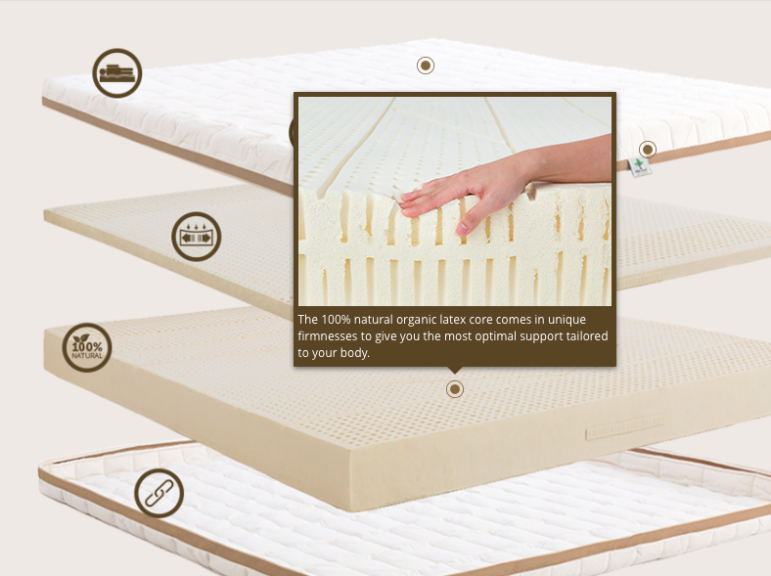 Image of the Week: Interactive product marketing from Heveya
Creator: Heveya (click to explore live)
Description: Marketing new products effectively is highly critical in converting consumers into customers.  Oftentimes it can be a challenge to deconstruct your products, as well as detail the main selling points in a way that is digestible and user friendly for consumers.  Deconstructed images looks nice, but what do they really provide without interactivity?  Read this post to learn more.
Heveya uses ThingLink to market one of their mattresses using a deconstructed image and detail why their mattress stands out from the rest.  As a consumer I see a brown band on the mattress, but I am not sure what it provides.  Hovering over the ThingLink hotspot reveals that this brown band is actually a 3D spacer and gives extra ventilation for a cooler night's sleep. Likewise, I hover over the hotspot that looks like bacteria and learn that the product is house dust mite, bacteria and mold free.
Tip: Use custom icons in your interactive content that accomplishes two goals: 
Match the visual look of your brand: Heveya uses brown icons and tags that fit their website styling 
Portray action: giving consumers visual prompts goes a long way in creating a great interactive image. Heveya uses various icons that portray their main selling points. 
Watch this short clip to learn more about uploading custom icons. 
---
The next featured image/video of the week will be chosen on Friday. Have a great example? Send your suggestion to social@thinglink.com.
Want to learn how to market your products with interactive images like Heveya? Schedule a demo with one of our experts!
{{cta('f3903730-8051-4ca2-8c48-4716245ce78e')}}
---