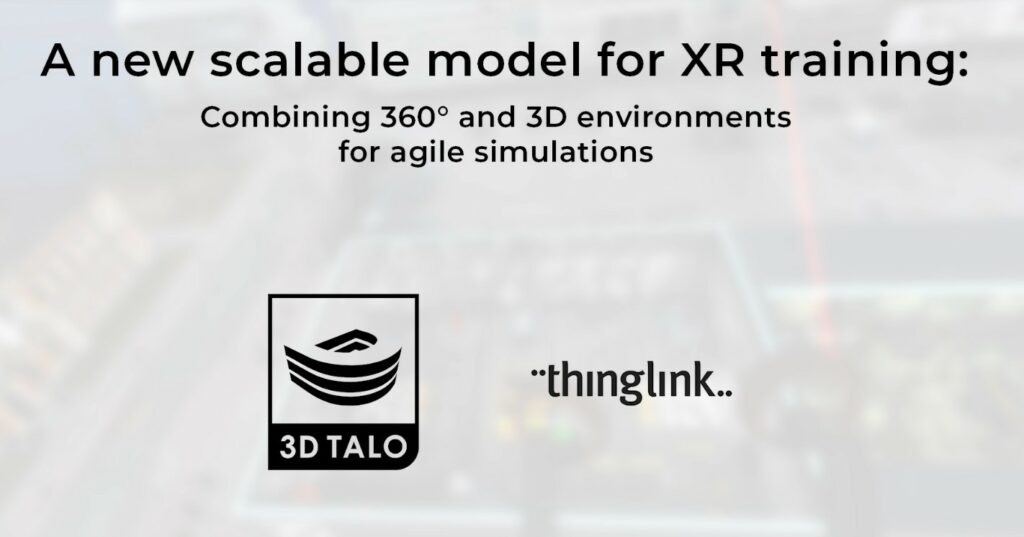 A new scalable model for XR training: Combining 360° and 3D environments for agile simulations
ThingLink and 3D Talo announced a strategic partnership and a new model for building agile XR simulations for learning and development.
As a result of the pandemic, companies want to revamp their digital learning tools. Demand for experiential learning technologies such as virtual reality and augmented reality applications is growing rapidly. There is a very practical explanation for this: if it is difficult or expensive for the trainee to learn on the spot, the company can provide the employee with virtual training that can be completed at their own pace. Preliminary studies show that virtual training works just as well or significantly better than on-site classroom training. Industrial companies are also moving to AR versions of user manuals, where instructional videos open by pointing towards a device at the factory floor.
Detailed 3D modeled environments that run on desktop computers are not easily accessible for training purposes. Two Finnish software companies, ThingLink and 3D Talo have developed a solution that solves this current market problem. Combining 3D modeling software with ThingLink's rich media annotation and scenario builder makes it possible to create agile 3D tours and learning simulations that are easy to share on any device or platform. This increases the usability and flexibility of 3D content use in corporate training.
"The next generation internet is made up of different spatial experiences that add a new dimension to online learning. Products and spaces can be digitized by imaging, scanning and modeling. The advantage of image-based experiences is speed and cost-effectiveness, while 3D-modeled space can simulate an environment that is still under construction. Through this partnership, we are able to offer our customers a wider range of XR solutions that scale and adapt to their needs," says Ulla-Maaria Koivula, CEO of ThingLink.
Kuopio-based 3D Talo was founded in 2016. The company developed Design Space, a 3D modeling software for VR. The software is used by large industrial companies such as Kone, Ponsse and Afry.
"Our goal is to be a long-term XR training and content production partner for the industry. With ThingLink, we are able to offer both agile VR training and interactive, 3D modeled spaces that combine IoT data and invite colleagues to a design meeting, "says Tatu Säisä, CEO of 3D House.
In practical terms, the partnership means three things: software integration, new features, and a more comprehensive set of services for XR training. This can include smaller and larger projects, such as product and sales training, high-resolution 360-degree video simulations, interactive maintenance manuals, as well as 3D modeling or scanning of products and facilities for training, maintenance and service.
Interested in learning more about agile simulations and how they could help improve learning outcomes in your company?
We are happy to help! Contact us to schedule a call:
Andrew Beelitz
Director, Sales operations
ThingLink
andrew@thinglink.com
Zach Tussing
Director, Enterprise partnerships
ThingLink
zach@thinglink.com