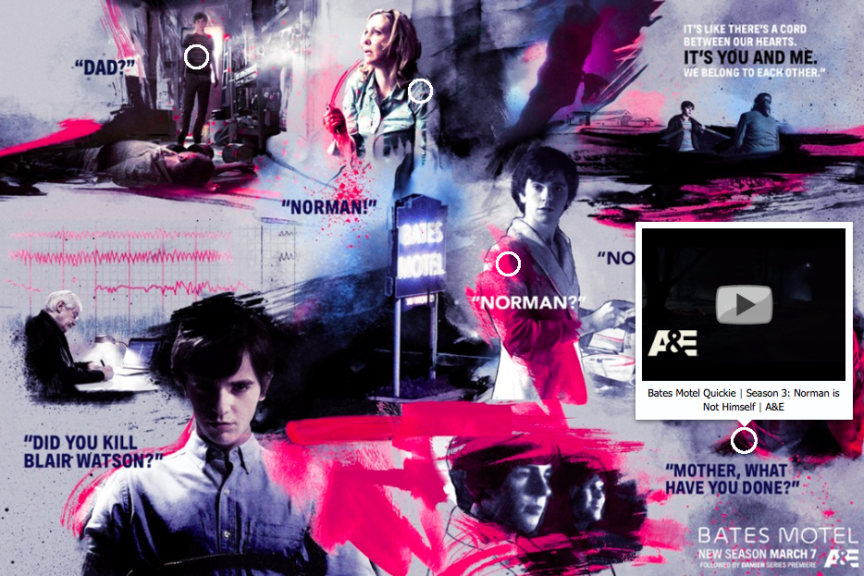 Image of the Week: Interactive TV Series Recap from Vox
Creator: Vox (click to explore live)
Description: Vox uses ThingLink to bring new viewers of A&E's hit show Bates Motel up to speed on the show's first three seasons. Hover over the hotspots of this interactive inforgraphic to watch four YouTube clips that highlight the stunning transformation of the main character Norman into a psycho.  This type of execution is valuable because it allows Vox to include four unique call-to-actions within one visually engaging unit. 
Tip: GIF icons are used here to create a pulse effect on the infographic.  This strategy increases engagment by catching the attention of Vox readers that there is additional content to unlock.  Read this blog post for all the ways you can incorporate GIFs and motion into your ThingLinks. 
Demo: Want to learn how to create an interactive image like Vox?  Schedule a quick 15min screen share demo with me here to see best use cases in your vertical, and an overview of how easy it is to create interactive content with ThingLink. 
{{cta('f3903730-8051-4ca2-8c48-4716245ce78e','justifycenter')}}