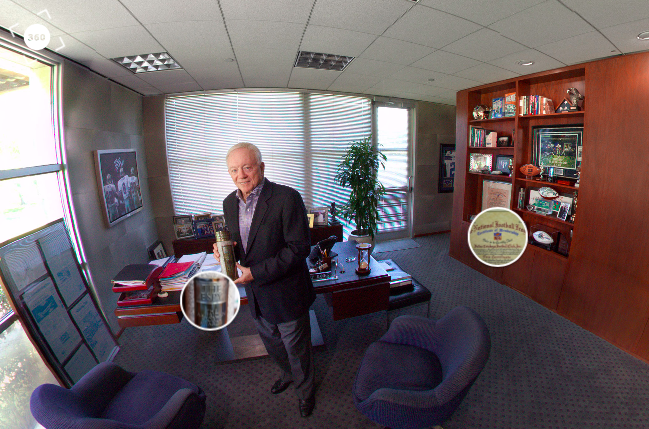 Image of the Week: Interactive 360˚ tour of Jerry Jones' office from Dallas News
Creator: Dallas Morning News (click to explore live)
Description: With the upcoming 2016-2017 NFL season approaching, Dallas News looks to reengage Cowboy fans with an exclusive tour of owner Jerry Jones' office.  Clicking on any of the hotspots reveals short YouTube clips of Jerry discussing the various office artifacts and why they are important to the Cowboys. The 360˚ element of this office tour provides fans with an engaging experience from their computer that otherwise would be impossible to achieve without actually being in the office. 
Tip: Producing content for a specific use case enhances the final product immensely.  In this case, Dallas News filmed eleven short videos with the intention of adding them to this 360˚ tour.  Explore the results here: 
Read this blog post to learn about the various methods you can use to produce 360˚ images.  
---
Want to learn how to make interactive 360˚ tours for your business? Schedule a 20min screen sharedemo with me. 
{{cta('f3903730-8051-4ca2-8c48-4716245ce78e')}}
---