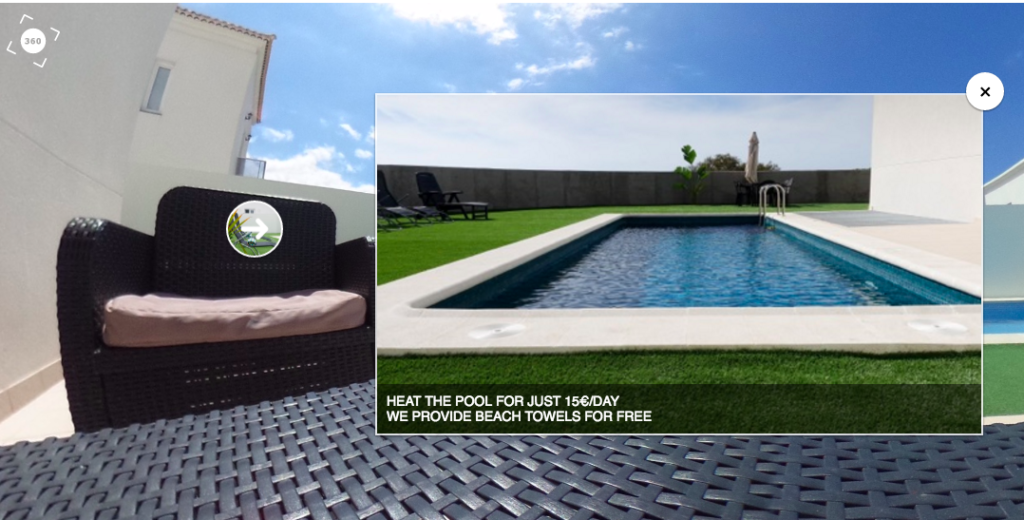 Image of the Week: Interactive 360° Property Listing by Yucca Villas
ThingLink user: Yucca Villas Real Estate (click to explore live)
Description: 360° tours are the best way to digitally showcase property listings if you work in real estate.  Potential property owners can fully rotate around each scene and click on hotspots to unlock relevant selling points, video clips and transitions to each room of the listing.  Set yourself apart from the competition with our unique and engaging solution that increases the liklihood of potential buyers converting into satisfied property owners.  
Tip: If capturing 360° image content is new for you, I recommend reading this blog post on how to use the affordable Ricoh Theta S and ThingLink to produce high quality interactive 360° images.360° images.  
Want to learn more?
Click the green button to schedule a 20min screen share demo with me at a time of your choice to learn how to create an interactive 360° property listing like Yucca Villas.  Or, email me directly 
andrew@thinglink.com
. 
Want to start now?
If you are ready to get started on your own today c
lick the blue button and upgrade to Premium for making interactive 

360° images. 
{{cta('f3903730-8051-4ca2-8c48-4716245ce78e')}}       {{cta('b1869058-dbdd-4fba-911e-7706655c97ac')}}