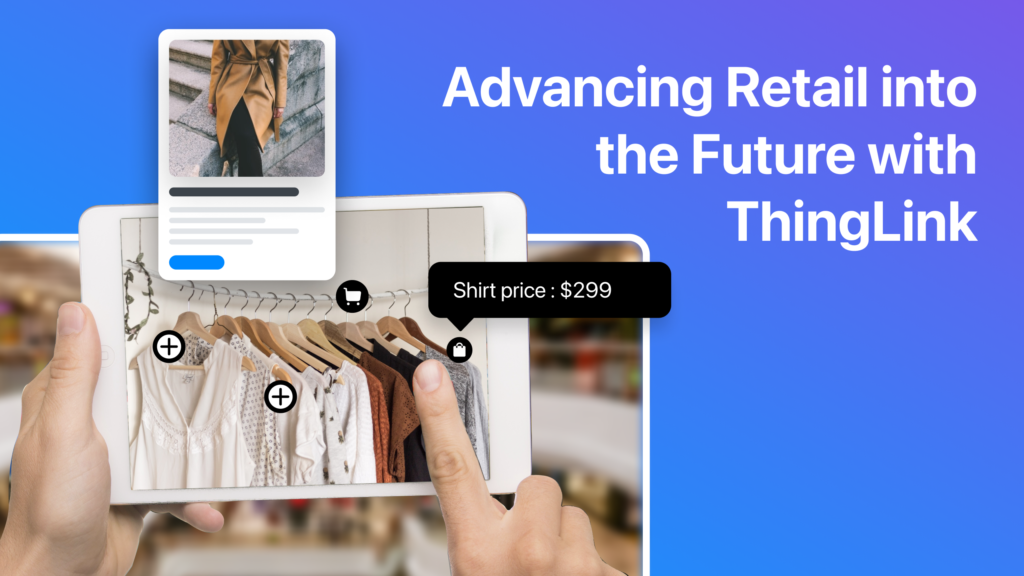 Advancing Retail into the Future with ThingLink 
Elevate your in-store trainings and improve customer service by incorporating immersive learning scenarios with ThingLink.
Creating and developing effective learning materials for your in-store staff can be both costly and time-consuming. With high turnover rates, policy and procedural changes, it is imperative to create training material which is not only engaging but can be created quickly and easily as well as leveraging existing material.
Why Use ThingLink For In-Store Training?
Your in-store staff are the first people to greet your customers. They help give an overall impression of your store, its organization, cleanliness, and the type of customer service you provide. Making sure these employees have the best, and most up to date knowledge of your company's policies and procedures is critical for your success. But how do you cut through all the distractions to keep them engaged with eLearning material
ThingLink offers a solution to increasing your employee's engagement and learning outcomes by allowing you to create immersive, gamified learning content. By layering a variety of flat images, video, and 360 images with "hotspots" (interaction points), you can allow new employees to have an immersive experience touring the store and learning about policies as they continue on their learning journey. ThingLink helps increase engagement by creating learning scenarios with personalized branching, goals, and quizzes with Scenario Builder.
What are Learning Scenarios?
Learning scenarios are real life problems, challenges, or procedures presented in which learners can choose their own paths in learning based on their own decisions. These scenarios can be created with images, videos, 360 media or 3D objects layered with information and questions. The learners need to look at the scene and engage with the scenario to progress forward down the correct path using critical thinking and reflection on what has already been learned. Learning scenarios allow your employee to simulate a real-life problem and progress forward down a connected path to the correct solution answering questions and earning points along the way.
Related Articles: Scenario-Based Learning in Virtual Environments
10 Reasons to Get ThingLink's New eLearning Solution
How Does This Affect Completed Training Assets?
Significant time and money goes into developing training assets, and here at ThingLink, we understand no one wants to start from scratch. Existing training materials can be annotated to make them interactive and existing videos can be layered into 360 environments to give your employees an immersive experience without needing to replace important assets you've already created. If a policy or procedure changes, any content created in ThingLinks can be edited and updated at any time, eliminating the need to start from scratch and allowing for dynamic content adjustments
What if Employees Speak Multiple Languages?
Many retail companies have stores located in different areas; meaning employees within the same company may speak a variety of languages. ThingLink has partnered with Microsoft to incorporate Immersive Reader hotspots so learners can translate the content into any language. With Immersive Reader, employees can choose to read the content themselves, or have the content read to them in a language of their choice. You will no longer have to spend time and resources duplicating training materials to translate them, with ThingLink, Immersive Reader will translate the content for you.
Overview
Keeping your in-store employees up to date with the most updated policies and procedures can be draining on your time and resources. With ThingLink, your content creators are empowered to create visually stunning, immersive content quickly and easily. Combine enhanced existing materials with newly created content to build real-life learning scenarios, building your employees confidence through creating relevant learning experiences. Once you're done creating the perfect learning environment, there's no need to duplicate the material or copy it into multiple languages: Immersive Reader empowers employees to translate content themselves. ThingLink is advancing learning into the future by enabling organizations to create engaging learning scenarios and will continue to pave the way for immersive learning.
Want to learn more about ThingLink in Retail? Join our upcoming webinar February 17, 2022, 12pm EST!