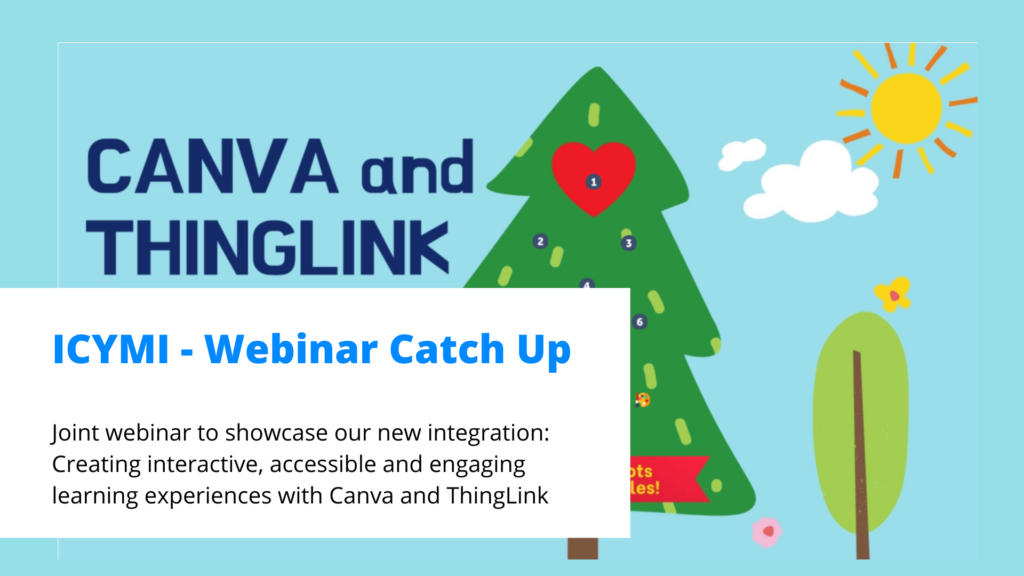 Canva and ThingLink Joint Webinar for Educators May 2021
Last month we announced a partnership with Canva – the super popular visual communications platform from Australia whose vision is to empower everyone to design. By adding a Canva button directly in the ThingLink creation flow, making professional-looking interactive graphics and learning materials became even quicker and easier!
Hear from inspiring educators
To spread excitement of what is possible combining the two tools, Louise Jones and Daniella Latham teamed up and put together a joint webinar featuring two inspiring educators who have been app-smashing Canva and ThingLink together for some time:  Lorrie Salome (5th grade math teacher, Texas) and Amanda Pickard (Early Primary teacher and Digital Learning Officer, Ayrshire, Scotland). During the webinar, Lorrie and Amanda shared some of the incredible resources they have created for their learners during remote learning and beyond, by using the two platforms together.
Watch the replay
Catch up with the webinar recording on the Canva YouTube Channel here and watch how Lorrie and Amanda went about creating truly engaging materials which have transformed their classrooms – both virtual and real! They demo some brilliant tips and tricks that you can apply with your own learners today. Louise from ThingLink also gives you a walk through of exactly how to create and edit your designs with Canva within the ThingLink editor. 

"These two platforms together saved everything for me this year!"

Lorrie Salome
Free Canva templates for you to copy and share!
Click on the palette icons in Lorrie's ThingLink project above for shareable, fully editable copies of her versatile templates in Canva. The ThingLink tags also contain her bite-size mini-lessons and reminders of how to use some of the features of ThingLink to really bring your learning materials alive. Lorrie has also added links to her education tutorials containing EVEN MORE Canva and ThingLink information and extra resources for your classroom! 
Check out Amanda's inspirational ThingLink journey below containing lots of original content ideas for your Canva+ThingLink creations – roadmaps and timelines, virtual classrooms, infographics and more!
Empower your learners with versatile digital skills to ensure them a bright future
Amanda showed us how her little learners already use ThingLink themselves to create and edit content, developing their digital skills in the process. ThingLink is a pioneer of interactive media for both education and enterprise communications that is fast to learn and easy to use. Part of our vision has always been to equip learners with multimedia skills and experience that will be invaluable throughout their education and beyond on their career paths. Now with the integration of Canva, young people can combine visual design skills with engaging multimedia content creation – providing limitless possibilities for future success.
Sign up for free today
You'll see that just like ThingLink, anyone can use Canva without any coding or technical expertise or prior experience. Why not join over 55 million monthly active users in 190 countries who are creating professional-looking visual materials on Canva? Sign up for your free Canva for Education account at canva.com/edu-signup (currently available for K-12 teachers and their students) and learn more about its features at canva.com/education. With Canva for Education you receive all the benefits of premium features such as millions of images, fonts, graphics and templates that you can use in your ThingLinks.
Some of your questions submitted during the live webinar – answered!
Are there any examples for older children –  ie at University? Absolutely! Check out this

recent example from Teach for America

where students used Canva to powerful effect to illustrate youth-adult equity.
Can you now change the way images are cropped? Yes – if you create your ThingLink base image in Canva but would like to change the layout or format in any way, you can edit in Canva too and change any aspect!
I already have a Canva account – can I use my existing designs? Yes! If you are logged in to your Canva account, you have access to all your previously created content and folders, including any designs that have been shared with you.
Can I create accessible designs? Yes! ThingLink is a Microsoft Partner so Immersive Reader is built into our player. The description text in our tags provides translation, text to speech, a picture dictionary and many legibility and accessibility options. The very nature of ThingLink is to ensure any media can be augmented to include multi sensory experiences and choice, perfect for Universal Design of Learning (UDL)
Are there free accounts so we can see all that ThingLink has to offer? Yes – sign up for a free teacher account today – which includes the Canva integration. See the link above for how to create a Canva education account.
Much more to come!
Over the coming weeks we will be publishing some super useful Canva templates – designed to support our most popular user cases such as interactive maps, CVs, infographics and virtual tours – helping you harness the phenomenal design power of Canva and ThingLink! 
How does it work? 
If you have not yet tried Canva and ThingLink together, here's a short video of how to transform your Canva designs into interactive ThingLink experiences, in your classroom and beyond.  
Login to your ThingLink account
Click Create, and choose the interactive content you want to make
Click Upload, and choose Design with Canva
Once in the Canva editor, you can search for a ThingLink background in Templates to use as a base image, or, search graphics and images to choose from
Add elements, text, buttons, and other graphics – you can even include Bitmoji!
Click Save to ThingLink, and you'll be directed back to the ThingLink platform
Edit your design in ThingLink to make it interactive – add tags, text, and other media
Save and share your work!
The power of sharing
Please do share the webinar recording with any colleagues and connections who may have missed the webinar. Subscribe to our ThingLink Education YouTube channel to watch future webinars and sign up to our education groups on Facebook and LinkedIn to hear about future webinars and other education events. 
Support
For any questions on using Canva and ThingLink together please contact us at education@thinglink.com or support@thinglink.com.