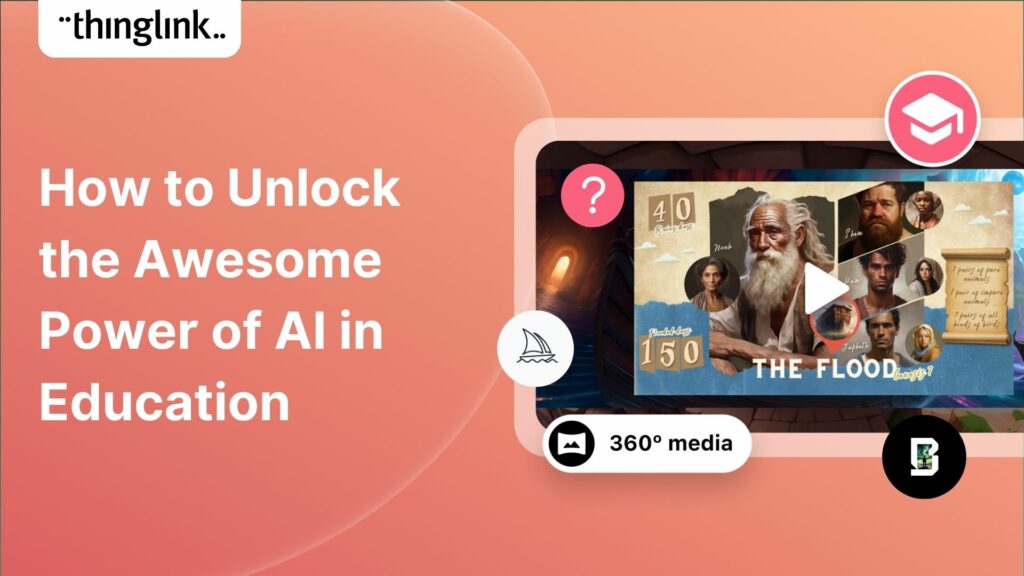 How to Unlock the Awesome Power of AI in Education
Learners can create truly extraordinary content when they use and combine the latest AI tools for image generation. In this case study we demonstrate and celebrate the incredible achievements of student Camila, who created an awe-inspiring ThingLink incorporating a number of established and emerging platforms. It features ThingLink's new virtual Guided Tours, AI-generated 360 imagery and an array of Biblical characters, all depicted using artificial intelligence creation tools. Read on to discover which platforms she used and how she used them, and then explore the inspirational course for yourself. Get ready to see ThingLink like you've never seen it before!
Meet a product expert
If you'd like to learn more about what ThingLink can offer to your school, college or university, schedule an online meeting with one of our product experts below.
New platforms and learning technologies used in education systems
Camila is a student at Basingstoke College of Technology, studying for an Extended Diploma in Creative Media and Technology. Her tutors would often demonstrate new and emerging platforms and learning technologies at lessons and lectures, which is where she first encountered and started using ThingLink.
For her Final Major Project (FMP) Camila decided to create an interactive three month study course about Genesis, the first book of the Bible, in the form of a ThingLink tour. However like many creators, she struggled to find online images (particularly 360 images) that were free to use and were appropriate for the subject material. So Camila researched, applied and used a number of different tools including some emerging AI image generation platforms to create the exact imagery she needed.
AI Image Generation Platforms: Midjourney and Skybox
Camila used Midjourney to create the character images, as well as some additional imagery for the chapter backgrounds. The platform can take a bit of practice and experimentation to perfect and create the images as you have envisaged them, so Camila taught herself how to master the Midjourney image creation process using online tutorials. The results below speak for themselves!
Pricing: There are free plans available, although the one Camila used is available for $30 per month.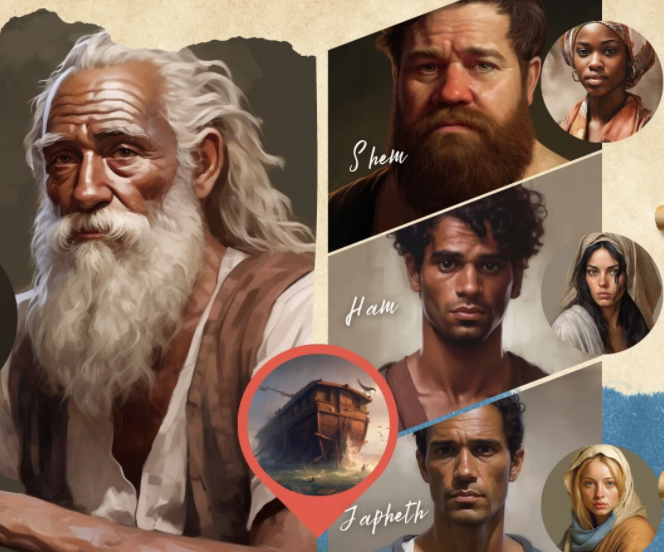 The 360 images were created using Skybox from Blockade Labs. This platform allows you to create 360 images that can range from the everyday, such as a grocery store or school, to the spectacular – such as a space-scape or fantasy landscape! This is a groundbreaking new platform that ThingLink creators are now using to create a huge range of 360 content for their projects.
Pricing and Tips: When inputting the text used to create the images, simple is best. Avoid using overly descriptive or creative language. Skybox has a free version which allows you to create 15 generations per month, with no downloads. Paid plans start at $10 a month with 100 downloadable generations per month.

Graphic Design Platform: Canva
The initial introduction map page for the tour as well as the backgrounds for each chapter were created in Canva. She used the characters and other images that she had created in Midjourney to upload to the Canva backgrounds.
Pricing: Camila used the paid plan (starting at $12.95), however Canva's free plans are available to all, and provide all you need to get started. Canva is also free for teachers and students through Canva for Education.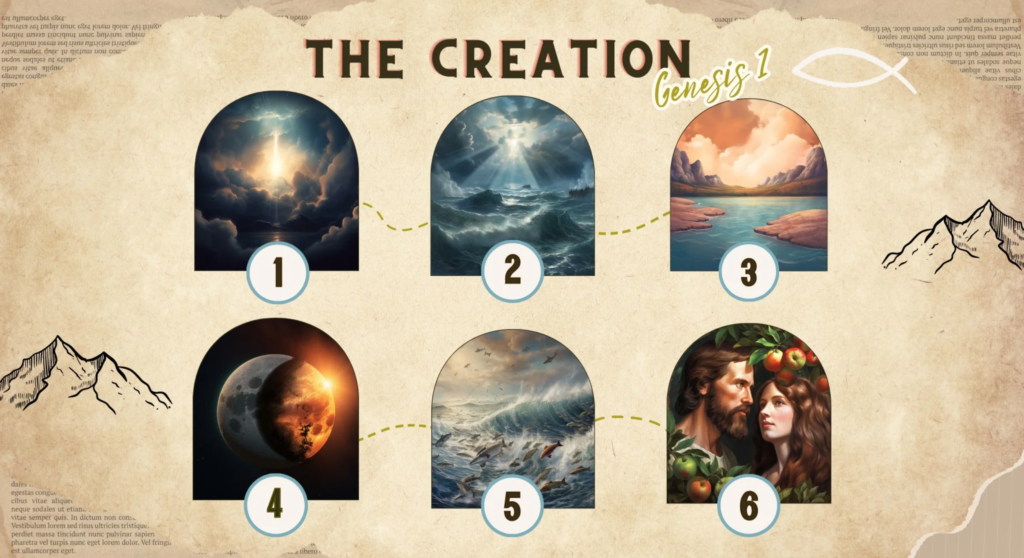 Virtual Tour Platform: ThingLink
Camila used ThingLink's new Guided Tours tool to guide the viewer through each chapter. Guided Tours are used to create learning experiences that allow learners to be guided through a virtual tour, rather than exploring it in a free-form format. This ensures that they explore all the content that creators have included. Guided Tours all include a text-to-image tool as standard to read your captions to your audience.
Pricing: you can see a full comparison of all education plans here.
Additional platforms
The audio for the Bible text within each chapter is provided by Faith Comes by Hearing and uploaded to ThingLink.
Once she had designed each character in Midjourney, she also organised the character images using a Miro Whiteboard (below) so she could have a visual reminder of what each character looked like, as well as the actual prompts that she had inputted to generate them. A great tip for creators, especially those who are looking to create a large volume of imagery! Camila used the free Miro version, which is free for education teams.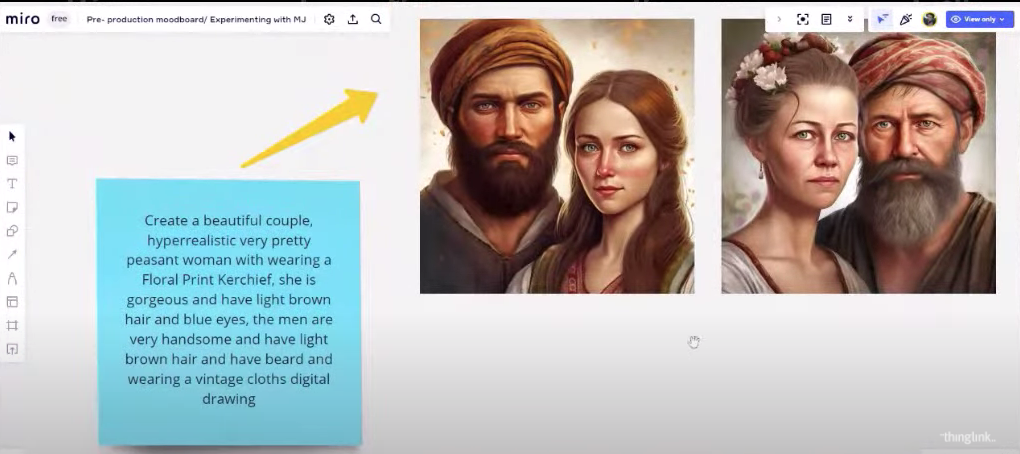 The project so far
And finally…we are delighted to present Camila's project so far in its entirety. Feel free to explore all the chapters in this extraordinary piece of work from a very talented young creator with a very bright future!
A work in progress
Although the final project has been submitted, Camila plans to keep updating and expanding this ThingLink. Her ultimate goal is to include the entire bible in this way. Just like all ThingLink content, it will be updated in real-time as she does so. Keep checking back to see her progress! We wish her the very best of success as she continues in her mission.
Learning points and top tips from Camila
Don't be afraid to research new technology and experiment with emerging technologies. Don't feel you have to stick to the same edtech tools that everyone else is using. If you can imagine it, the chances are someone else has developed it – so you just need to discover it!
Use AI technologies to save yourself time. Take advantage of the automation that their machine learning algorithms can carry out – so that you can use your creative and critical thinking skills to best effect. Ask yourself "Is there a tool or a platform that can do this quicker than I can? What can I use to do this job?".
"Imagine doing all the background images and drawing all the bible characters, and writing all the content, finding the audio…it would literally take me years to do this."

Camila on how AI image generation tools have saved time on her project
In fact Scott Hayden, Head of Digital Learning at Basingstoke CoT, considers this to be a fundamental benefit of using these types of tools:
"Camila's work is an example of where she's been able to leverage this incredible toolkit to enhance not only digital skills but critical thinking skills, communication skills, project management – all those Industry 4.0 skills that we know are needed."
When you do find a great tool, whether in the education technology sphere or further afield, don't just stick to the basic features. See how far you can go with it, experiment with it to see what more it can do! Keep practicing until you perfect the creation process – don't expect to make the perfect images first time.
Mix and match technologies and platforms! Each tool will do one thing really well but there's no one tool that can do it all.
If there is something you would like to be able to do in a platform, don't be afraid to get in touch with their support or development team! You may find there is a product in Beta or development that they can give you access to that will do exactly the job you need it to.
So how can AI help in education?
360 imagery is particularly powerful for creating immersive and engaging learning environments throughout the learning and education sector, as it naturally requires and encourages the learner to move around and explore a space. However, students and teachers in high school, further and higher education don't usually have the time, the funds or the capability to create all the real-world 360 imagery that they require.
In cases like Camila's project for example, where the landscapes, environments or contexts that are required are historical and/or remote, sourcing or creating photographic imagery is almost impossible. As this case study demonstrates, access to generative AI systems for image creation mean that student learning and exploration can be opened up like never before, allowing the full scope of a learner's creativity and imagination to take flight!
"Basingstoke College of Technology has a clear Digital Strategy that focuses on staff and students using technology intentionally, deliberately, and meaningfully to enhance teaching and learning. Using tech to develop the human skills is at the heart of our approach. Developing Compassion, Originality, Responsibility, and Empathy (C.O.R.E) skills in all learners is at the heart of our approach. Whether it be staff using AI to streamline planning and resource creation or augmenting and enhancing creative and critical thinking work like Camila's, technology is in service of teaching and learning, always."

Scott Hayden, Head of Digital Learning/Teacher, Basingstoke College of Technology
Using AI to empower students
We hope that this case study demonstrates the potential of AI to empower anyone to create powerful and realistic environments that have a wide range of applications – not just in education institutions. Like ThingLink and Canva, the tools we have included are just part of a new generation of tools and platforms that really do allow ANYONE to create and share spectacular, professional-grade content with no previous design or coding experience. If any further proof were required, Camila describes herself as having "zero tech experience" before she started her course. All that is required is a desire to research, explore, discover and experiment , to create, innovate and share!
How else can AI tools be used in content creation?
For more ideas on how you can use AI tools in your content creation, take a look at these related blogs in our AI section – where we cover the use of AI in various different ways including ChatGPT, chatbots, text to image and other generative AI technologies.
To see more examples of ThingLink in use, join one of our social media communities like the ThingLink Education Group on Facebook or our ThingLink LinkedIn Community.
Start a free trial account
To get started creating awesome interactive content, start a free trial of ThingLink today!