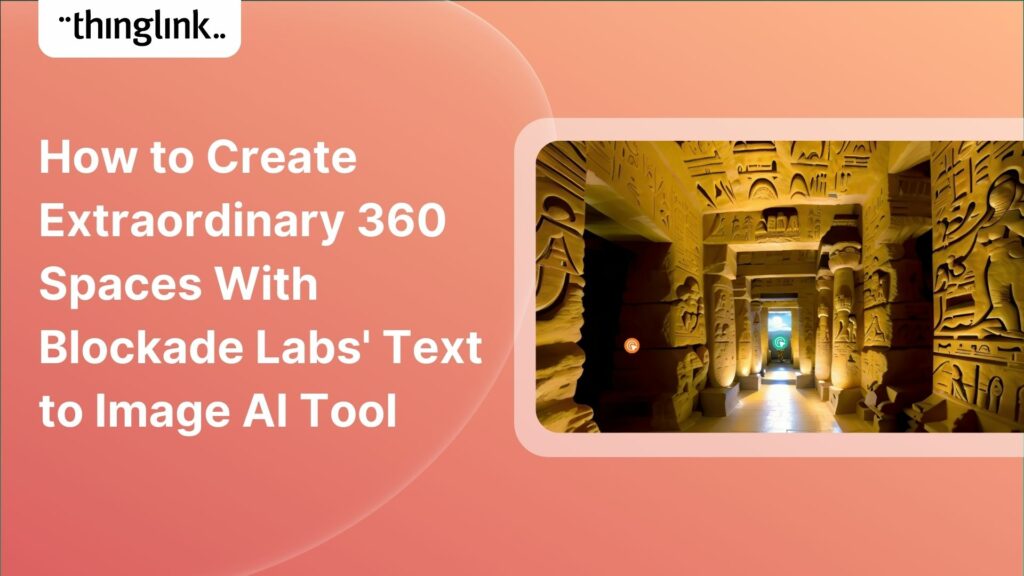 How to Create Extraordinary 360 Spaces With Blockade Labs' Text to Image AI Tool
At ThingLink we are constantly striving to source and share with our creators the very best and most useful AI tools. To meet our criteria they must produce high quality results and just as importantly, be easy to learn and use.
We recently shared the incredible work of Basingstoke CoT student Camilla who had used Midjourney and the free 360 AI image generator Skybox by Blockade Labs to create a stunning bible study experience. In this blog we return to the fantastic Skybox for a trip to Ancient Egypt and show you just how easy it is to create jaw-dropping immersive visuals with this amazing and free AI image generator. You can use the 360s you create as the basis of escape rooms, learning experiences and so much more!
Try ThingLink for yourself!
To explore the interactive content you can create with ThingLink, try a free trial today!
Incredible example of text to image AI tool in action
Riven Waters is a former teacher of 3D design, who was forced to retire early from his teaching career due to ill health. Riven is constantly exploring and discovering new ways of applying his skills and expertise using many of the new wave of generative AI text to image generators – and we can't wait to share his amazing work with you!
Riven's interest in 360 images and VR started when he tried his daughter's VR headset in 2022 and was instantly captivated by the potential of the medium. He was particularly interested in discovering how he could create his own 360 images. In fact he had previous experience in this field and when starting his research and investigation, thought back to a project he had completed years before. Whilst contracting for a company who construct shipping container homes, Riven had used 360-degree panoramas to showcase the interior design. He used this experience as his starting point for exploring and creating new 360-degree content with the new AI 360 picture generator tools now available.
Text to image: the new way to create images with AI
Riven discovered numerous ways to generate and share 360-degree images. Along the way he discovered and explored 360 VR videos, platforms like Twinmotion, and various AI image generators. This led him to experimenting with the AI Skybox generator made by Blockade Labs.
He decided to use Skybox create a series of Ancient Egypt-themed 360 images which could be explored in a trail, linked from one to another. He created an array of 36 caves which you can explore below! It took Riven many days of rendering and re-rendering to get the exact look and feel of the 36 different caves that he wanted. The caves, statues, figures and hieroglyphs are all designed using text prompts which contain relevant keywords.
From Skybox to ThingLink
Once the 36 caves were created in Skybox, Riven then downloaded them and uploaded these into the ThingLink editor as individual 360 scenes. He then simply linked them together with the ThingLink Tour Tags to create an exploratory game. He added his own compositions of wonderfully atmospheric Egyptian-themed music to each scene to complete the immersive experience. To move between some of the caves it's necessary to answer a question, which Riven created by using the Conditional Transition tool which can be added to any Tour Tag.
To help explorers navigate the caves, Riven also created a very clear floorplan of the cave system into his virtual tour – learn how to add this at this support article here.
Even more spectacular 360 landscapes to explore in The Kingdom
Riven then went on to create an entire world of simply breathtaking interconnected scenes using the same Skybox and ThingLink process, which together form "The Kingdom". Move from castles to waterfalls, snowy mountaintops to lush meadows, zen gardens and magical realms! Each scene is brought to life with music and background sounds. Just as with the Egyptian caves tour, Riven created all his own music which he uploaded into each ThingLink scene using the Upload Audio feature in settings. He even incorporated sounds of birdsong from his own garden!
Enjoy exploring The Kingdom as you move from one spectacular scene to another. If you would like to know how you can create your own 360 scenes like these for your ThingLink tour, escape room, game or learning experience, take a look at Riven's tips and advice below.
How to produce AI-generated images from a text prompt
Riven has provided us with some of his top tips for creating your own unique images using Skybox below!
The end results he achieves are usually reached after entering a lengthy keyword list into the image prompt, which can sometimes take hundreds of renders before he finds the perfect combination of keywords.
There are currently about 30 different design styles to choose from in the drop down menu, ranging from oil painting, to tech noir/cyberpunk, photorealistic and even claymation! However Riven recommends using the "Advanced (no style)" mode as that category has a higher character limit (540), compared to others which may have a character limit in the 300s or 400s.
Once you have a lengthy keyword list, try to "remix" the keywords in the text prompt by grouping similar words together, for instance, group the keywords for the environment, lighting, textures, and so on together.
Once you arrive at an approximation of the image you want, the more you remix the keywords in the text description, the more it will improve. As Riven puts it, "I believe the more you "train" the AI, the better the images get". However Riven recommends that you don't ever completely change the keywords when remixing. "I usually change only one or two words, or I will rearrange keywords within the list. Sometimes I find that the first few words have the most emphasis on the changes to the model" he says.
Once you are remixing a single model, certain objects, colours etc in the model will change, but it will not add or subtract the physical and structural attributes of the model. For example, the layout of a room will stay the same when you remix. So if you are not satisfied with the layout of doorways and windows, or roads and paths, choose to "Create new" with the same keywords instead to create a new image.
You can continue to follow Riven's exciting journey through the world of 360 and VR design at his website here, where he also shares some great tutorials, workflows and more wonderful examples!
How else can you use text to image AI?
Skybox's showreels of user-generated content on their social media posts demonstrates that their easy-to-use AI model can be used to generate an enormous spectrum of styles for a wide number of applications. Creators can design epic fantasy worlds and heavily stylised concept art, or an environment that looks realistic and everyday – and anything and everything in between!
We have certainly found Skybox to be the best AI image generator for 360 images for use in ThingLink – mainly thanks to its super-simple and user-friendly interface. The applications of using Skybox and ThingLink together are huge. For example:
Education:
Re-create the setting of a novel or biography to bring it to life (Dan Fitzpatrick recently showed us the "To Kill a Mockingbird" setting he had created with Skybox and Midjourney)
Recreate a historical setting eg a mediaeval cathedral, a renaissance town, stone age fort or Roman settlement
Build an escape room or game on any theme, in any subject!
Creative Industries and marketing
Create the optimal setting for filming to aid with location search
Create a look and feel for scenes in a movie storyboard
Create your ideal location for where a product can be used to show it "in situ" to your customers. Include the specific places it would be used (eg a beach, busy street crossing, cycle track)
Use to create the lifestyle for your ideal target consumer: where they live, where they holiday, what their town looks like, where they work etc.
Help create the look and feel of an event, launch or eye-catching ad campaign to show a client
Training and elearning
Create a realistic environment/location containing the features and elements that learners will have to navigate in real life. Learners can move from scene to scene through a virtual tour.
Want to read more about other ways to create great content?
These blogs, articles and use cases showcase some more easy ways to create awesome content for use in your ThingLinks.
Join our thriving communities on social media such as the Facebook ThingLink Education Group and the LinkedIn Community
Try ThingLink for yourself!
To explore the interactive content you can create with ThingLink, try a free trial today!