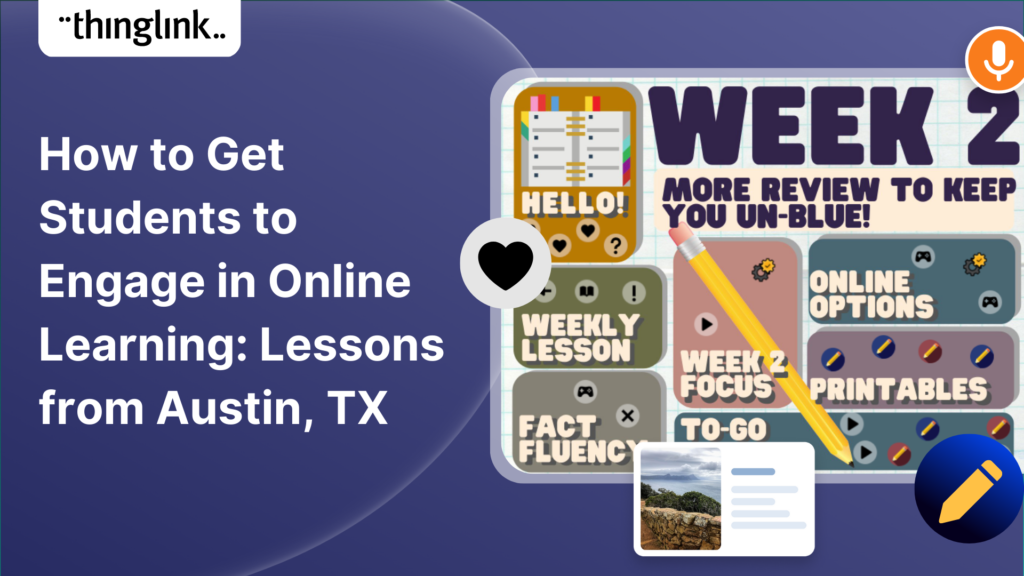 How to Get Students to Engage in Online Learning: Lessons from Austin, TX
Our education and learning community continues to impress us with new and original concepts and iterations on interactive online learning environments. From the US to Scotland educators are sharing their remote learning experiences. Combining their pedagogical experience with easy-to-use and easy-to-update educational technology has allowed them to engage with students in a different, but equally effective way to the in-person traditional classroom setting.
What has become apparent through all the examples we have recently shared is the importance of the social presence of the teacher and the relationships they continue to nurture with their learners. By adding multimedia messages to the choice boards (as well as activities), teachers are providing important personal touches and meaningful contact to help engage students.
Meet a product expert
If you'd like to learn more about what ThingLink can offer to your school, you can schedule an online meeting with one of our product experts below.
We wanted to take a deeper dive into some of our favourite examples that are emerging, and zoom into one fantastic project from Austin, Texas, in a little more detail. Teachers here have created interactive 'choice boards' with differentiated learning activities for learners and their parents and carers.
Engagement Strategies that Work
Engage your learners with interactive resources
Lorrie Salome, Teacher from Austin Independent School District needed to quickly devise solutions to help connect with her class when they had to switch to learning online at home during the pandemic. Students wouldn't always be able to attend an online classroom in real-time, so the material had to be easy to navigate and engaging enough that students would want to explore the virtual classroom themselves.
Simplify the presentation of your materials
Using ThingLink, Lorrie and colleagues created 'choice boards', primarily to weave together a wealth of resources and simplify the visual presentation of these for students and their parents and carers. The material was designed to be accessed and completed as asynchronous learning, but students were able to check in with their teacher, who also embedded personalised messages to students.
"Using this choice board, families can access a variety of resource types (online, printable, etc) at a wide-range of levels for tailored, differentiated options within one landing page. It allows us to seamlessly weave together a massive amount of content into a format that was a simple, organized, visually-appealing (one-page!) landing page."

Lorrie Salome, Teacher, Austin Independent School District

Image: Click the icons to explore Lorrie's playful home learning design
How do you motivate and engage students in an online class?
Smart icon design guides online students exploration
Another aspect of Lorrie's learning design is the use of icons as quick visual indicators of the type of content or resource they relate to. For example, blue and red pens show the starter and advanced options. The stars are the problems of the day and the magnifying glasses are the solutions. Back arrows are weekly recaps, and the hearts are personal messages from teachers to students.
You could also add quizzes, games, videos and all sorts of interactive content and course materials into your icons.
Online interactive learning like this is active learning; it encourages students to be actively involved in the materials, rather than passively digesting the information.
Why is it important to engage students in online learning?
"The symbology of the hotspot icons allowed families to know without having to click what type of resource was "hiding" behind the hotspot reducing the need to wade through unnecessary information. During a time of stress & overwhelm, this feature proved to be a huge advantage. Families were able to "understand" the course organization with very little cognitive overload. In a fantastically short amount of time, the icon symbology became second-nature to users and students were able to find what they were looking for quickly, with little to no confusion" .

Lorrie Salome
How do you create engaging online learning?
Watch the ThingLink Spotlight interactive video interview
Watch the Interview with Lorrie and hear all about why it worked for their student learning, including some key concepts such as creating your base media for your ThingLink, custom icons and embedding on your LMS or platform of choice.
More examples of engaging online learning experiences using ThingLink
Higher Education case studies which would work equally well to increase student engagement in K12:
Meet a product expert
If you'd like to learn more about what ThingLink can offer to your school, you can schedule an online meeting with one of our product experts below.