Are you looking for a cost-effective, carbon-efficient and safe way to deliver inductions or safety briefings? Read how Fingrid partnered with ThingLink to create over 100 virtual safety briefings to ensure that employees can access facility safety instructions at any time.
Fingrid is the company responsible for the transmission of an uninterrupted electricity supply across the Finnish grid. Electricity producers, electricity-intensive plants and electricity distribution networks are all connected to their nationwide grid. Veijo Siiankoski, Fingrid's Condition Manager, has worked for Fingrid for 25 years and is responsible for leading the local operation team and for preparedness issues in the network condition management unit.
Safety briefings for new employees are a key part of each local operations teams' work. Traditionally Fingrid's safety briefings have been given face-to-face at 30 power stations located around Finland. The inductor and the new employee have travelled tens or even hundreds of miles to the power station to go through induction materials, on-site mobility, and on-site safety. These one-to-one meetings are therefore costly both in terms of working hours and mileage.
Why ThingLink?
To cut down on time and environmental impact, Fingrid started exploring the possibilities of virtual orientation. Initially, they created a short pilot using videos taken at the substations. This was followed by a tender, which ThingLink won.
Veijo says that ThingLink was chosen partly due to the optimal creator and user experience and enterprise security. With ThingLink, internal teams can create their own clear, multimedia orientation materials without any previous experience in content production. It was essential that the materials could be securely distributed to the right groups within the company. Using ThingLink on the company's own servers increases security. Integrating ThingLink into Fingrid's personnel management system also saves time by keeping responses integrated within the system. The functionality of ThingLink as a platform was also confirmed by an external audit.
A helping hand
ThingLink provided a specialist to help capture the images at each substation. Exterior and interior facilities at all 30 substations around Finland were photographed in 360 aspect and were used to create the ThingLinks by Fingrid's team.
The Fingrid team created versatile induction materials for different target groups, including their own staff, service providers and maintenance personnel. With their current implementation, they can easily edit and adapt the materials to be shown to different target groups.
Cumulative savings
Each virtual tour is clearly more cost-effective in terms of both time and money than an on-site one. And for a large, national company like Fingrid, the long term savings will be substantial. With a target group of about 300 employees and 30 substations, Veijo also points out that by running the orientations virtually, Fingrid will reduce their carbon footprint – an important part of their corporate responsibility.
Virtual tours also make everyday life easier for new employees. They can access the self-study materials at a time that suits them and even complete them from home. This means work can continue even when employees have to work remotely, during quarantine for example.
The virtual tours work well for those employees who need to revisit the materials for any reason. This can simply be because time has lapsed since their last substation visit, or if anything has changed at the site. The solution also saves time for operational experts who no longer have to record completed training in the HR system. Because the ThingLink tours are integrated in Fingrid's system, the orientations are automatically registered once the user has completed the tutorial.
A clear orientation package
The goal was to create an experience that was as authentic as possible for new employees. New employees can now practice navigating the substation locations safely in a virtual way. Within the 360 images, essential information is presented in the right context using information tags. Users are directed to additional information using links.
Contextual learning that sticks
In the virtual site, the user can move logically between the different spaces of the substation as they would do while carrying out the actual work tasks. This contextuality has been proven to support learning and helps improve recall of instructions, even on the spot. At all stages of the tour, the user can also easily return to the aerial view, making it easier to navigate and perceive the space.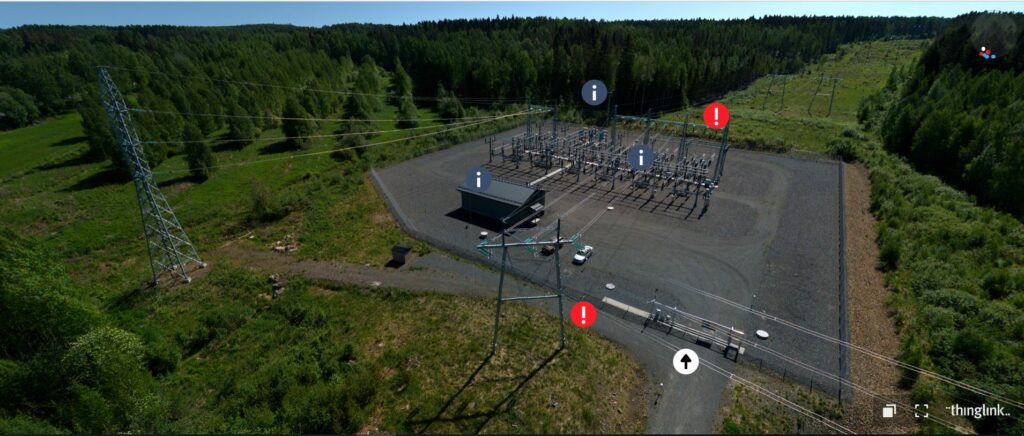 Veijo says that it initially took some time to create clear, high-quality materials as the team considered different solutions. However, the work was streamlined by using the same template to create materials for all substations; for example, the information tag texts could be copied. However any initial investment of time in creating the virtual tours is of course worthwhile in the long run, as this way many employees can explore the facilities independently.
The end result is truly functional and user-friendly learning materials, in which employees can easily and quickly move around the premises, return to the initial map view, move to other substations if necessary and find additional information.
Positive feedback
The virtual material was tested and demonstrated internally and has been officially in use for a few weeks. Feedback has been positive, with ThingLink perceived as a good platform; users have appreciated the ability to navigate virtually at substations and find out information without having to physically visit the site.
Further opportunities – scenarios
The Fingrid team will next focus on finishing the materials for a few more substations and then on the large-scale use of induction materials. Veijo is also open to new possibilities in the future where ThingLink can be used for other contexts and functions.
One of the opportunities open to ThingLink users is scenario-based learning paths. In this case, a scenario is created for the user, in which they are presented with a security-related challenge, for example. The user can practice solving the challenge safely in a virtual environment. Branching and multiple choice questions enable the user to select the solution they think is best and receive feedback based on their choice. The scenario storyline evolves step by step, based on the choices made by the user.
Fit for the 21st century business model
Finally, Veijo emphasizes that the ThingLink implementation supports Fingrid's business model. It streamlines operations by saving time and money; reducing the carbon footprint; and increases safety at substations by allowing employees to easily recall what they have learnt.
We look forward to receiving more feedback from Fingrid employees and hope that the virtual orientations will make their daily lives easier.
"ThingLink has been seen as a very good tool – today's application improves security and makes navigating the substations much easier." Veijo Siiankoski, Fingrid
---
Interested in ThingLink's design and content production services?
Need a partner to design, capture, and build interactive 360 environments? Do you need support in demonstrating school or business facilities, orientations, training, or producing online training materials? ThingLink's design and content production services are tailored to your needs and may include, for example:
Designing and creating a tour with a professional who specializes in designing and filming interactive content
Shooting and editing: images, videos, 360 images, 360 videos, drone images
Online course or induction design, implementation, and ThingLink user training in collaboration with the customer
Please contact:
Aleksi Komu
Sales & Partnerships Director
aleksi@thinglink.com
+358 50 379 3818
As well as contacting us if you have any questions, please join our communities and connect with ThingLink Educators. We are incredibly proud of our groups, how they embrace ideas and share, they will only be too pleased to welcome you.