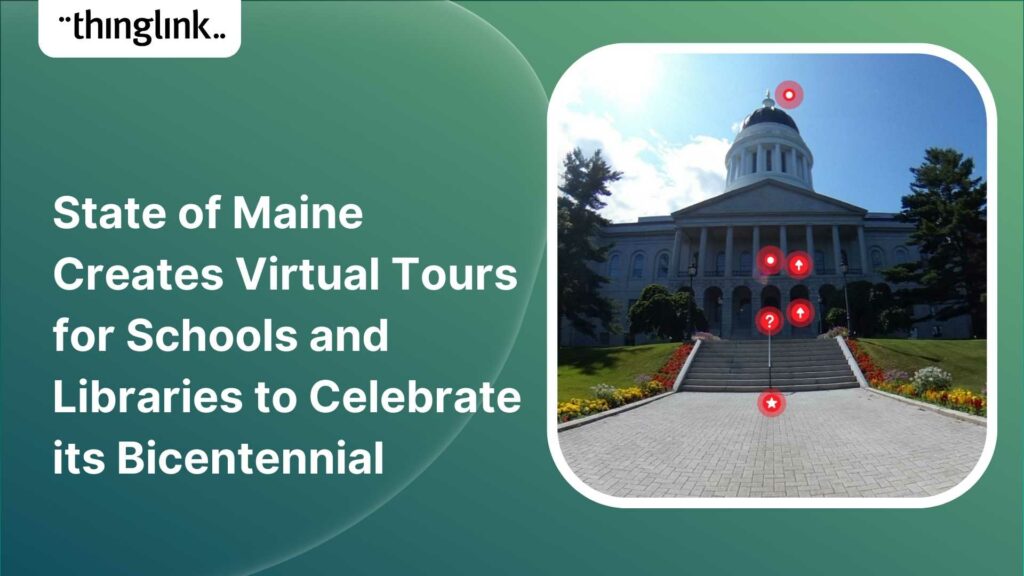 ThingLink Spotlight: State of Maine Created VR Tours for Schools and Libraries to Celebrate its Bicentennial
Kristen Muszynski is the director of communications at the Department of the Secretary of State in Maine. Some time ago her colleague Tammy Marks, director of the Maine State Archives, started advocating for investing time and money in new technologies to showcase the archives' holdings.
"We heard about ThingLink at a special event at our cultural building at which new technologies for teaching students about history were on display. This gave us the idea to shoot images of notable Maine locations with our 360 camera and populate each shot with interesting facts and images from present day and history."

Kristen Muszynski, Director of Communications, Department of the Secretary of State in Maine
Kristen spearheaded the project and started working with the state archives team to gather materials and edit them to create virtual tours that could be viewed as interactive virtual reality experiences. The result was three initial complete virtual tours of the Maine State House, Old Orchard Beach Pier and of Maine, and Penobscot Narrows Bridge and Observatory.
From the beginning, the plan was to post the tours on the State Department website as well as travel around to schools and libraries with a VR kit to show the tours to students and their parents.
However, like all ThingLink virtual tours, they can just as easily be viewed on any mobile device, tablet or desktop – making them accessible to anyone, any time!
Meet a product expert
If you'd like to learn more about what ThingLink can offer to your organisation, schedule an online meeting with one of our friendly product experts below.
Explore the virtual tours
Explore the tours in these three embeds by clicking on the arrow hotspots. For example, you can move inside the State House from the exterior in the tour below!
Click the magnifying glass to hear about features within each scene, and see detailed images of the feature.
You can also click the VR icon on the bottom right corner of the tour to begin viewing in a mobile VR headset. 
You can explore the entire series of linked tours by clicking on the two squares in the bottom right of each image – choose where you would like to go from the array along the bottom!
Maine State House – VR EXPERIENCE
Old Orchard Beach Pier – VR EXPERIENCE
Penobscot Narrows Bridge & Observatory – VR EXPERIENCE
Successful feedback from the first school tour
The students from the Windsor Elementary School were the first ones to get an up-close view of some of Maine's most prominent sites via VR. The local TV channel WABI/5 covered the event and captured students' reactions and feedback, which was so positive that the teachers requested their own VR headsets and phones so they can use this in the classroom.
The tours were so well received by school students and teachers that many further tours were subsequently created.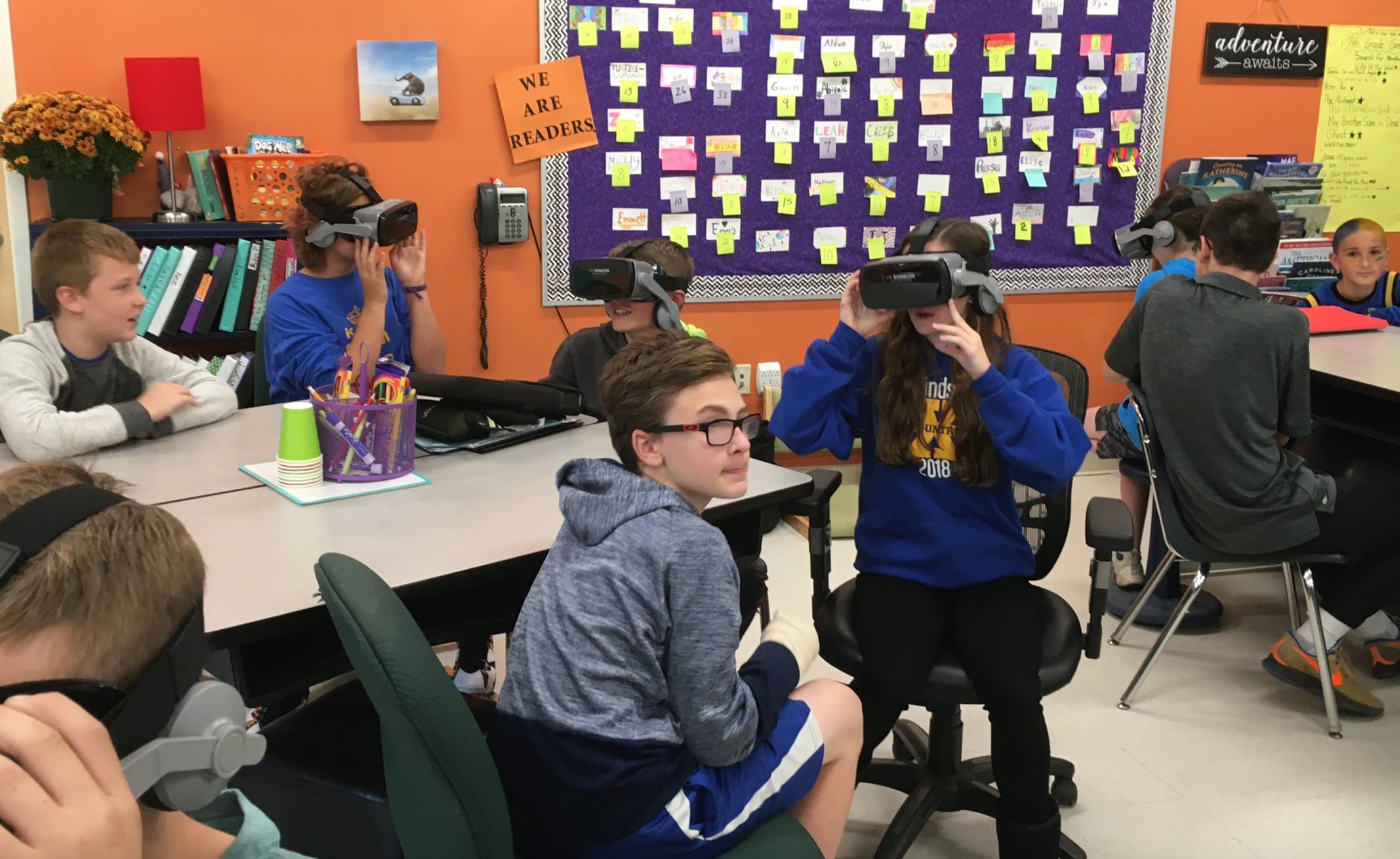 Photo credit: State of Maine
This project is a great example of how new media technologies and public archives can be used to:
Engage citizens to learn about a region and its history
Provide new resources for schools and libraries
Enable students to visit notable places without logistical costs of in person visits
Inspired by these virtual tours? It's easier than ever to create your own 360-degree tours!
Pano to 360 by ThingLink is a new and completely free tool that lets anyone convert a panoramic photo taken on their mobile device (Android or iOS/iPhone) and convert to a high-quality 360-degree image. No 360-degree camera or virtual tour software required! A super-simple tool and direct replacement for the now deprecated Google Street View camera app.
Try Pano to 360 for yourself!
Try for yourself and become a virtual tour creator in moments. Upload any panorama jpg or png then download the resulting photosphere to use in your new tour.
Other uses for virtual tours
Further reading on virtual tours
Start creating today
Get started with a free ThingLink trial and see just how easy it is to create interactive visual media
For more great examples and inspiration, join our creative social media groups and communities: