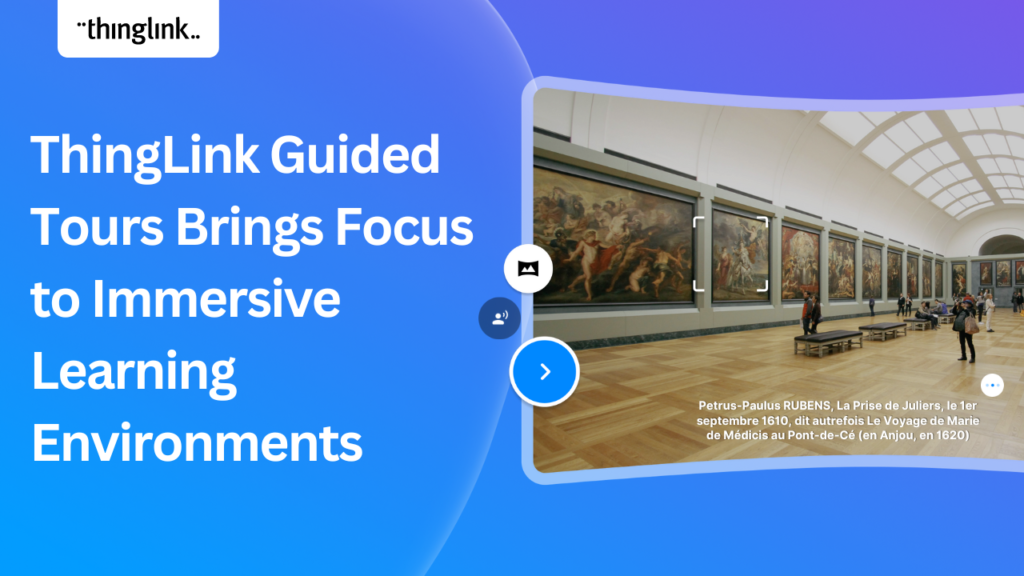 ThingLink Guided Tours Bring Focus to Immersive Learning Environments
Today, ThingLink announces a new product: Guided Tours. Here is a quick summary of what it is, why we built it, and how it can help instructors and learners to build better immersive learning experiences.
What are ThingLink Guided Tours?
ThingLink Guided Tours offer an easy way to create structured introductions to a physical space using 360 images. Instead of free-form exploration, ThingLink Guided Tours focuses the viewer's attention on one single point at a time. The creator of the tour can add subtitles and audio playback for each focal point.
ThingLink Guided Tours is an excellent tool for any educator to increase their virtual training time. On-site, exclusive tours that were previously only accessible to a few at a time, can now be accessed by hundreds or thousands.
Solving key challenges in immersive learning
ThingLink Guided Tours help solve at least two key challenges typically present in immersive learning environments.
1. Ensuring the same viewing experience for all
Guided Tours helps make sure that all learners experience the tour and its elements in the same order. This is especially important in mandatory technical and safety training, but also in cases where an immersive learning environment is part of an exam, certificate or degree. Summative assessment in the end of the training is more reliable if all learners have experienced the same scenes in the same sequence. Some may take more time observing, but the structure of the presentation is nevertheless the same.
2. More flexibility, better accessibility
The second challenge has to do with organizing instructor-led virtual classes.
The bigger the group and the younger the participants, the harder it is to make everything happen perfectly synchronized, simultaneously. Maybe there are not enough headsets or tablets, some people are absent, unexpected things happen and attention diverts away from the instructor.
ThingLink Guided Tours bring more flexibility to immersive learning by allowing learners to have a shared immersive experience asynchronously. Viewing can take place in small groups, at school or at home. The instructor can be present as a guide and discussion can happen on the LMS afterwards. This way, more learners can attend immersive lessons and field trips, and access them on any mobile device without VR headsets.
Ideas and core assumptions behind Guided Tours
The idea behind ThingLink Guided Tours is similar to the narrated VR tours we launched in 2019. It's based on the following key assumptions on immersive learning environments:
Learners benefit from expert guidance
Focal points (frames, hotspots) help guide the learner's attention
Shared VR does not have to be live VR; Asynchronous viewing improves access and flexibility.
Learners should be able to revisit immersive learning experiences and view them at their own pace.
NEW! The easy way to create 360 images for your Guided Tours: Pano to 360
Creating virtual tours, exhibitions, escape rooms and other immersive content just got even easier! ThingLink has now launched Pano to 360 by ThingLink: an easy way to create a 360 photosphere from a panoramic image using any smartphone. For more information, including step-by-step instructions see this helpful support article.
Try the free Pano to 360 converter
The Pano to 360 photosphere converter is free to use for anyone, no ThingLink account required! Upload a panoramic image to see it in action.
Health and Safety Guided Tour
Try ThingLink Guided Tours for yourself with this health and safety experience! Click the arrow to move through the focal points in a sequential way. Make sure to click the person speaking icon on the bottom right corner to hear audio narration. When activated this will move you automatically through the experience.
Use cases for ThingLink Guided Tours
Here are some areas where you can use ThingLink Guided Tours:
Expert tours to museums, libraries, campuses, and commercial facilities
Technical training
Safety training
Special education
Professional evaluations and exams, certifications and degrees
Try ThingLink today for free!
Sign up for a free trial account and explore all the features. We have accounts designed for educators, elearning professionals, museums, organizations and even marketing and communication specialists.
Other posts that might be of interest to you