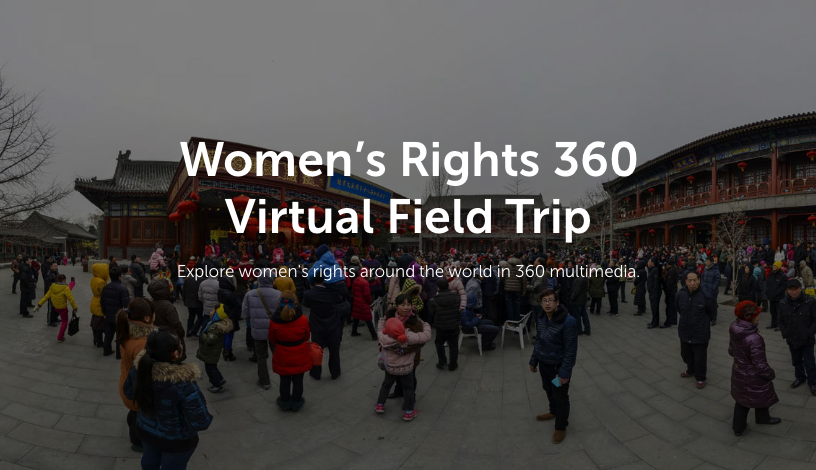 ThingLink launches Women's Rights 360° Virtual Field Trip
In celebration of International Women's Day, ThingLink has created a series of interactive 360 stories highlighting information about education, healthcare, social justice, as well as women's economic and political participation globally. The goal of the project is to help educators, students or parents address complex topics such as global gender equality with a new kind of immersive learning experience. The stories are narrated by women from around the world and can be viewed by anyone on desktop, smartphone or with mobile VR headsets such as Google Cardboard or Samsung Gear VR.   
The idea for Women's Rights 360 came from our awesome network of teachers. Educators ranging from elementary school to university are facing increasing pressure to cover important issues such as gender equality and women's rights. In our recent survey of teachers, 90% of teachers said their students are interested in questions related to gender equality and women's rights, but still, 42% of teachers report it isn't covered in their curriculum.
A New Approach to Learning:
Virtual field trips are a new way to approach complex global topics in the classroom, and 98% of teachers who responded to the survey felt that it can have a positive impact on student's learning.  To support this idea, the ThingLink Education team has put together a set of virtual lessons on global women's rights and resources including practical ideas and lesson plans for teaching. For more information about the process, click here.
Today's Featured Country: Ireland
What it's like to be a woman in the 21st century vastly depends on where you live. For example, many countries such as Ireland have radically changed in the past 20 years, while some countries tend to evolve more slowly or have even taken steps backward on gender equality and women's rights.
Today's  story takes you to Ireland. Just click 'Play' and start looking around!