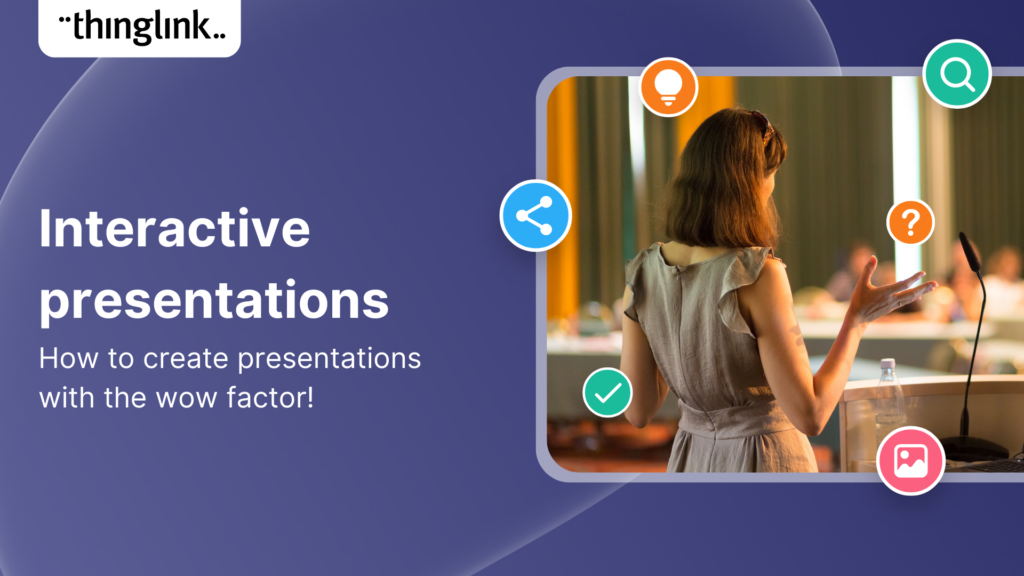 Interactive Presentations
What are interactive presentations?
In business, education and the cultural sector, presentations are a common way to share information and ideas. But what if your presentation or slideshow could be more than just a one-way street? What if it could be an interactive experience, engaging your audience and making them part of the event? Presentations with interactive features are becoming more and more popular as a way to capture an audience's attention and get them involved. There are many different ways to add interactivity, from using polls and surveys to incorporating questions and group activities. If you're looking for a way to spice up your next presentation, consider making it interactive!
Book a free consultation
If you'd like to learn more about how your company can save resources and effectively support employees with impactful, interactive training, schedule a free call with one of our transformation consultants.
Interactive presentation example
Take a look at this interactive presentation on the planets, using a 360 image of the solar system in ThingLink – feel free to explore! Planets are numbered from largest to smallest, but you can explore them in any order you like.
Why are interactive presentations becoming more popular?
Interactive presentations are engaging presentations! Every presenter wants to keep their audience's attention – whether that's in a lecture, a talk or keynote speech, a product demo or a webinar. In-person presentations could be said to be interactive – because the presenter is usually able to see and hear their audience and can ask questions or for responses/feedback. However making interactive content is particularly important when presenting an online presentation or video presentation, using Zoom, Microsoft Teams etc.
Examples of how to make your presentation more interactive
Luckily you don't need to invest in expensive presentation software to make your presentations and slide decks the interactive way. Today there are a huge number of either free or very cost-effective online design and presentation tools to help you create interactive presentations
Our recent blog on creating interactive Microsoft PowerPoint presentations provides a step by step tutorial, including an interactive infographic. You can apply almost exactly the same process if you use Google Slides.
Another excellent online tool for creating the initial visual media for your interactive presentation is Canva. There is a free version which has lots of useful functionality and hundreds of templates, graphics and fonts that are free to use. This should meet all your presentation requirements if you are just getting started. Their graphic design tool has been designed for anyone to use, using simple drag-and-drop processes. If you're ready to move up to the next level, their paid-for plans have very reasonable pricing and provide even more great features such as royalty free images, gifs, animations, video and audio.
How you can make your next presentations more interactive
What could you include that your audience can interact with – either in real time or if they are viewing a recorded presentation?
Why not upload your presentation slides into ThingLink and add multimedia tags that your audience can open and explore? Even tables and graphs can be made much more engaging with the addition of interactivity.
A simple tool is to add a poll or quiz at various stages through your presentation. This would be a great way to add an icebreaker to your presentation to get your audience thinking!
Share your interactive presentation
Now that you know how to create your interactive presentation, how do you plan to share it? ThingLink content can easily be shared in a variety of ways:
As an embed on your website, blog or landing page
On any social media platform
As a simple link
You can also download a version of your interactive ThingLink presentation to use offline in the app.
Further reading
There is a huge range of interactive materials that you can start creating today with ThingLink! Read some of these blogs below for more inspiration:
Join the conversation!
For more inspiration from our community of over 10 million creators, follow us or join our groups and communities on social media:
For FAQs and advice from our experts, go to our helpful Support pages.