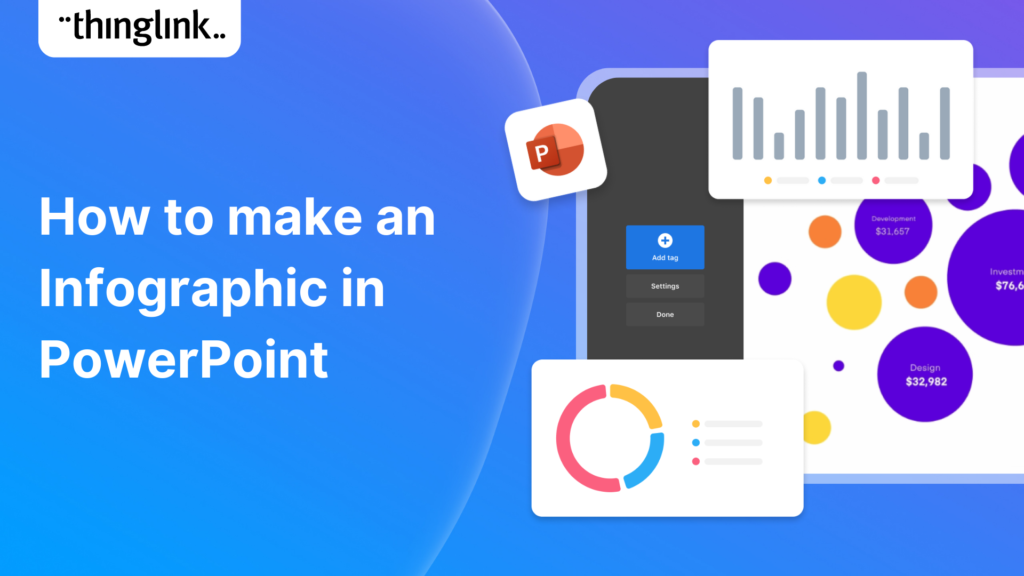 How to Make an Infographic on PowerPoint
In this blog post, we'll show you how to make an infographic in Microsoft PowerPoint. Working with shapes, images, icons, and text you can easily create a professional-looking infographic even with no graphic design experience. Then, more importantly, we'll show how you can easily make it come alive, interactive and engaging, with even better sharing options!
Why should I use infographics?
Creating your own infographic is a great method of data visualization: sharing information in a visually appealing way. PowerPoint (often shortened to ppt) is a great tool for creating infographics because it's easy to use and has built-in features that make it simple to create complex designs from visual elements. Infographics can promote your brand with colors , icons and fonts they can also help make complex concepts easy to digest.
What is the process of making an infographic?
Here's a simple planner to help you plan step by step. First as plain copy, then as an infographic!
Choose a topic and data to visualise
Research and plan your infographic design to be as eye-catching as possible
Create a sketch or wireframe of your infographic
Design your infographic using visuals and text
Finish up your infographic by proofreading and adding finishing touches
Share your infographic with the world!
Are you curious how you can make this even better, make it interactive?! Read on to find out how!
Click here to view the accessible version of this interactive content
How do I make a simple infographic?
To get started, open PowerPoint and create a new blank presentation. Then, add a new slide by going to the Insert tab and selecting New Slide. You are able to insert charts and graphs and customize this by colour or gradient. You can also choose a custom slide size and format background.
How do I make an infographic with pictures?
When you're adding image content to your PowerPoint infographic, it's important to use high-quality images that are relevant to the topic. You can find free photos online at sites like Unsplash or Pexels. Be sure to read the terms of use for each site before using an image, as some require attribution.
Once you've found an image file you want to use, insert it onto your PowerPoint slide by going to the Insert tab and selecting Picture. Then, use the picture formatting tools to resize or crop the image as needed. Jpg and png files are the easiest to work with.
To add text to your infographic design, you can use a built-in PowerPoint template or create your own text boxes. To create a text box, go to the Insert tab and select Shapes. Then, choose the shape you want to use from the menu.
Once you've added all of your content, it's time to format your infographic slide. You can change the color scheme, fonts, and other design elements to suit your needs. To do this, go to the Design tab and select a theme from the options.
How long does it take to make an infographic in PowerPoint?
The amount of time it takes to create an infographic will vary depending on the complexity of the design and the amount of information that needs to be included. It's of course easier if you have created PowerPoint presentations in the past, but PowerPoint is an intuitive tool that is quick to learn. With some planning and careful execution, it is possible to create an impressive infographic – which you can even make interactive if you want!
What are the best infographic templates in PowerPoint?
Luckily, even complete beginners can use the PowerPoint infographic templates to create infographics. As well as presentation templates, PowerPoint provides a huge selection of infographic templates too. Any of these can of course be edited and adapted to the use you require! These include:
Mental model infographic template
Problem solving infographic template
Mind map infographic template
Cause and effect infographic template
SWOT analysis infographic template
Process flowchart infographic template
Decision tree infographic template
Project management timeline infographic template
Marketing mix infographic template
Business model canvas infographic template
Competitive analysis infographic template
Customer journey map infographic template
Value proposition design infographic template
Startup pitch deck infographic template
Business plan infographic template
Sales funnel infographic template
KPI dashboard infographic template
Marketing campaign tracker infographic template
Social media report infographic template
SEO proposal infographic template
PR plan infographic template
Brand guidelines infographic template
Event planning checklist infographic template
Product roadmap infographic template
Project timeline
If you need further help, you can also access the free tutorials provided by Microsoft within PowerPoint.
What are some good websites for making infographics?
Of course there are many other options for creating infographics. One of our favorites is Canva, which offers a variety of templates and design options to choose from, so you can create an infographic that looks both professional and unique. It's also worth remembering that the same basic process outlined above can be used to create infographics in Google Slides.
Now you have an infographic, you can make it interactive!
Save your infographic slide as an image by going to file – save as! It's super easy to do this, simply follow the quick video! The simply upload to ThingLink and add interactive tags! Once it is a new improved interactive ThingLink you'll also be able to see engagement statistics!
For more advice and inspiration and to start looking at interactive infographics, follow the links below.
If you need any more inspiration for creating an interactive infographic feel free to contact us directly for a demonstration, pricing or to ask any questions. We'll be happy to hear from you.