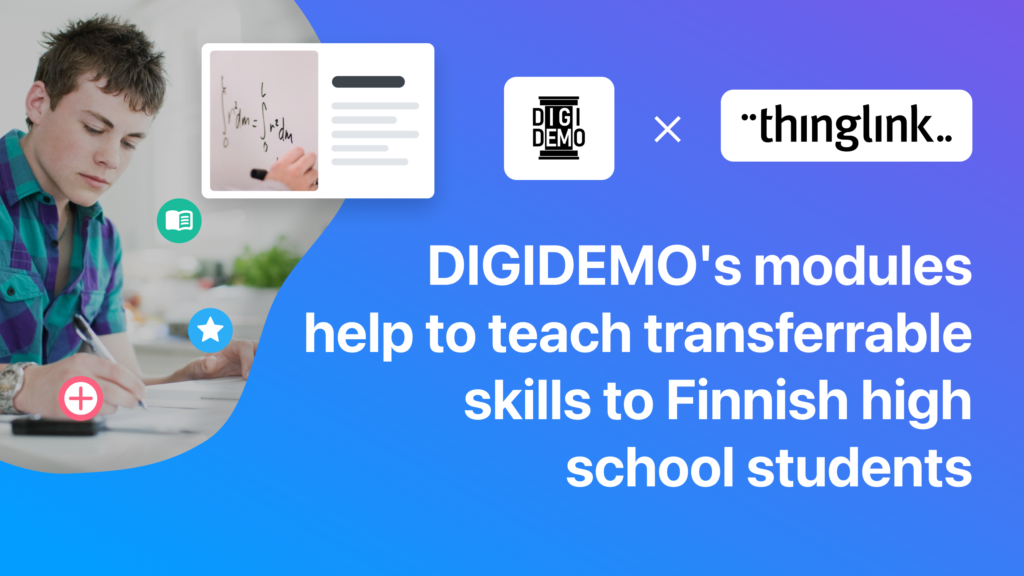 DIGIDEMO's modules help to teach transferrable skills to Finnish high school students
How could transferrable skills, or "transversal competence" mentioned in the Finnish general upper secondary curriculum be taught in an inspiring way? For example, how to teach democracy and social competencies? This case study demonstrates how a group of education professionals devised a virtual learning environment (VLE), divided into different modules to be studied. The Finnish National Agency for Education provided funding for the idea and so the DIGIDEMO project started.
In DIGIDEMO's ThingLink learning environment, students can test an imaginary upper secondary school welfare program, find out about a fictional municipal corruption case, try out the work of a Member of Parliament (MP) amongst many other things. The digital learning environment created by the DIGIDEMO project will be free to use in all Finnish high schools from August 2022 for the academic year 2022-2023. The learning resources are in Finnish.
Try ThingLink for free today
To start creating your own immersive and interactive learning materials, start a free 30 day trial of ThingLink.
Immersive learning experiences
The authors behind DIGIDEMO are educational professionals in the field of history and social studies who originally met at the Department of Teacher Education at the University of Jyväskylä. Matti Rantonen, Mikko Hiljanen and Juho Annala have been friends at the Department of History and Ethnology at the University of Jyväskylä; Matti Rautiainen has been their teacher of didactics.
After studying, Matti and Juho have worked as teachers. Mikko remained at the University of Jyväskylä for postgraduate studies and as a lecturer at the Department of Teacher Education. Matti Rautiainen works at the University of Jyväskylä at the Department of Teacher Education as a teacher of History didactics.
Gamification and experiential learning
The group is welded together in both the university and school world. Their activity has been marked by experimentation, gamification and the ideation and implementation of various night schools and escape rooms related to the teaching of history and social studies. Team members have long been interested in experiential learning as well as various visual means of making learning experiences immersive. The group has always been open to the opportunities offered by digitalisation to implement pedagogical ideas.
The DIGIDEMO project is a natural continuation of this brainstorming and teaching development work. The group members saw that the Finnish National Agency for Education supports projects in which the new upper secondary school curriculum is taught through various digital learning environments. They submitted a successful funding application for their project DIGIDEMO, which allowed the team members to take time off from teaching and focus on creating learning materials.
The challenge is to teach transversal competence
The DIGIDEMO project combines the transversal competences of the new upper secondary school curriculum with the democratic competences of the Council of Europe. These are familiar to team members both through teaching and through democracy education.
The new Finnish upper secondary school curriculum has 6 competences that need to taught in each high school subject in one way or another:
well-being competence
interaction competence
multidisciplinary and creative competence
societal competence
ethical and environmental competence
global and cultural competence
The democracy competencies selected for DIGIDEMO are:
analytical and critical thinking skills
knowledge and critical understanding of language and communication
collaboration skills
knowledge and critical understanding of the world
responsibility and civic attitude
Demand for suitable teaching materials
There is a great demand for teaching materials suitable for dealing with these themes, and DIGIDEMO is a direct answer to the needs of both upper secondary school teachers and the Finnish National Agency for Education. Team members say that teaching transversal competences is often tedious for high school teachers, as combining 6 broad cross-curricular themes with one's own subject can be difficult, especially if suitable learning materials and examples are not available. Many teachers also find it difficult to assess transversal competences. The group states that the Finnish National Agency for Education wants to promote different ways to teach democracy competencies so that they naturally become part of everyday school work.
The idea of the DIGIDEMO team has been that at best, transversal competences and democracy competences are intertwined and can be taught through concrete, authentic cases. The solution is modules that allow learners to practice critical thinking, collaborative skills, understanding the world, and responsibility and ethics about the environment through immersive cases. The modules put the student in the role of an investigative journalist, among other things, to investigate a case of corruption in the imaginary municipality of Nyörilä and thus practice a critical understanding of language and communication. The modules also give the student the opportunity to try out the work of a Member of Parliament in a virtual, imaginary parliament, and at the same time learn cooperation skills and taking other people's views into account.
Modules for use in all Finnish high schools
The creation of student learning materials progressed a long way in 2021. From August 2022 modules were freely available to all Finnish high schools. Teachers can decide for themselves how widely they want to use the materials. In addition to upper secondary schools, learning materials can also be used in middle schools – for example, the Parliament episode can work well in the teaching of 9th graders.
The episodes cover a wide range of topics including trying the role of a journalist and a member of parliament. On top of these, the students get to try out a wellbeing programme in the imaginary Nyörilä High School while learning to think critically and discuss their own well-being and their real high school community. The students also learn ethical and environmental transversal competences by playing a digital board game in which 12 countries are tasked with solving global problems on the board with resources allocated to each country.
The modules make it easier for teachers to bring together different subjects and transversal competencies. The team notes that no similar learning material was previously found in Finnish to teach these themes. For example, learning games have been used in the past, but they often face usability challenges. The experience of authenticity and immersion is easily broken if the episodes are not sufficiently designed and refined, or if there are contradictions in the visuals or story.
Captivating stories
The strength of the DIGIDEMO modules is their authenticity and immersion. The user feels engaged in the story and wants to progress and try what's around the next corner. Usability has been carefully thought out and the narrative arc remains intact. Progress is clear and easy. The experience of settling into different roles is especially memorable – with the help of modules, you can easily become a journalist in the imaginary municipality of Nyörilä, a Member of Parliament who listens to colleagues in Parliament or a decision-maker to solve global challenges.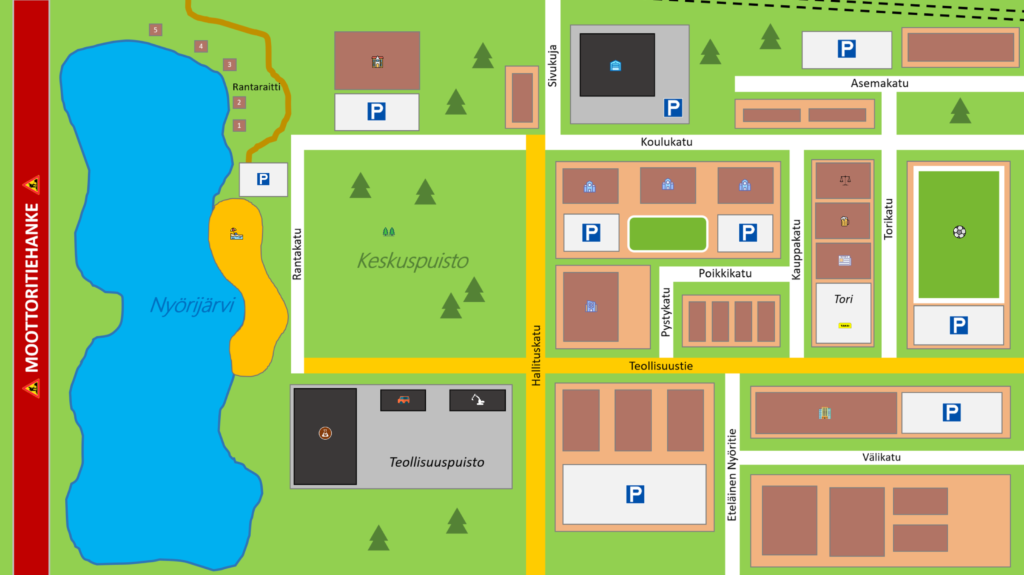 An example of the feeling of authenticity and immersion is the taxi ride to Parliament in a video, where the user sits in the back seat and listens to the driver's storytelling and an imaginary news report on the radio, which helps the student to get acquainted with the story via a virtual environment. The DIGIDEMO team, as education professionals, has spent a lot of time developing the pedagogy behind the episodes to make it work. The goal is an experiential, playful way to learn. For example, through the parliamentary episode, the ability of young people to reflect on their own political identity is developed above all. This is best done by offering the students an opportunity to solve case that feels authentic.
A successful implementation with ThingLink
The team has been pleased that the vision for the episodes was successfully built with the help of ThingLink. In the design of teaching materials, pedagogy is always considered first and the aim is to find tools that can be used to implement the pedagogical vision. In this project, this was achieved using ThingLink.
ThingLink has proven to be an excellent tool in pedagogy that focuses on authenticity, playfulness, and real problem solving as a key part of the learning process. The digital and web-based learning environments created with ThingLink combine flexibly with face-to-face learning in a physical learning environment, such as a traditional classroom setting. They also integrate seamelssly with all learning management systems (LMS). In ThingLink, all visual media can be annotated with other learning tools and multimedia content, making it suitable for all learning outcomes and grade levels.
Encouraging feedback on the online learning modules
To date, the DIGIDEMO team has received positive and encouraging feedback on the parliamentary episode from the University of Helsinki's social science students and the digital skills team of the Jyväskylä Educational Consortium Gradia, who tested the teaching materials. Users especially valued pedagogy, usability and visuals. Teaching materials have also been demoed to other groups and have been very popular. With such encouraging feedback, now is a good time to move on to a wider testing and piloting phase. We look forward to the release of the modules!
Read more:
You can also follow DIGIDEMO's progress (in Finnish) on Facebook, Instagram and Twitter – at @digidemohanke.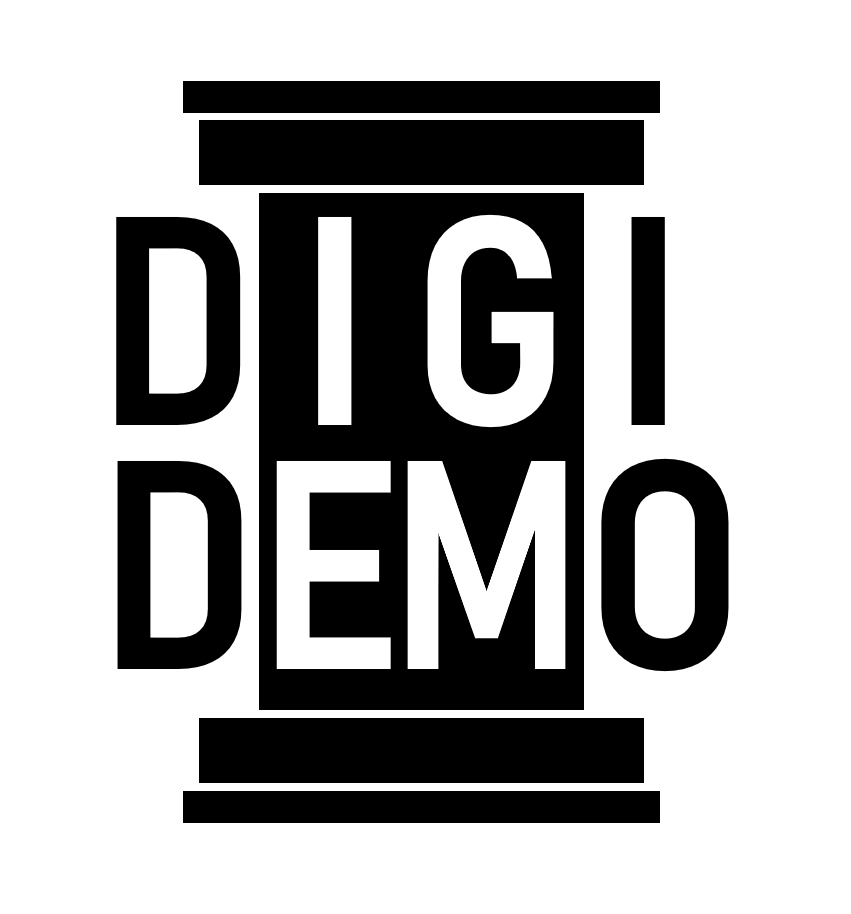 Interested in ThingLink's design and content production services?
Need an educational technology partner to design, capture, and build interactive 360 environments? Do you need support in demonstrating school or business facilities, orientations, training, or producing online training materials? We can help you create content for professional development and corporate e-learning, higher education institutions and schools, and other distance learning and distance education providers. ThingLink's design and content production services are tailored to your needs and may include, for example:
Designing and creating a tour or course content with a professional who specializes in designing and filming interactive content
Shooting and editing: images, videos, 360 images, 360 videos, drone images
Online course or induction design, implementation, and ThingLink user training in collaboration with the customer
Best practice training for use in virtual reality headsets, or creating virtual spaces.
Meet a product expert
If you'd like to learn more about what ThingLink can offer to your school, college or university, schedule an online meeting with one of our product experts below.
Join the conversation
For more ideas, use cases and inspiration on content creation, join our communities and forums on social media! Twitter / X ThingLink or ThingLink Education, LinkedIn Community and ThingLink Education Facebook Group.