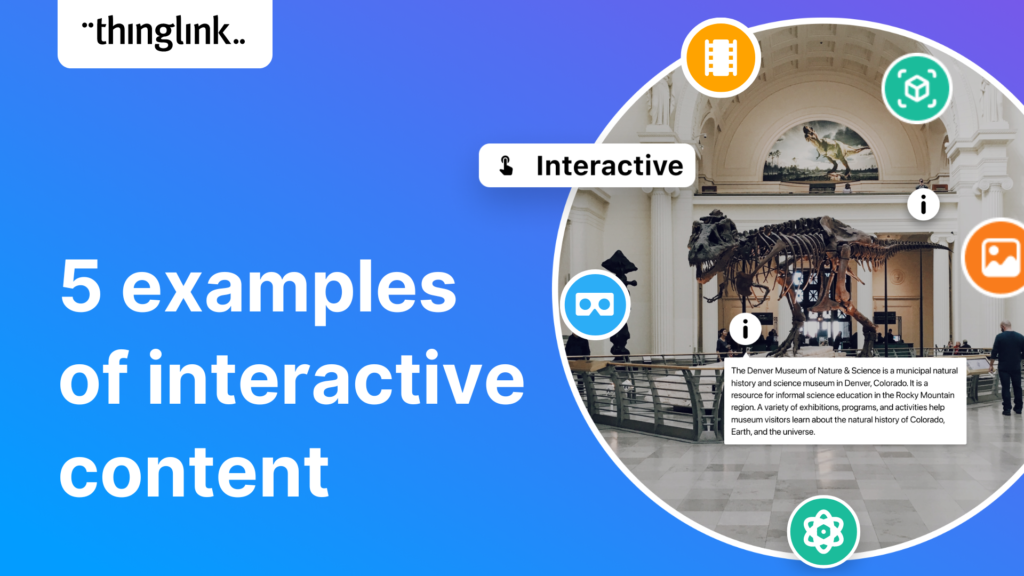 Five Examples of Interactive Content
5 types of interactive content you can easily create today with ThingLink
September 14, 2022 / 4 minutes of reading / By Louise Jones
Stuck in a content creation rut? We've done some of the hard work for you and chosen five outstanding examples created by our users. All show off just how easy it is to make any sort of content interactive, from maps, images and 360s to field trips.
What is interactive content?
Interactive content is where users actively participate in it or engage with it Examples of this include answering a question or choosing an option, or even clicking on areas, tags or hotspots within the material to open up further content.
Meet a product expert
To know more about creating interactive content with ThingLink, schedule an online meeting with one of our friendly product experts below.
1. Interactive infographics
Infographics help you explain your complex data to viewers in a clear, visual and easily digestible way. When you add interactive elements, your infographics immediately become more compelling, memorable and are more likely to get your audience's attention. You can use infographics to introduce and summarise dense or complex materials such as a course of learning materials, pitch documents, annual reports, white papers or other research. You can add further information, links, references or data into the hotspots and tags for those who want to explore in more detail.
For marketers, introducing interactive infographics into your marketing strategy is a simple way to encourage lead generation if you're looking to level up your content marketing. This infographic below was created with ThingLink by Carmanah to demonstrate the features and benefits of one of their product range. You can read more about how and why they created their interactive ThingLink content here.
If you're looking to take your infographic design to the next level, we find Canva to be one of the best and simplest content tools for creating infographics. They supply hundreds of infographic templates for all sorts of uses and applications. This interactive infographic example below which displays the course content of our Certified Creator Course – was designed using the Canva integration in ThingLink. You can read more information on becoming a ThingLink Certified Creator here.
2. Interactive maps and timelines
Adding interactive hotspots to key places or flashpoints on maps allows you to easily create more engaging content of this type for all types of audiences. An interactive map created in ThingLink can be embedded into any website or landing page. Why not provide an interactive map for new team members in your organisation's induction, to ensure they know the key locations they will need to hit the ground running?
This map below is a great example which was created in ThingLink and is updated on the Wilhelmsen's company website in real-time.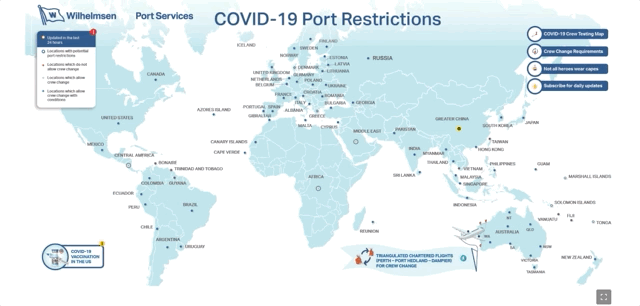 3. Interactive 360 images
A 360 image can become a much more interactive experience with the addition of multimedia tags that your viewers can explore. ThingLink allows you to embed a wide variety of tools and apps into 360 images. These range from 3D objects from Sketchfab, animations, quizzes, video embeds and more.
Southampton University created this clear and simple interactive 360 site visit using a 360 camera. Each tag leads to a video which was filmed at the exact spot that the tag sits in within the image.
However, you may be surprised to hear that you don't need a 360 camera to create an interactive image like this!
NEW! The easy way to create 360 images: Pano to 360
Creating virtual tours, exhibitions, escape rooms and other immersive content just got even easier! ThingLink has now launched Pano to 360 by ThingLink: an easy way to create a 360 photosphere from a panoramic image using any smartphone. For more information, including step-by-step instructions see this helpful support article. 
Try the free Pano to 360 converter
The Pano to 360 photosphere converter is free to use for anyone, no ThingLink account required! Upload a panoramic image to see it in action.
You can also search the ThingLink 360 library for 360 images of sites around the world – from cities to desert landscapes and UNESCO world heritage sites. The library is free to use for all ThingLink users.
4. Interactive tours
This tour from the Royal Ontario Museum is a classic demonstration of how you might repurpose your existing material to quickly and simply take an exhibition or visit online. ROM have placed text, images and videos from the real-life exhibition in tags within 360 images of the museum interior. Why not go in and explore the tags? In this case study we look at the benefits that this virtual tour brought the ROM. ThingLink allows you to link individual pieces of content of different types together – images, 360 images, videos and now 3D models.
5. Interactive quizzes, interactive calculators, interactive assessments
Instead of assessments that rely on static content, why not include interactive versions into your course creation plan? An immersive and realistic interactive assessment or test like this one puts your team into a real-life environment. At Karelia University of Applied Sciences in Finland, students have to learn all about the workshop machines via an interactive ThingLink 360 image (below). Embedded within it is a comprehension test that the student must pass to earn their physical permit to the workshop. You can read more about the interactive content created at Karelia at the full case study here.
The benefits of interactive content
Whether you create interactive content for education, marketing or other purposes, you will immediately see the benefits. Attention spans are said to be becoming progressively shorter, meaning that users tend to scroll past static content, preferring short form video content on social media for example. So it follows that anything that entices your viewer to engage and interact with your content is clearly beneficial.
Key concept: Regardless of whether you are an educator designing learning materials, or a marketer building a content marketing strategy, your audience is seeking engaging user experiences.
What type of interactive content is your audience engaging with?
A key benefit of creating interactive media in ThingLink is that each time that your audience interacts with your content, this feeds into your ThingLink statistics of views, opens, clicks and time spent on any media. This means that you can easily build up a picture what appeals and what engages. Again, this is of huge benefit whether you are a creator of interactive ebooks, courses or lessons for students, or interactive content marketing. The metrics and user data generated by each interaction should inform your future content strategy and help you learn more about your target audience.
How do you start creating interactive content?
ThingLink allows anyone to start creating their own interactive videos, images, 360 media and 3D objects. Integrations with accessible graphic design tool Canva as well as 1M+ free images from the Unsplash image library mean that creating interactive quality content is within reach of everyone.
Where can I get more ideas for creating interactive content like this?
Learn more by joining one of our friendly communities on social media – our LinkedIn Community is a great place to start!
Meet a product expert
To know more about creating interactive content with ThingLink, schedule an online meeting with one of our friendly product experts below.