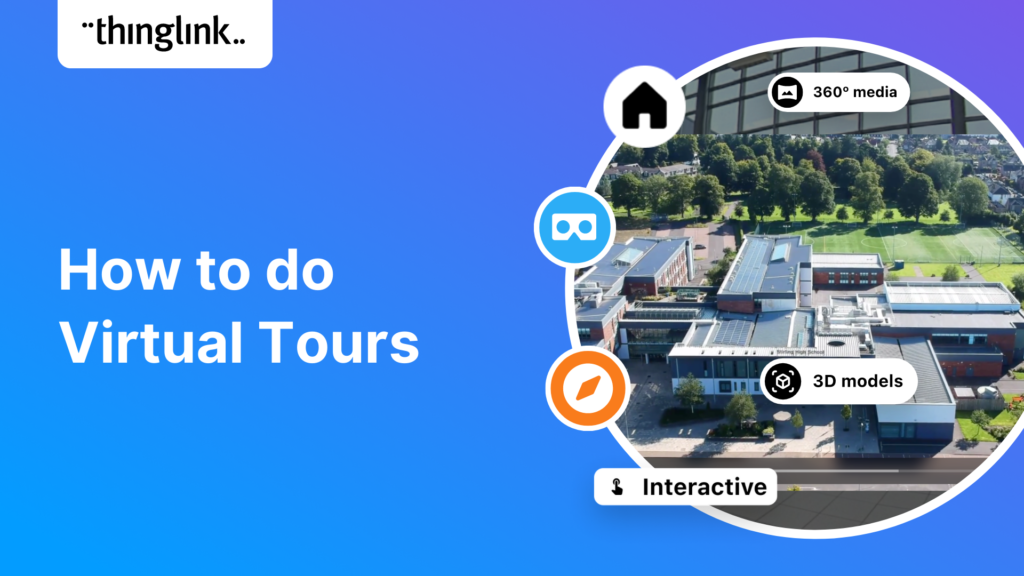 How to do Virtual Tours
Are you looking to create Virtual Tours and Expeditions? Do you need to view tours in Virtual Reality mode? ThingLink is the perfect solution for the task. This post provides you with an overview of ThingLink's virtual tour creator. We provide some helpful tips and tricks to create your own immersive experiences.
ThingLink has become one of the world's most popular rich media tech tools for creating visual learning materials and experiences. Over 8 million people have registered a creator account, and over 350 million people learn with ThingLink every year. In 2016, ThingLink was the first company to make it accessible and affordable for teachers and students to create virtual tours and expeditions.
Meet a product expert
If you'd like to learn more about what ThingLink can offer to your company, you can schedule an online meeting with one of our product experts below.
The popularity of the platform's success is down to ever-improving functionality and simplicity. As digital media usage becomes more sophisticated, ThingLink has responded with rich media tags, in-tag controls, enhanced VR technology player controls, accessibility features and improvements to tour transitions.
Since the start of the Covid19 pandemic we saw soaring demand in education for both virtual environment visits and online learning, from K12, through higher education and beyond to professional development. Educators are using ThingLink to create some outstanding examples which show how interactive virtual experiences and tours can help meet and go beyond the challenges.
Putting content into context in
virtual tours
At every level, context visualization is key when creating content that keeps your learners engaged. Using ThingLink with 360 degree images to create Virtual Tours and Expeditions immediately creates an immersive experience which enhances and reinforces the learning journey. This is all the more important when students are joining the classroom from diverse locations. Adding in their 'social presence' to tours, educators have been able to remain connected to their learners.
Lessons from Lockdown: In-context learning with the University of Central Lancashire
When Covid-19 canceled a medical school's in-person workshop, ThingLink provided the solution for a realistic scenario to immerse students in the experience. Students then pieced together individual data within the simulation to diagnose and create a patient management plan.
Read more about this fantastic example of interactive teaching material – which enabled students to relate to the realistic content but also developed their observational skills within standalone virtual environments.
The built-in security, sharing and simple functionality of ThingLink means that it can also become a collaborative tool for your learners. Students can create their own ThingLink content as a way to present research and information. The clone function easily allows them to edit your example with their own content.
See below and hear how Stirling High School's pupil-led team introduced students to the school's new one way system, part of their response to Covid-19.
Where you could use a
virtual tour
Realtors and other real estate professionals can use them to provide a walkthrough of a home, retail or office space to potential buyers, tenants or investors.
Museums and galleries can create a brand new tour between displays or items that wouldn't normally be linked, or even taken out of the archives. These two case studies from the Petofi Museum in Budapest and the Highland Folk Museum in Scotland are great examples of this in practice.
In any sector you can use virtual tours to introduce and guide new starters around a new environment, or a familiar environment where routes or protocols have changed. You can hear directly from Student Leader Emily how Stirling High School's pupil-led team introduced students to the school's new one way system during Covid-19.
Multidisciplinary teams working on large projects can create virtual tours and virtual staging of buildings or rooms even when in the design stage. ThingLink's Unity plugin is the ideal tool for this function.
What extra functionality does ThingLink bring to virtual tours?
Collaborate on ThingLink creations with

shared folders

in your organizational account

Increase accessibility – text in hotspots can be opened in Microsoft's

Immersive Reader

Explore and use high quality royalty-free panoramic photos with our

library of 360 images

from around the world

Embed a huge variety of content types in tags – including videos, GIFS and carousels of images, as well as external apps such as Google Maps, Forms, Flipgrid, and YouTube

Add virtual 3d objects to your immersive experience with tools such as Sketchfab

Share to your Google for Education Google Classrooms or Microsoft Teams seamlessly

Add your own

custom icons

for branded or personalized tours

Add your voice

or other audio directly to other content in the tags in the browser – no need to record on another app

Check comprehension or add an additional level of security with

conditional transitions

between scenes – users can only progress through the tour with the correct answer or password

Select your tours to be Private or Unlisted tours – keep sensitive content private or share it with your group, class or organization or make it public and searchable

Use your 360-degree tours with

Virtual Reality

VR Headsets such as Google Cardboard, HTC Vive, Oculus Rift, Gear VR.

Share to your Google Classrooms

for VR viewing with Google Cardboard with our designated feature.
Using
virtual reality
can be easy! How to go Further with ThingLink
One of the challenges with Virtual Tours and Trips is the viewer's understanding of the layout. The solution is to use a combination of images and 360 media to take the viewer on a virtual walkthrough, from start to finish.
For example start with a video, floor plan or map with a legend as your introduction to the tour – helping users to visualize their location and journey. Below is a great example of this in action at the Royal Ontario Museum.
ThingLink creations can be made from flat images (jpg. and png.), video, 360 images and even 360 video. With the Tour Tag you can link any combination of ThingLinks, no matter what base media you use. This means that unlike other virtual tour platforms, you can also include video tours for your viewers.
You can now also add a floorplan to your Virtual Tour, with no additional virtual tour software required. Read this article for more information on this great new feature.
Select a scene within the virtual tour
All virtual trips in ThingLink also enable the viewer to hop from scene to scene as they wish, as well as following the linear tour. Clicking on the square icons bottom right of screen brings up the scene selection from where users can move about the scenes freely. Example here from Midlothian Council in Scotland.
How to Create a ThingLink
Go to thinglink.com and create your free trial account. Watch this 11 minute video for a complete introduction tutorial to the creation process from uploading your first media to sharing it with your customers, learners or colleagues.
Capturing 360 images for ThingLink
You can read about how to convert your photos taken with 360 cameras such as Insta360, Ricoh theta v or theta z1 here. 
NEW! The easy way to create 360 images: Pano to 360
Creating virtual tours, exhibitions, escape rooms and other immersive content just got even easier! ThingLink has now launched Pano to 360 by ThingLink: an easy way to create a 360 photosphere from a panoramic image using any smartphone. For more information, including step-by-step instructions see this helpful support article.
Try the free Pano to 360 converter
The Pano to 360 photosphere converter is free to use for anyone, no ThingLink account required! Upload a panoramic image to see it in action.
For a fully immersive sensory experience – ThingLink and Virtual reality headsets (VR)
As well as viewing ThingLinks across devices such as Chromebooks, PCs, mobile devices and iPads, ThingLink 360 degree images and videos can be viewed in Virtual Reality (VR) mode for a different type of sensory experience. This article provides an overview of virtual technology controls, limitations and certain specifics of creating and viewing ThingLink with a VR Headset such as Oculus, HTC Vive and Google Cardboard (with Mobile devices with an accelerometer).
Further questions about Virtual Tours or ThingLink in general?
Get in touch with us at education@thinglink.com. As well as contacting us if you have any questions, please join our communities on social media to connect with ThingLinkers. We are incredibly proud of our groups, how they embrace ideas and share their demos, they will only be too pleased to welcome you.
Facebook: ThingLink Education || Twitter: ThingLink, ThingLink Education || LinkedIn: ThingLink Community
View our Past Webinars on our YouTube Channel or click below to view:
ThingLink is GDPR COPPA & FERPA compliant details here