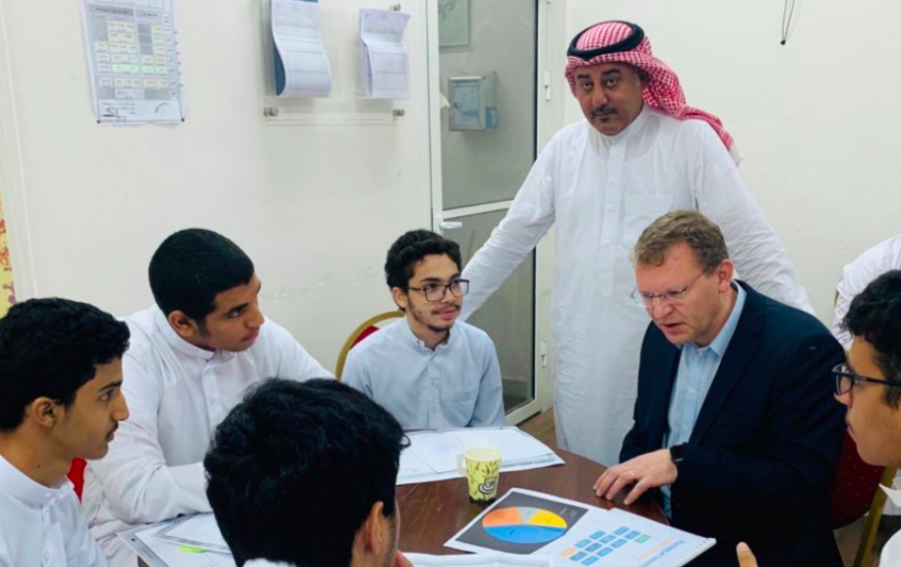 A virtual 360 degree learning scenario can help learners visualize their own professional path
The first results from testing a virtual course module on entrepreneurship are promising. Our partner Omnia Education Partnership conducted a survey among 70 students from seven high schools in Saudi Arabia at the age of 16. All the students went through an interactive 360-degree learning scenario about developing a business idea for a new company, and answered questions about the ThingLink experience.
Image: Mikko Sallinen from Omnia Education Partnerships introducing a course module to students in Saudi Arabia.
Feedback on the learning experience
The goal was to get student feedback on four aspects of the immersive learning experience: 1) ease of use, 2) support in understanding the content, 3) relevance of the content, and 4) help in thinking about students' personal professional path. The test was conducted as part of an ongoing entrepreneurship program in Saudi Arabia designed and produced by Omnia Education Partners. Before this module, the students had completed module one on entrepreneurial mindset. The link to the course module 2 was sent to students directly via email.
Summary of students' feedback:
| | | | |
| --- | --- | --- | --- |
| Ease of use | The content supported my understanding of the Business Model Canvas | How interesting was the content? | I got new insights for developing my own business idea |
| 4.2/5 | 4.1/5 | 4.3/5 | 4.1/5 |
Ease of use
Module 2, the immersive learning scenario, consisted of multiple interactive 360 degree images and videos created with ThingLink, and a chatbot using Microsoft Cognitive Services. The chatbot guided students to view images and videos, and click next to answer related questions. 84% of the students felt that the virtual course module was easy to use.
Support in understanding the content
Student felt the immersive scenario supported their understanding of the Business Model Canvas. In this example, the role of the chatbot was to introduce questions that would prompt students to reflect the situation they have seen, and think how they would apply the new information they have just learned. For example, after students watched a video, they were presented a multiple-choice question.
Relevance/quality of the content
Students felt they got a new perspective to entrepreneurship by being able to follow the story of Maria in person by attending situations with her through 360 videos and images. Students were able to see and hear the same things as Maria and think what kind of advice she would need.
New insights for developing their own business idea
Students felt that following Maria's story helped them get new insights for thinking about their own business idea and simulating a possible path as an entrepreneur.
Other aspects and thoughts
Virtual course modules with 360 degree images and videos can provide a complementary new way for students to learn about a subject, allowing a virtual in-person experience. It can also support teachers to provide an authentic real-world experience to their students in addition to classroom learning.
This is needed, as not all teachers of entrepreneurship programs have run their own business, which means it is difficult to come up with authentic stories and examples to show that in practice being or becoming an entrepreneur is not a set of straightforward choices, but a constant process of searching and finding answers, as well as trial and error. The virtual course example helped students to understand that they have to continuously get new information and evaluate choices to make decisions and that there is not always a right answer.
A 360-degree immersive learning scenario can make in-person online learning possible in a scalable way. Going forward, the scenarios can challenge the students with short open ended questions that students can answer without leaving the experience. The integration with Immersive Reader supports students with accessibility requirements.
Interested in creating and testing a immersive learning scnearios in your organization? Please contact us at education@thinglink.com.