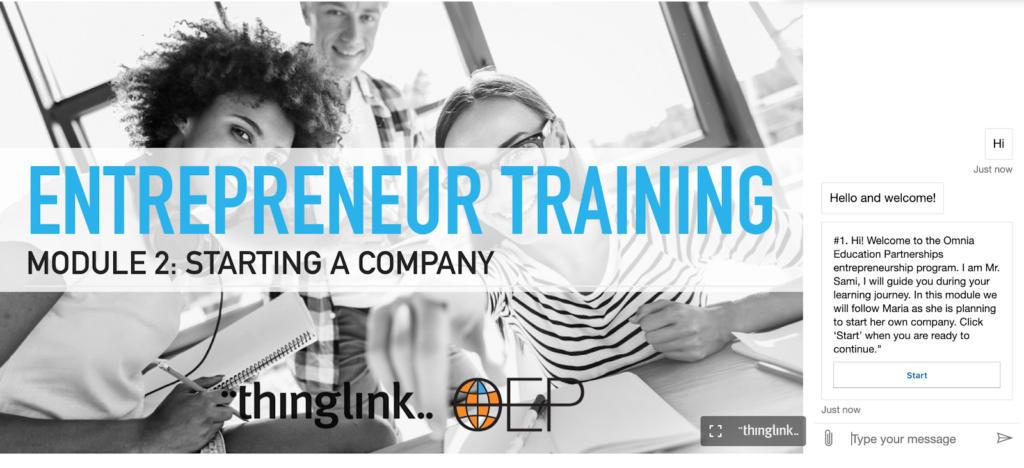 4 Ways to Create Remote Learning Tools with ThingLink
Over the years we have featured several projects designed for remote learning or collaboration. We have received many inquiries about how ThingLink can be used to create remote learning tools when schools are closed, events are cancelled or travel is limited.
Here are four easy ways you can easily create remote learning tools using ThingLink.

1. Interactive videos in remote learning
Interactive videos can be used for various purposes: presentations, introductions, explanations, lectures, training and project assignments. Even short 5 minute videos to explain daily goals or homework assignments help students. They can help maintain a connection with their teacher instead of just receiving text-based instructions on an LMS.
An interactive expert interview video of Sampo Forsström on organizing and operating co-teaching spaces. From the teacher education school, University of Eastern Finland 
How:
Record a video using mobile phone or screen recording.

Upload the video to ThingLink.

Tag the video with additional details and resources.

Share via ThingLink or LMS, Microsoft Teams or Google Classroom.
2. Virtual tours as remote learning tools
At schools, virtual tours are becoming an essential part of the online learning experience. However, teachers are still short of content that is aligned to the curriculum that they could edit for their own classroom. For example, when schools were recently closed in the Veneto area in Italy, teachers were asked to prepare materials for studying online. Astrid Hulsebosch from ThingLink's Italian educator community pointed out that in this kind of situation it is more important to create materials for teachers than to create material for students. To inspire others, Astrid shared her own immersive lesson on Judaism using 360 images from the Venetian Ghetto. The lesson contains multiple additional resources that other teachers can decide to keep or edit out, and a feedback form for students at the end.
How:
1. Capture 360 images or videos at a remote learning or training environment and upload them to ThingLink. Likewise, you could use images from the ThingLink library.
2. Add closeup images or videos, descriptions and narration.
3. Share via ThingLink or LMS, Microsoft Teams or Google Classroom.
3. Remote learning for TVET, workplace and professional courses
At workplaces, educators use virtual courses and interactive 360 videos to introduce or train employees in a specific physical location. This can be an orientation to a new work environment, sales training, safety drill, technical or product training. Most importantly, remote learners can view the virtual training on their desktop, mobile device or a VR headset such as ClassVR or Oculus.
This is a virtual introduction to KEUDA Digilap by Kari Honkonen. KEUDA group is the 9th largest provider of vocational education and training in Finland.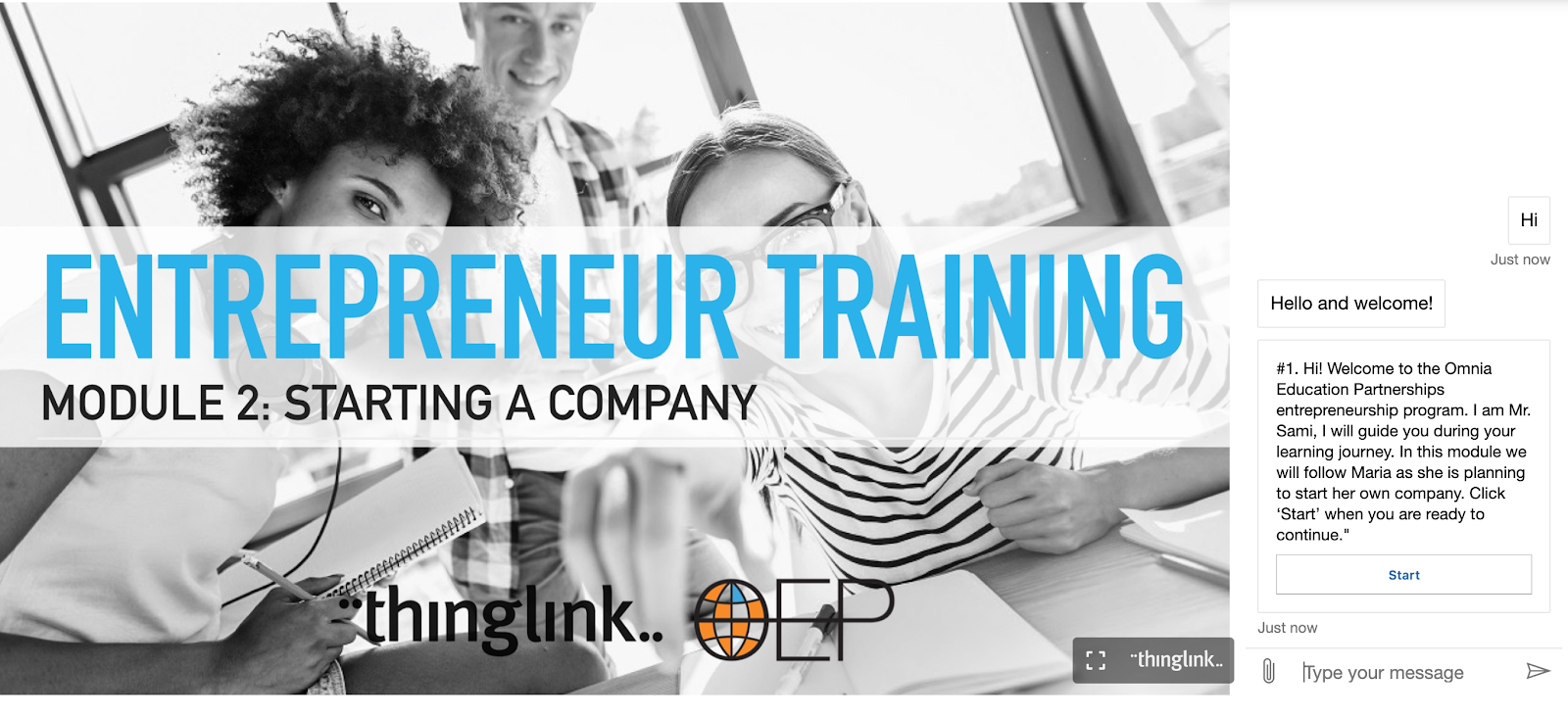 This is a virtual course module by Omnia Education Partners for high school students. It uses a mixture of 2D and 360 media with a chatbot assistant.
Bobby Brian Lewis created virtual teacher training materials and shared them to Bibb Country district teachers via Microsoft Teams.
4. Narrated photos and screenshots for sharing work and assignments 
Working from home or other remote locations requires extra effort to share thoughts and progress with others. A great way for giving assignments or documenting projects is using the ThingLink desktop or mobile app. In this way you can record short audio notes on photos or screenshots of your work. Whether this is a math assignment or UI design, short audio notes help your teacher, trainer or other team members to understand your logic.
For example, Donna Schies explains how to create an interactive poster with Flipgrid and ThingLink. When you click the row of red and white icons on the bottom left, you can hear Donna introducing the various resources she has embedded in the poster.
How:
Take a photo or a screenshot of your work, or create a poster in a service like Canva.
Upload it to ThingLink or use ThingLink mobile app for iOS or Android.
Record you thoughts, explanations, or questions by clicking the microphone icon.
Share via ThingLink or LMS, Microsoft Teams or Google Classroom.
Conclusion
To sum up, you should have visual learning materials such as interactive audio posters and interactive virtual tours in your toolkit. When you embed additional resources and add language translation capabilities you can support learning in situations where a physical location is unavailable. The main benefits of the above examples are:
Students or employees can virtually access physical locations from their home.
Teachers can maintain connections with learners by adding information and links to recorded lectures and assignments on mobile phones or computers. In this way they can connect learners to various resources that they would normally share with students in the classroom.
Students or employees can use their own voice to explain work or projects from home by recording audio on photos or screenshots.
Helpful Tips!
Teachers and trainers can also embed forms to ask questions directly in the ThingLink by embedding Microsoft or Google Forms. This provides a way for learners to reflect on the content and teachers can capture assessments of learning.
In addition to our own curated gallery of high quality images, here are some other useful resources to help create base images and infographics for ThingLink.
Smithsonian Open Resources – 2D and 3D images from across its collections to download free.
BBC Archives Audio Clips to use for free.
Paris Museums collections website.
Read more in our blog on interactive video lessons.
Join our Facebook Group to connect with Educators sharing ways in which ThingLink is supporting their approaches for distance learning. https://www.facebook.com/groups/ThingLinkEducation