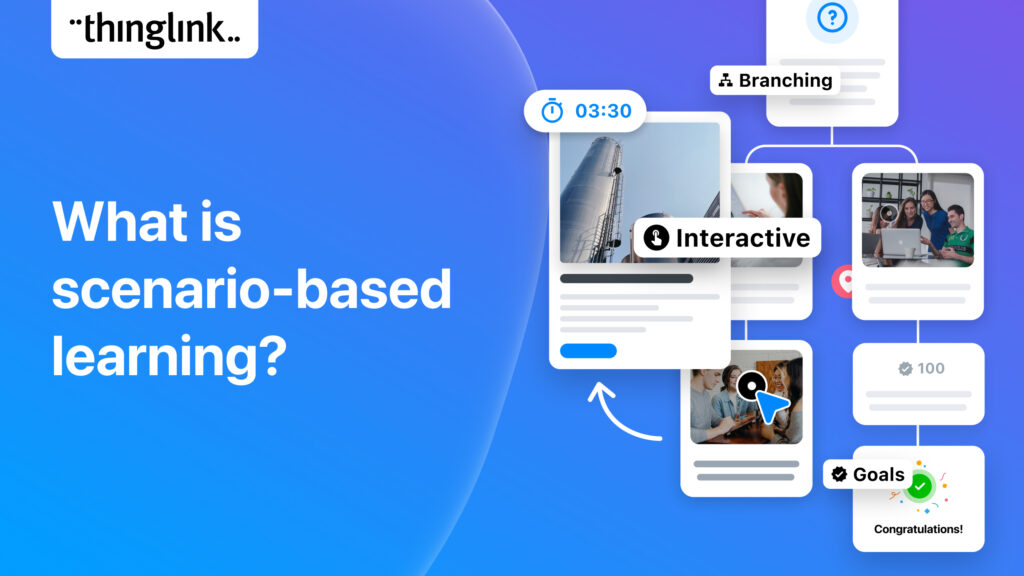 What is Scenario-based Learning?
Scenario-based learning (SBL) is an instructional strategy where learners pick their own path based on the choices they make. Learners are placed in interactive scenarios, often based on real life situations. It is one example of the increased gamification of learning and is a highly effective form of online training.
Also known as branching scenarios, SBL learning theory provides a more experiential learning process than traditional learning materials. It is one of the easiest ways to bring the theory of situated learning into the online learning environment.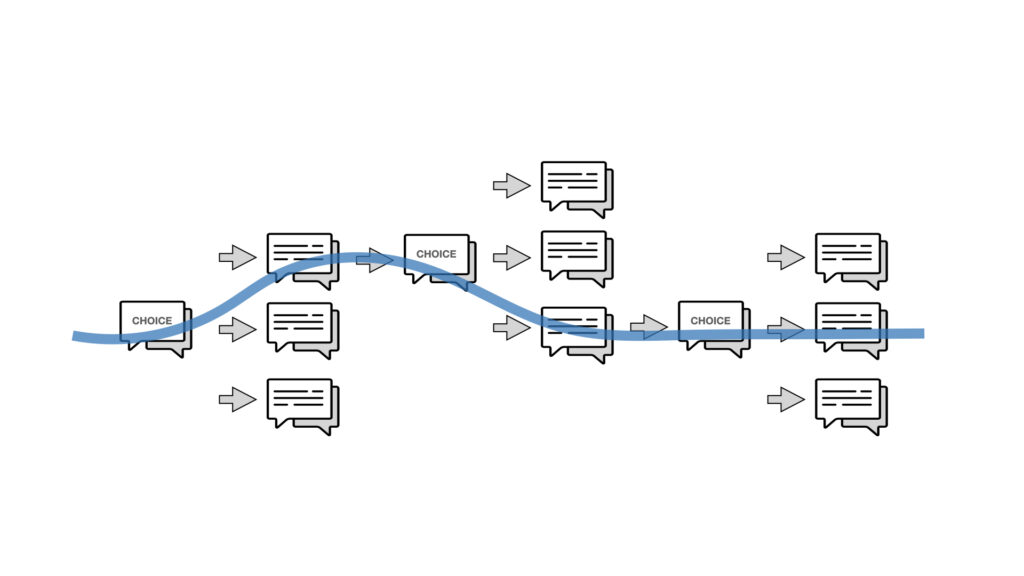 What are the principles of scenario-based learning?
Instructional designers agree that an effective scenario includes 5 main elements, tailored to the particular learning environment and skills training you require. We call these the 5Cs of SBL. They are:
Context: setting the scene, a chance for learners to start "reading" the situation and environment
Challenge: a problem or situation set within the context including the learning outcomes and any constraints such as completion time.
Choices: The options that are presented at a juncture in the branching scenario. They will lead to an outcome or consequences.
Consequences: Outcomes that can be positive or negative depending on the choice. There doesn't always have to be a right or wrong answer. 
Contemplate: What opportunities are there to learn from this experience? Contemplation, review or reflection questions, or feedback can be provided here.
Unleash Interactive Content with a free ThingLink Trial!
Dive into the world of engaging learning and immersive experiences. Begin your free ThingLink journey now and transform your content like never before.
What are the benefits of scenario-based learning versus traditional learning experiences? Why is scenario based learning effective?
SBL is proven to improve understanding, create better retention of knowledge and information recall.
It is ideal for remote and self-paced learning and for different learning styles.
Increased learner engagement: in an active learning situation where learners have to make their own choices and see the consequences, they will be more engaged in the process. Each choice and consequence becomes a microlearning opportunity.
Learners can practice decision making in a challenging situation without real-life risk to the learners, other people or valuable equipment.
Having the data of your learner's decisions in choices provides you with evidence of completion and effectiveness, mandatory training can be a breeze.
How do you create a branching scenario based on a real-life situation?
What is the first step of scenario based learning? With an authoring tool like ThingLink Scenario Builder, you can easily adapt existing ThingLink content by adding branching elements between scenes.
Think about the paths as story lines. How might the different paths through the scenario play out and where will each choice take your learners? You can use pen and paper to sketch this out!
Once you have sketched out the framework, you can build these paths using the authoring tools within ThingLink Scenario Builder.
Who can use scenario-based learning?
People use scenario-based learning for all sorts of learning needs and learning outcomes. It can be used in K12, Higher and Further Education, Corporate Training, Compliance training, onboarding and Continuous Professional Development. It is particularly effective when used to develop complex decision making skills in a real world context.
SBL is one of the most effective learning strategies if your learners need to stretch or improve their problem solving and critical thinking skills. It can also assist in demonstrating the different possible paths taken to the same eventual outcome. The ability to practice new skills in a safe environment is vital for certain roles and industries such as manufacturing, aerospace and aviation, defence, engineering, medicine and many more.
Now that you understand more about SBL, take a look at this scenario example.
Here is a short scenario example that can be used for elearning or an online training program.
---
What is ThingLink Scenario Builder?
ThingLink is the only SBL solution that allows you to combine various media types including videos, audio, 360° media, 3D and images into a complete learning experience. This makes it easy to create engaging online simulations for online learning, training courses & development.
Further reading
How do you create a learning scenario? Our free guide to the 5Cs of Successful Scenario Builder? Download here.
Get inspired!
For more tips and inspiration on creating content for e-learning and training, visit our dedicated E-learning page where you can get a custom quote or book a demo with one of our friendly team! Or join one of our welcoming social media communities for inspiration, ideas and advice! These include:
Discover ThingLink's Full Potential with an Expert!
Unlock unmatched insights tailored for your business. Schedule a dedicated session with our product maestros and dive deeper into how ThingLink can revolutionize your learning content.