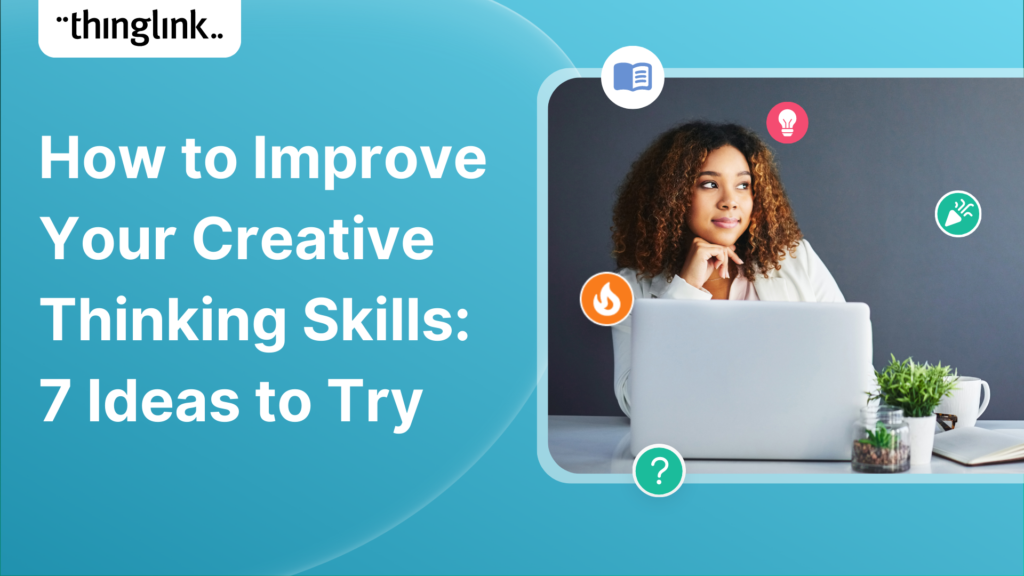 How to Improve Your Creative Thinking Skills: 7 Ideas to Try
In this blog we have put together a little toolbox of 7 creative thinking skills to help you boost creativity in your everyday life and work. It's a common misconception that the world can be divided into creative people and non-creative types. In reality however, there are a few simple tricks that anyone can use to help kick start the creative process. Practice these often and it will soon become second nature. So whether you're stuck in a rut with a project or just need a clever solution to a problem that's been bugging you for months, dip into the toolbox below and see what you can come up with!
Start a creative journey today!
To learn how ThingLink can help you create original and interactive content, start a free trial today.
What do we mean by creative thinking?
Creative thinking could also be described as "creative problem-solving." It's the ability to generate new and innovative ideas, or to solve problems and challenges in unconventional ways. It can be applied in all areas of life, from design, business, science, family life and and more. Creative thinking is a valuable and variable "soft skill" that can lead to new discoveries, breakthroughs, and solutions. Even people who don't consider themselves to be natural "creative thinkers" or problem solvers can put together a creative thought toolbox that will help them find solutions to any challenges or come up with original ideas. Find what method works best for you!
1. Brainstorming
In a brainstorming session, you generate a large number of ideas, without worrying about their feasibility or practicality. You would usually brainstorm in a group (strength in numbers!) but you can also brainstorm solo. Write down everything that comes to mind, even if it seems silly or far-fetched. The more ideas you generate, the more likely you are to come up with something truly innovative. Record them as a list, a mind map, or in whatever format works for you. You can refine your list to include only the most promising ideas at a later stage.
2. Change your perspective
Try looking at problems from different angles and new perspectives. Look at a problem or situation from someone else's point of view or try to approach it in a completely different way. This can help you come up with creative solutions that you may not have considered otherwise. A useful way of looking at this approach is to ask the question: "What would (Batman/Elvis/Great Aunt Jemima) do?". Take a selection of real, fictional, famous, imaginary people – whoever you want – and try to imagine how they would approach the problem. Then ask "Why not?". Could that approach work for you? If not, might it work with some modifications?
3. Engage in creative activities
Try creative skills such as drawing, painting, writing, or playing music. These activities can help stimulate your creativity and encourage you to think outside the box. They also allow your mind to leave the space of the problem at hand and to relax. This is often when original ideas spring forth!
4. Collaborate with others
Working with other people can help you generate fresh ideas and different perspectives. Collaborating with people who have different backgrounds and experiences from you can be particularly helpful. Some of the most successful entrepreneurs and startups of recent years have come about when two or more people from very different industries have collaborated. Give it a try!
5. Keep learning
The more you learn about a wide range of subjects, the more connections you can make between seemingly unrelated ideas. Expose yourself to different ideas and cultures by reading, watching, and listening to different sources of information, on all sorts of topics. This can help you expand your thinking and gain new insights, which can in turn help you find new solutions to problems.
6. Take a break, take a walk
Often, taking a break from a problem can help you come up with new ideas. Many people find that it's when they have deliberately taken time out from a problem and are daydreaming about something completely different, that a solution or new idea will suddenly appear. Taking a walk is one of the best ways to relax and to allow your mind to subconsciously piece together parts of a puzzle – meaning that a solution will sometimes present itself seemingly out of nowhere!
7. Stay flexible!
Coming up with creative ideas and putting them into practice involves being flexible and having a sense of open-mindedness. Be open to changing your approach if necessary. Don't be afraid to experiment, get out of your comfort zone and try new things. If something isn't working, be open to making adjustments and trying a different approach. There's no shame in making edits as you go!
Practice makes perfect
Remember, creative thinking is a skill that can be developed and improved with practice. By incorporating some or all of these approaches into your routine, you can improve your creative thinking skills, get your creative juices flowing and come up with more innovative solutions. Whether you are looking to start a small business, want to launch a new product, or have a new project or challenge in your personal or home life that needs a clever solution, taking a tip from the toolbox will help to get you started on a more creative path.
Start a creative journey today!
To learn how ThingLink can help you create original and interactive content, start a free trial today.
More like this?
These blogs below contain lots of inspiration and advice around on creating interactive and original content – with ThingLink and other platforms. Take a look: