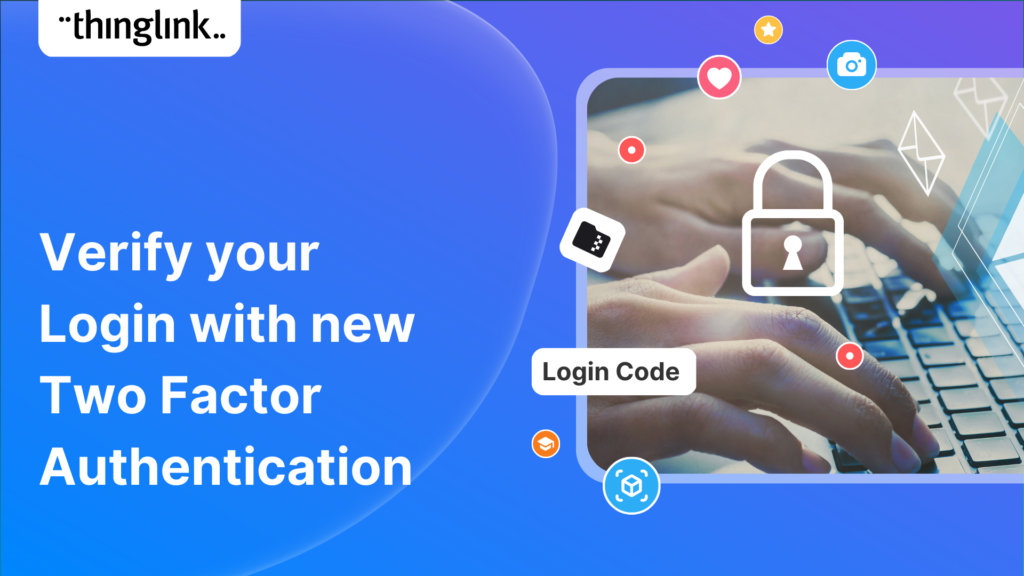 Verify Your Login with New Two Factor Authentication
Mitigate Risk with Two Factor Authentication
ThingLink has released a new feature enabling 'Login Verification' for your individual account and also as a setting across team and organization accounts.
Most people today are accustomed to a secondary layer of authentication in work or personal accounts, e.g signing into your bank account or even social media, it's becoming standard practice. As well as protecting potentially sensitive information, this additional step will help to demonstrate your organization's commitment to information security and comply with your policies.
Get Started with ThingLink Today!
Explore how you can make learning content or published information much more engaging and accessible try ThingLink for free.
How does this work?
Two Factor Authentication (2FA) can be switched by an individual account e.g Teacher or enforced by an Organization Administrator for a whole team! You can verify your login by a code emailed to you or by using an authenticator app.
How to enable 2FA
You can enable two-factor authentication in your Profile Settings:
Go to Profile Settings → Login & Security tab
Select 'Enable' next to Two-factor authentication
In the new popup window, choose the authentication method (see below) and click Enable
You will be asked to enter a verification code to confirm everything is configured properly. If you do not enter a code, the 2FA will not be enabled. Simply click anywhere outside of the pop-up window to abandon the process.
Enabling 2FA for your organization
If you are an admin of an organizational account (e.g. a school or an eLearning team), you have the option to ask all users to enable 2FA. The setting can be found under Organization → Settings → Miscellaneous → Ask users to enable 2FA. If enabled, all users in your organization will see a persistent banner at the top of the screen asking them to set up 2FA via Profile settings.
Full 2FA Set Up Guidance
Click to see our full support guidance and limitations