Create Great Employee Experiences from Day 1 With ThingLink
ThingLink's smart visual solution helps engage employees and introduce them to new environments and situations. Whether you operate a large enterprise or a small business, you can create interactive, compelling and shareable visual onboarding presentations and simulations with a few simple clicks.
No prior technical or graphic design knowledge is required. Create simple, intuitive learning scenarios to kickstart your onboarding programs today.
"Onboarding is a magic moment when new employees decide to stay engaged or become disengaged. It offers an imprinting window when you can make an impression that stays with new employees for the duration of their careers."

Amy Hirsh Robinson, principal of the consulting firm The Interchange Group
The Benefits of Effective Employee Onboarding Programs
An effective onboarding program to introduce new employees to the company culture and work environment within their first week can make a world of difference. However, with more remote employees working from home and an increasingly dispersed workforce, the onboarding experience has been far from ideal for many new team members. Take charge of the employee onboarding process with ThingLink.
ThingLink's innovative onboarding and training software turn your dated and stale employee handbook and slideshows into an engaging, interactive and immersive experience of your unique company culture. Improve job satisfaction, reduce the learning curve, and ensure that new employees feel confident about their new job and duties.
Give New Employees the Gift of a Great First Day
A new employee's experience of their first day can stick with them for the duration of their whole career. A great first day can help your new employees feel confident and excited about their decision to join your team.
By using ThingLink's innovative software solution, you can create an impactful, visual representation of what to expect at your company without relying on busy direct managers or dull corporate manuals.
Instead, you can produce a lively and engaging (but structured and meaningful) onboarding experience that your employees can access and absorb at their own pace and refer back to at any time.
Give Every New Hire a Personalized Experience
Onboarding employees often falls to direct managers or existing employees (or your human resource management team that may not have practical experience in the department your new hire will join).
This means that employee orientation can miss important information, feel hurried, or leave your new employee confused about their trainer and hiring managers to scramble to balance the training program with their day-to-day duties.
Using ThingLink's Scenario Builder software to create your new hire training program, every new employee is guaranteed a comprehensive, consistent experience that adapts to their interests and questions yet remains truly reflective of your company values and goals.
Improve Employee Retention (and Productivity)
Did you know that the onboarding training they do in their first week can impact how long a new hire stays with the company? According to the Society for Human Resource Management (SHRM), employees are more likely to stay with a company for three years or more if they have experienced effective new employee onboarding in the first few weeks.
They also state that organizations with structured, standard onboarding courses experience 50% greater productivity from new hires. This means that you not only save money on hiring and training but also start reaping the benefits of having your new employee on board right away.
Improve Employee Engagement with Bespoke Employee Onboarding Training
Want to provide the best possible employee experience from the minute your employee starts? Personalize your onboarding training according to their new responsibilities. With ThingLink, you can create an interactive onboarding experience and add images, 3D maps or aerial views of the key facilities and workspace that your employees have access to.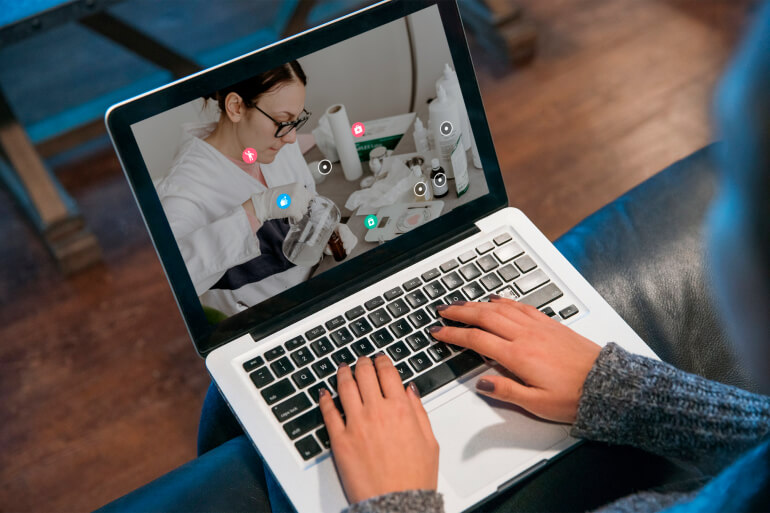 Make team building easier by adding profile photos, short culture-specific audio greetings from the key teammates they will work with, and other interesting tidbits about the organization's culture-specific to your new employee or department.
Let Your New Employee Work at Their Own Pace
ThingLink allows employees to absorb as much (or as little) as they like from a training program. You can start with a wide overview and add clickable pinpoints for those that would like to explore a topic in greater depth. This style of asynchronous learning allows your employee to learn without the constraints and pressure of scheduling or availability of other employees.
Keep All Your Information in One Place
Keep your employee information, HR paperwork, and training in a single platform. This not only means that new employees can refer back to their onboarding training time and time again, but the entire team (including your existing employees) can also benefit and access ongoing training as it becomes available. There's no need to consult the HR team or skim through bulky paper archives or documents. Everything is easy to update and change as things evolve.
"ThingLink has allowed us to create an exciting experience for new hires that really showcases our company values and ethos. It's been a real life-saver during the pandemic when we couldn't interact face-to-face."

Michael G., HR Advisor.
Why Visual Learning Works Best
65% of people worldwide are considered "visual learners", which is why incorporating visual elements in your new employee orientation program can be a huge help. Visual learning is more appealing than listening, and most of us respond and retain information faster (and more accurately) when it's visually represented and not just textual and linear.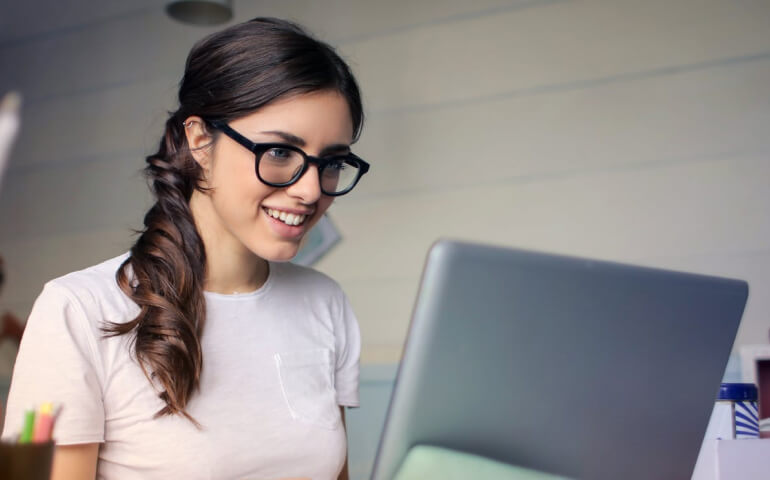 That's because our brains are wired to process visual information 60,000 times faster than text, and 90% of the information stored in our brains is visual. In fact, nearly half of the nerve fibers connected to your brain are linked to your retina!
ThingLink uses the power of visual media (including maps, videos, and images) to create powerful, memorable new employee onboarding materials. Create introductions, interactive maps, scenarios, and visual depictions of complex information to facilitate learning and onboarding for your employees - fast.
Benefits of Using ThingLink to Create Your Employee Onboarding Training
ThingLink is the most powerful visual training tool on the market for technical and soft-skills development. Our solution has been tried and tested by colleges, corporations, museums, digital tourism companies, and classrooms around the globe. Here are just a few of the benefits you can gain by using ThingLink in your business:
Convey Rich Visual Information
With ThingLink, you can present complex information from real-world locations or service situations in an engaging virtual tour along with text notes, audio, and even apps. This means that your onboarding training session will appeal to various learning styles.
Data-Driven Insights
Are your new employees responding (or even using) your onboarding materials? Do you know if they watch the videos you share with them? eLearning Enterprise users can access ThingLink's statistics to track the completion rate and progress of learners, as well as the number of views, tag openings, actions, and time spent with the media for any custom date range and then use this feedback information to make changes to the training materials.
Follow Natural Information Seeking Processes
By adding rich tags, questions and deeper links that allow employees to dive deeper into specific details or topics of interest, you are copying the natural online information-seeking process that most of us utilize every day (without realizing it). You can reward learners by gamifying the experience and giving them points throughout the learning scenario. This encourages employees to delve into topics that interest them at their own pace, compartmentalizing and contextualizing the entire training using a single source.
No Technical Expertise Required
You don't need technical expertise to create or use an employee onboarding program using ThingLink. The interface is highly intuitive and straightforward to use. Just drag and drop or upload your favorite videos, audio clips, or images as required. You can also add text and new features with a few simple clicks.
Use Your Existing Materials
There is no need to reinvent the wheel. With ThingLink, you can revitalize your existing materials by making them more interactive and visually appealing. Upload rich images and links from social media, games, YouTube videos, testimonials, and audio files with just a few clicks. Everything can be collected and viewed on a single platform.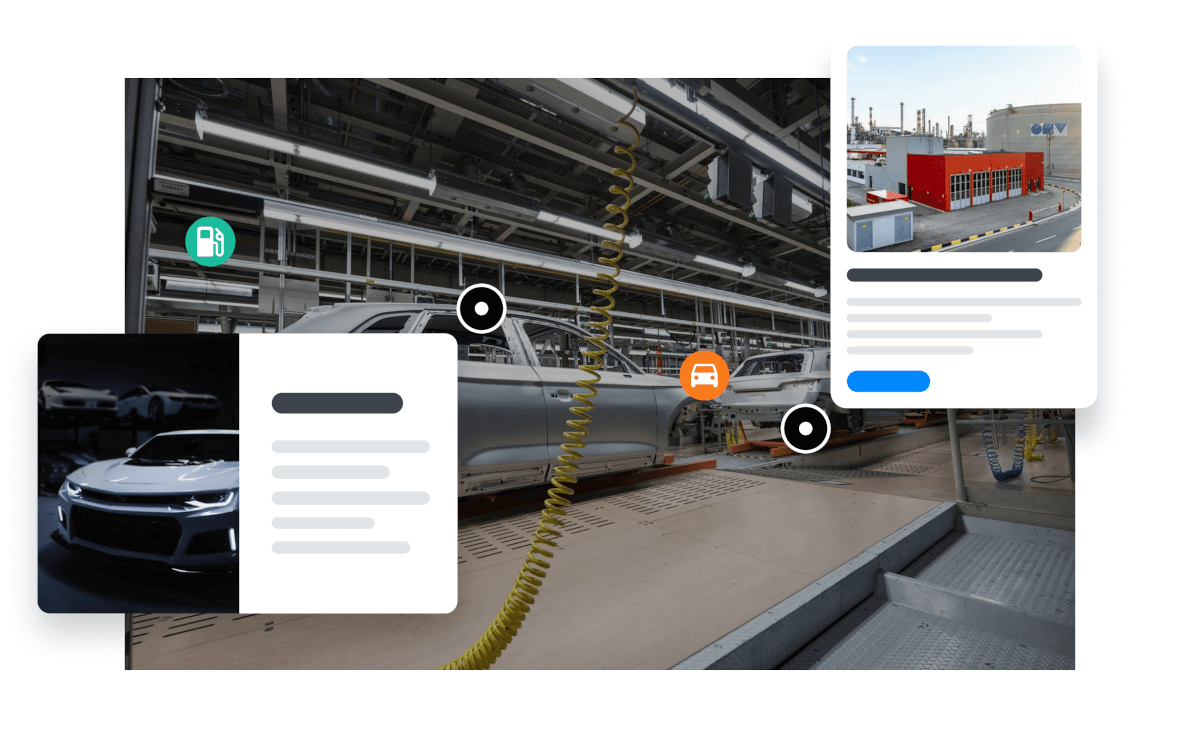 Easy to Update
There's no need to print and create complex onboarding documents and manuals that will become dated within months. Save the environment (and your money) by creating all the documentation and training materials you need during the onboarding process in ThingLink! Updates and changes can be made within seconds.
Create Rich Marketing and Brand Materials
You can embed ThingLinks anywhere — including your website or kiosks on-site. You can also share them on social media or download them to a device. This means you can share rich and engaging materials about the work that you do before you've even started interviewing to attract exciting new employees!
Use Multiple Sources
You can add text and media, content from another website (like YouTube, Vimeo or third-party iframes), polls, or even tour tags that link all your ThingLink scenes together.
Industries That Use ThingLink
Healthcare: Give patients or staff a complete walkthrough of your facilities without ever setting foot on the hospital campus, using ThingLink 360-degree views.
Human Resources: Onboard and train new hires using interactive materials that already exist. Breathe new life into your onboarding documents and HR paperwork with gamified learning scenarios.
Safety: Share important safety information and demonstrations with real-world walkthroughs and interactive training videos, then put their skills to the test with quizzes and polls.
Manufacturing: Showcase the entire manufacturing plant with floor plans and interactive maps that explain the various functions.
Retail: Create virtual in-store training and improve customer service skills with immersive simulations.
Military: Improve learning performance with realistic simulations and technical training in virtual environments. Share critical information safely and memorably with ThingLink.
Compliance: Compliance training doesn't have to be a tedious affair. Break down complex information into an engaging, interactive experience, gamify the materials for maximum engagement.
How It Works: Get Started With ThingLink
Completely new to ThingLink? It's effortless to get started! Here's a step-by-step guide for getting started with a simple image and tags.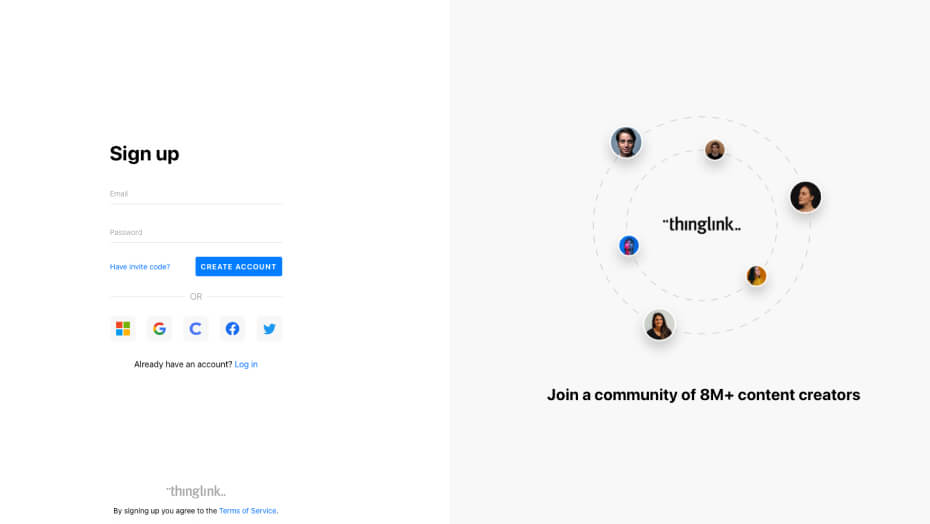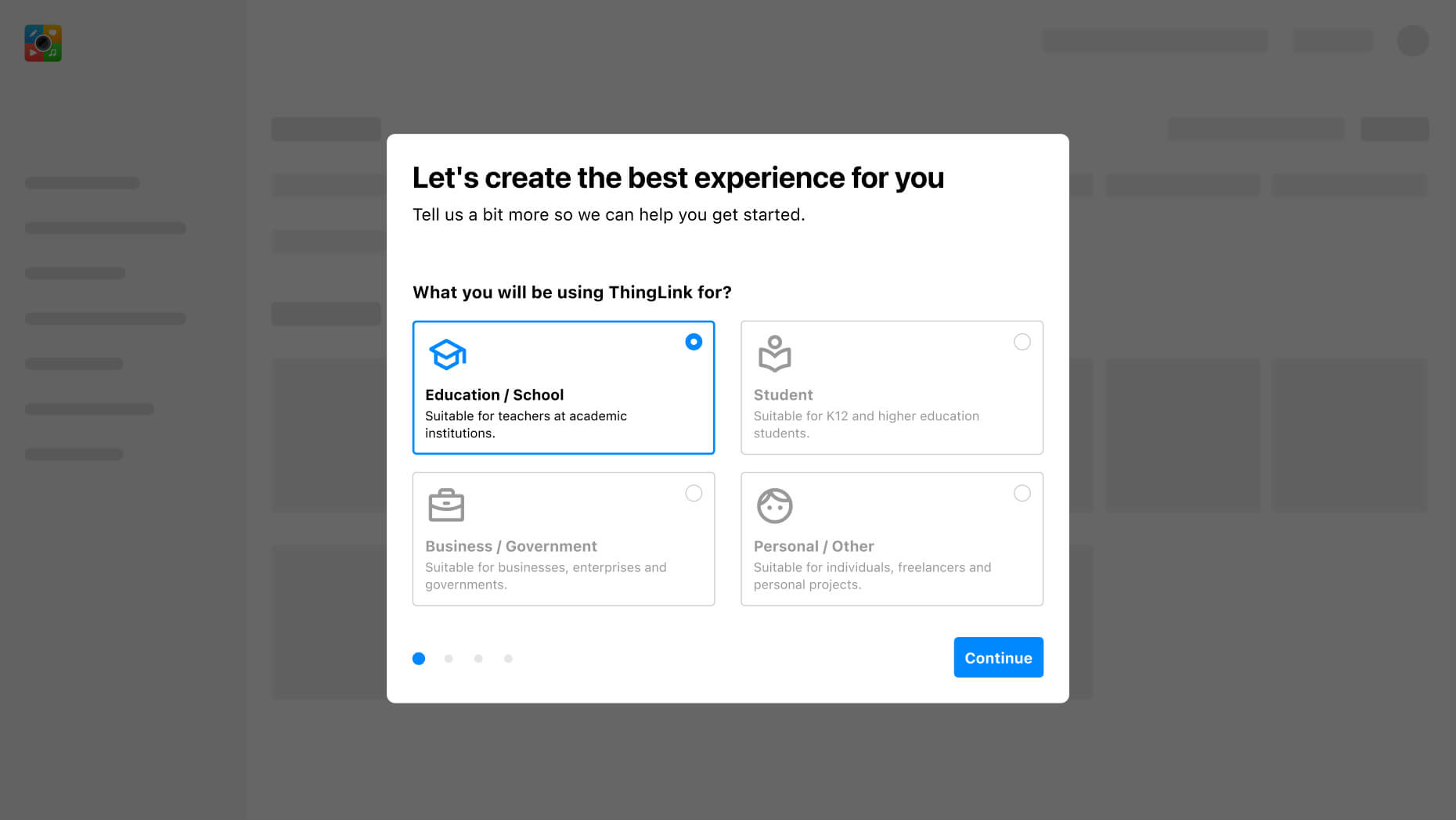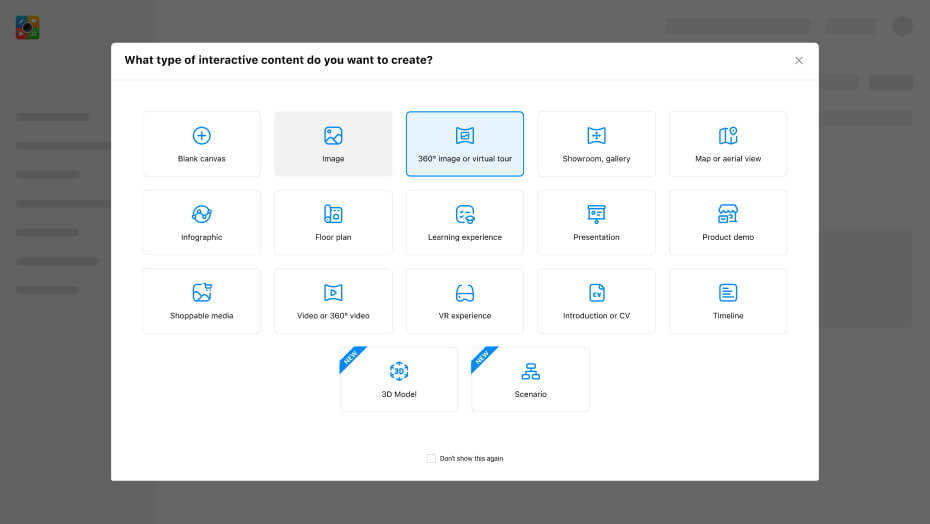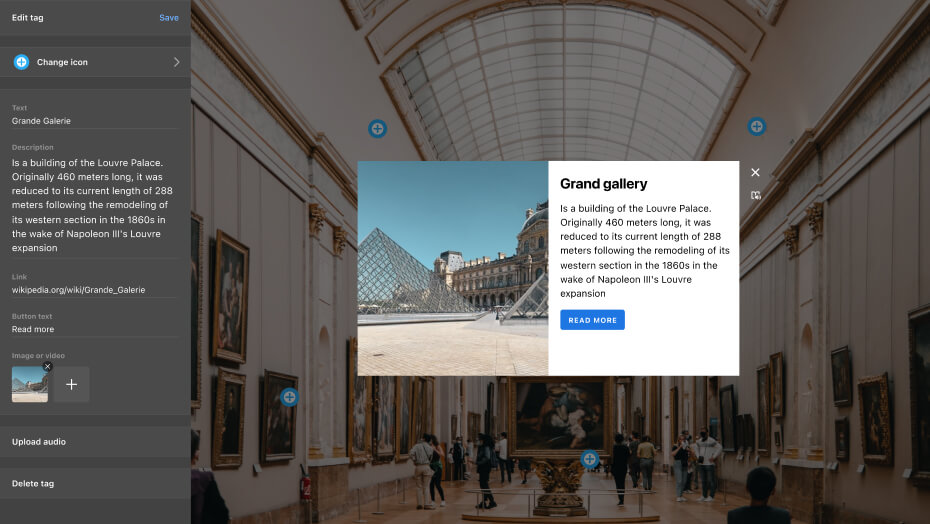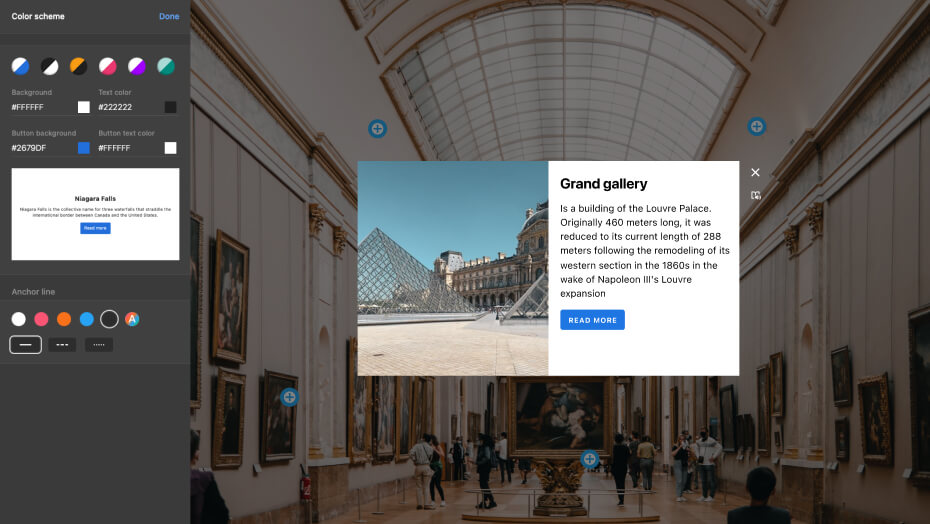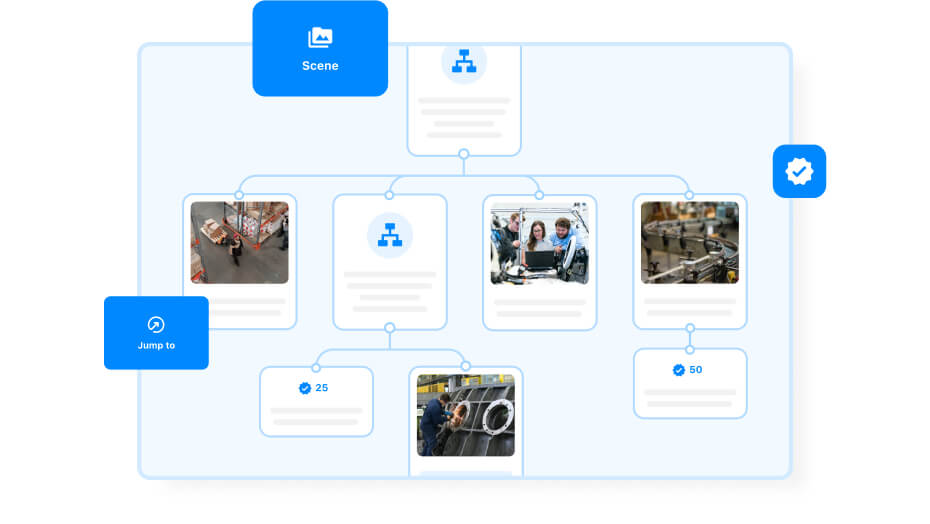 1. Visit ThingLink.com and sign up. You can sign up using an email and password or one of your social media or Google accounts.
2. Set up your account by following the prompts. You can choose from various applications or industries (like education or business).
3. Click the Create button to upload an image or video to form the basis of your employee onboarding training. You can use existing materials and templates or start with a completely blank canvas.
4. Now, you'll get taken directly to the editor. Use the blue Add tag button on the left to create tags. There are several tag formats to choose from, including videos, text, or links to websites. You can choose an icon for your tag by clicking Change Icon and changing the position by dragging it across the screen.
5. You can make some customizations to the colors by clicking the Settings button.
6. Create scenarios by clicking Scenario Builder in the left sidebar.
Voila! It's as easy as that. You can learn more about using ThingLink by visiting our Support Center. There are tons of great videos to enjoy and provide some inspiration for your employee onboarding materials.
Employee Orientation
Work has become a lot more decentralized, and it's relatively common for new hires to work remotely. However, even if you don't come into the office every day (or if you are preparing to go to work for the first time), you'll want to see some sort of visual representation of the physical workspace you'll be joining.
You can give your new employees a 360-degree tour of your corporate facilities while describing some of the perks of the workplace. Free coffee in the break room? Free fitness center? Quiet rooms? Daycare? Taking a virtual tour gives employees a truly warm welcome and paints a picture of what life at your company could be like. It can reduce the anxiety new employees feel about joining a new environment for the first time.
Introduce Your Customers
If your employee has to work in the field, you can let them know precisely what they should expect before they even meet their first customer. You can map all of the locations where they will work and add interactive notes about past projects, key decision-makers, and images. This will help them remember customer names and reduce the learning curve.
Customer Service Training
Are you branching out or training your staff to do something new? We've worked with several leading brands to incorporate their most important customer service training materials into ThingLinks.
For example, vocational educational institute OMNIA shows restaurant workers how to set tables and use the booking system using videos and ThingLinks. This ensures that the same standards are upheld and enforced all around the country.
"We've not only provided great training to our new and existing customers through ThingLinks - but we've also created a real culture of learning! Once you get started, you can keep adding as you evolve and grow the business"

Sharon W., Business Owner.
Costs
We have different pricing tiers (with different features) that can be used for your onboarding program. Our paid-for model starts from as little as $4 per user per month!
Onboarding Trial:
This free account lets you explore most ThingLink features, including 360-degree content editing. However, your work won't be publishable. It will stay private and watermarked. You should sign up for the trial to get a feel for the software solution, but it's not recommended for use during the actual onboarding process.
Onboarding Premium:
This paid-for account allows you to create and publish onboarding training programs and materials with up to 25 users. You'll also be able to view our engagement statistics to find out how well your materials are working.
Onboarding Enterprise:
This plan is recommended for large enterprise-level business and government departments. You can add even more learners, authors, and content collaborators. There are also even more content production options to choose from! Not sure which one is right for you? Speak to our sales team if you need some advice!
Other Applications for ThingLink
Once you're set-up, you can use ThingLink for several applications in the workplace, including:
Employee training: Training isn't restricted to onboarding. Keep upskilling your employees for improved retention and satisfaction.
Teambuilding: Use ThingLink to create exciting challenges, quizzes, and games that bring teams worldwide together.
Virtual Tour: Give employees and clients a complete virtual tour of new (or existing) facilities from anywhere in the world.
Motivation: Use ThingLink to paint a picture of the work you do and the impact you have. Add client maps, testimonials, and images that celebrate a job well done.
Fingrid creates virtual safety briefings for new hires with ThingLink