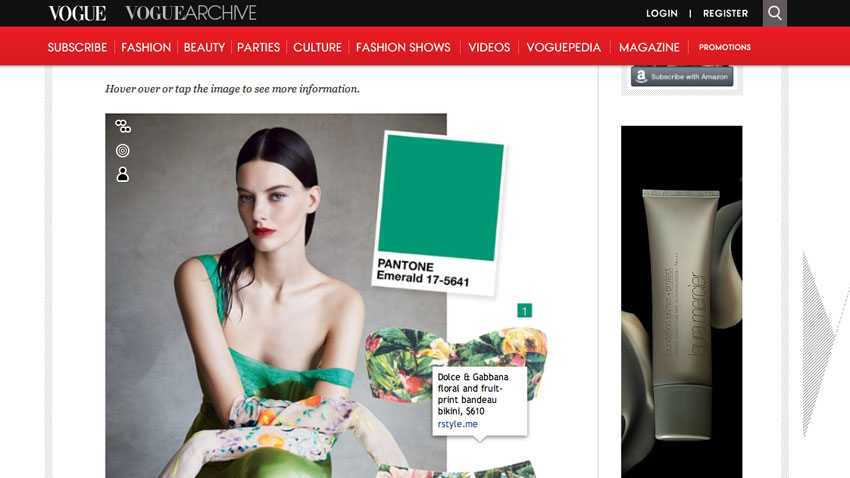 ThingLink-powered images on Vogue.com inform readers about the clothes they love with a direct link to purchase.
ThingLink for Publishers
Drive Advertising and Editorial Engagement
ThingLink enables publishers to embed content within an image to create a rich storytelling landscape that captures the attention of readers. Whether used to power ad units or editorial content, ThingLink delivers unparalleled engagement.
Publishers, learn more »
Top Brands and Publishers Use ThingLink
ThingLink is the leading platform for creating interactive images for web, social and advertising channels. Make content discoverable inside images and improve engagement.
Drive Engagement
ThingLink interactive images engage your audience consistently and reliably. Using ThingLink increases CTR from your content and makes consumers stay on your site longer.
Real Time Analytics
ThingLink images deliver real time performance metrics:
Image engagement (views, hovers, clicks, time on image)
Engagement with content on image (hovers, clicks)
Engagement via embed location (views, hovers, clicks)
Powerful customization
The business account enables you to upload and use your own image icons with your interactive images. This allows for creation of custom campaigns that fit the visual style of your images and brand.
Social Channels
Share interactive images to Twitter, Facebook and Tumblr. Consumers inside Facebook can touch the image and interact with content without leaving Timeline. Also make any ThingLink image an interactive App on Facebook.
Choose the package most suitable for you:
* Purchased views are valid for one year. Package payments are non-recurring.
250,000+ Publishers, Brands & Small Businesses are using ThingLink.
Some of our partners include: