ThingLink
What is ThingLink?
ThingLink is an interactive media platform that empowers publishers, educators, brands, and bloggers to create more engaging content by adding rich media links to photos and videos.
With 1.5M content creators, ThingLink has become the most popular cross-platform solution and creative community for interactive media.
Use ThingLink to create interactive news photography, maps, posters, family albums, infographics, and shoppable product catalogs in minutes! You can keep track of how people interact with your content as it spreads across the web.
Thinglink storefront images.
Drive sales with purchase links layered directly onto images.
Images are the new storytelling platform.
Allow users to unlock narrative elements, directly from your image.
Capture your personal moments in photos.
Enrich them with video, audio and other online media.
The compelling new platform for increasing student engagement.
ThingLink helps students develop 21st century skills, enrich their enthusiasm for learning, and engage like never before!
Increase engagement and time spent
Drive Engagement
ThingLink interactive media engage your audience consistently and reliably. Using ThingLink increases CTR from your content and makes consumers stay on your site longer.
Real Time Analytics
ThingLink media deliver real time performance metrics:
Media engagement (views, hovers, clicks, time on image)
Engagement with content on image (hovers, clicks, dwell)
Engagement via embed location (views, hovers, clicks)
Powerful customization
Thinglink Premium accounts enable you to customize your icons, text and pop ups and more! This allows for creation of custom campaigns that fit the visual style of your media and brand.
Easy sharing
Sharing to your website or blog can be accomplished by pasting a uniquely provided embed code. One click share to your social media channels.





Some of the amazing organizations using ThingLink.
When we started using ThingLink, it became the highest performing advertising option for brands.
— Leigh Solomon, creative director,
Discovery Communications
You get bigger, better ads that cut through clutter, more interaction and more analytics.
— Dave Morris, Chief Client Officer,
CBS Interactive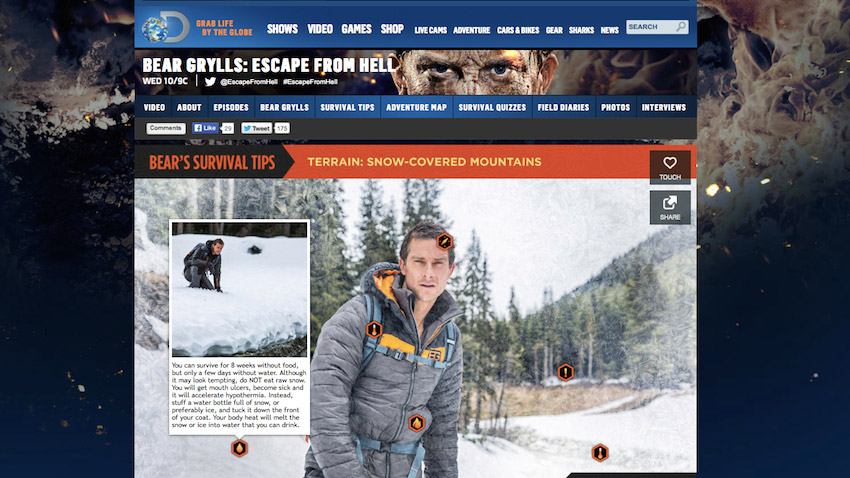 ThingLink-powered image on Discovery.com educates viewers with expert snow survival tips from Bear Grylls.
ThingLink for Publishers
Drive Advertising and Editorial Engagement
ThingLink enables publishers to embed content within an image to create a rich storytelling landscape that captures the attention of readers. Whether used to power ad units or editorial content, ThingLink delivers unparalleled engagement.
See Publisher examples »
Education loves ThingLink
300,000+ teachers and students are already using Thinglink to engage, entertain and educate. Let your students create and explore with e-learning.
Join the community!
Join 1.5 Million+ Publishers, Brands & Small Businesses using ThingLink.