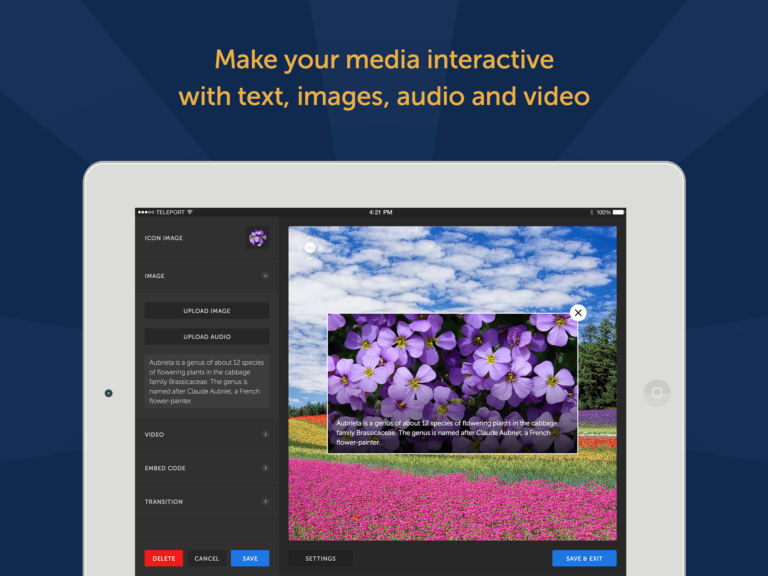 ThingLink's New Teleport 360 Editor Tablet App is Now Available!
We're excited to announce that our new Teleport 360 Editor will be live for iPads today, and will be available for Android tablets soon. The Teleport 360 Editor gives educators and students the ability to create virtual 360° tours, audio tours, virtual spaces and lessons at school on their tablets. Existing apps such as Google Expeditions are great in letting students view VR lessons, but not create them. Students now become the content creator, and this promotes creativity, communication and critical thinking skills.
The Teleport 360 Editor makes it easy to get started! Simply choose from our library of hundreds of preloaded professional curriculum-aligned 360° photographs or use Google Street View. Teachers and students can start adding text, images, audio or video annotations to their story in minutes.
---
How to Access the Teleport 360 Editor: 
1) Download the Teleport 360 Editor iOS app 

2) Purchase a Premium Teacher Subscription to get acess.
  ** Use promocode TELEPORT during April to save $20! **
---
Since the launch of ThingLink's desktop 360° and virtual reality editor in 2016, over 75,000 educators and students ranging from elementary school to university, have access to the 360° desktop editor and we are excited to now offer this great tool on tablets. ThingLink makes it possible to create and explore interactive 360° images without having to use expensive VR headsets.
For a demo of the new Teleport 360 Editor, click here! If you would like to see the full press release, please click here.
The Teleport 360 Editor is available for tablets via the iTunes and coming soon to Google Play. For more information about Teleport 360 Editor or to sign-up for a premium subscription, please visit http://demo.thinglink.com/vr-editor or email education@thinglink.com