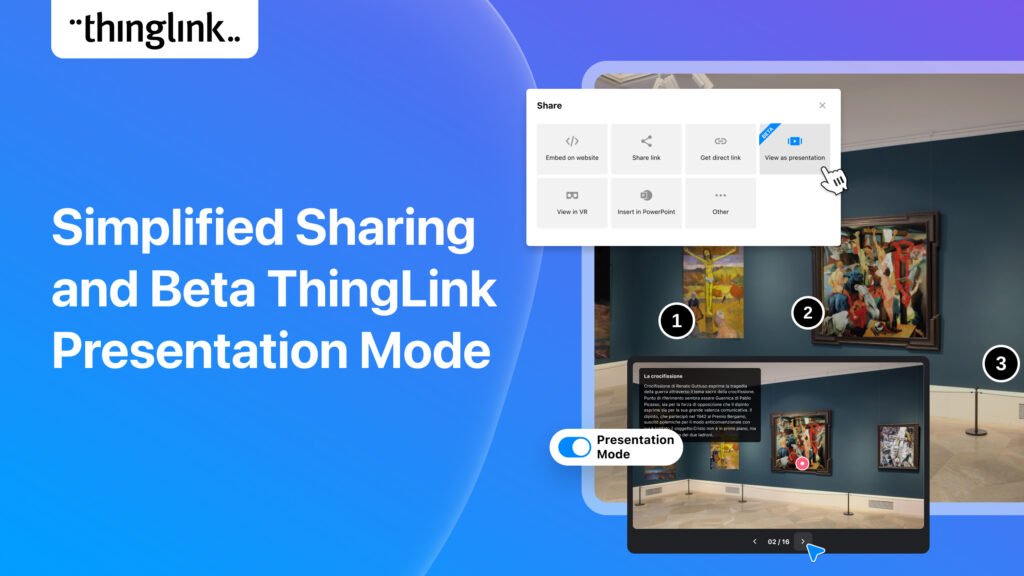 Simplified Sharing and Beta ThingLink Presentation Mode
Simplified Sharing
You might have seen we have streamlined our sharing dialogue box. We've now made it even easier to choose how you'd like to share your ThingLink content, with a large dialogue box containing all the share options. It now looks like this!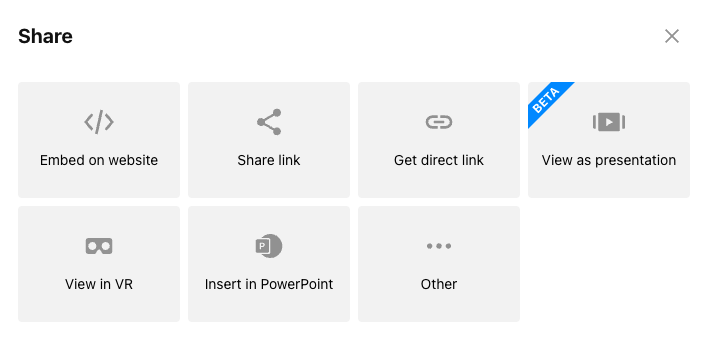 Sharing is Caring
Over the last few years, we've increased the range of viewing modes and sharing formats available to our content creators. Your viewers can now engage with your interactive content in the way that suits them best – from VR mode to QR codes and web accessibility view.
Share to View in New Beta Presentation Mode
You'll notice one of these options is "View as presentation". This is an exciting new development which is still in BETA.
Presentation mode allows your ThingLink content to be viewed as a presentation which can be clicked through. The functionality is similar to Microsoft PowerPoint, Google Slides, or many other presentation tools you may be familiar with. Your content opens with the base image, then automatically opens each tag as the viewer or presenter clicks through the presentation. Click through the example below to see it in action!
We have decided to trial new viewing mode because we know that in some situations it's important that your viewers can be guided through the material in an exact sequential order, without missing a single tag.
Helpful Tips! The order that tags open in
If you have numbered tags (e.g 1-20) these will open in sequence.
A house / home icon will open first if you have one, this is a good replacement for the new information panel icon as this will not show in presentation mode.
If you have tags that are icons rather than numbers these will open in order of when the tags were added, oldest to newest.
If you have both it will open the numbered tags first and then the other remaining icons.
Please note that this only works for Text and Media Tags and Tour Tags at the moment, full details in the support article.
As this is a BETA mode, we would love to hear what you think – whether it is ideas for using it or to suggest additional features. Please use this link for more information on the new presentation mode and to access our request form where you can submit feedback.