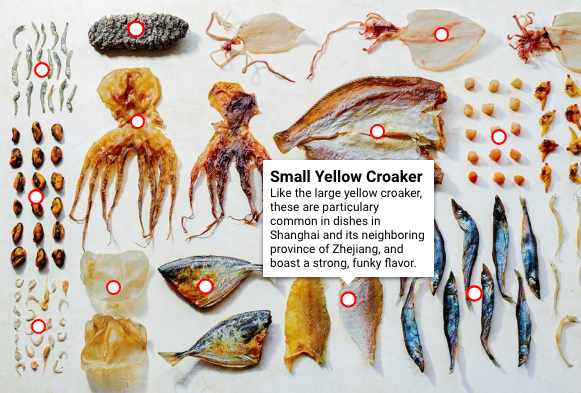 Image of the Week: Interactive Article Introduction from Saveur
ThingLink user: Saveur – Dried Seafood of Chinatown Guide
Description:  Using an interactive image is a great way to visually introduce a text-heavy article or topic.  In this use case, Saveur wrote an article featuring the dried seafood of Chinatown.  At the beginning of the article, Saveur embeds an image collage with ThingLink hotspots that previews the main topics of the article below.  This image captures reader attention from the jump, as well as gives them a nice user experience of previewing what will be discussed.  For example, maybe I am most interested in a certain fish.  Using the interactive image, I can see the fish on the image and learn more about it without having to scroll through the entire article. 
Want to use ThingLink for your business?
Click to schedule a live screen share demo with me at a time of your choice to learn how to create an interactive image like Saveur.  Or, email me directly 
andrew@thinglink.com
. 

{{cta('f3903730-8051-4ca2-8c48-4716245ce78e','justifycenter')}}