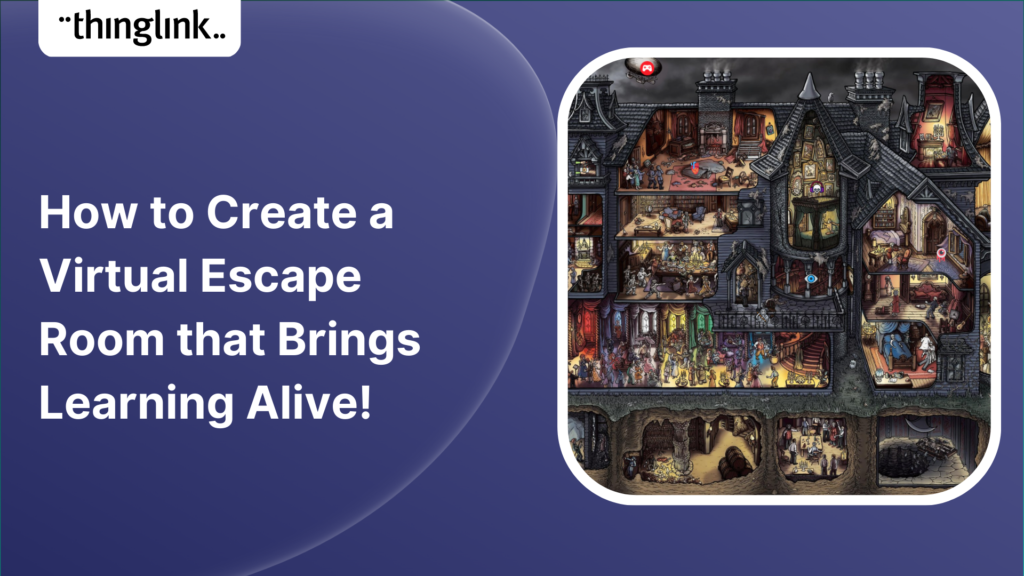 How to Create a Virtual Escape Room that Brings Learning Alive!
How do you ensure students stay focussed in the wide world of online learning? Virtual ThingLink escape games like this atmospheric example are simple to create – and keep classes on task! K12 teachers in Kuwait created a spooky and spectacular interactive digital escape rooms in ThingLink to bring a learning topic to life.
Meet a product expert
If you'd like to learn more about what ThingLink can offer to your school, you can schedule an online meeting with one of our product experts below.
Since the start of the covid pandemic, teachers all over the world have used innovative ways to engage their students in online learning. But it can still be a challenge to keep students focussed on a task when the online world offers so much distraction! Teachers Jennifer Ivory and Fatema AlBader at the Al-Bayan Bilingual School in Kuwait think they have the answer. They created a highly engaging escape room experience for their 8th grade students, partly in answer to this very problem.
They created a breakout room in ThingLink which they placed into a themed Google Site. The room could only be escaped if they read the sources provided then could answer questions in the themed puzzles. All the information for the correct answers the students needed could be found and decoded within the ThingLink and the Google Site, meaning minimal distraction.
What can ThingLink be used for in schools?
When Covid19 arrived in Kuwait, online learning had to be introduced quickly across the school. Like many K12 teachers, Jennifer and Fatema already used ThingLink to host their bitmoji classroom weekly planners. Each week, they placed the classes' learning targets into the planner. Consequently, the students quickly became familiar with the routine of finding their work there.
Jennifer says "It's great for self directed learning – the class doesn't even need to wait for me to tell them what to do."
Jennifer's class were studying American writer and master of the macabre short story, Edgar Allen Poe.
"In distance learning, I needed to get my students excited about Poe and his style of writing without being able to physically encourage them to explore or capture their attention in the classroom. We went one step further and used ThingLink to make a 360 escape room."

Jennifer Ivory
What are the steps to making Virtual Escape Rooms?
The project is based upon Poe's story "The Tell Tale Heart" and students are initially greeted by a fun and detailed ThingLink image of a spooky haunted mansion. Here the tags feature links to audio, video and notes on the writer to help build their knowledge.
One tag however leads to the Google Site in which Jennifer and Fatema had created a bespoke escape room task, consisting of a 360 image ThingLink and a Google Form. Partnering the platforms in this way means that students could complete each section of the Google Form as they move around the room, solving each clue in turn. It also means that the rules of the escape room could be written in the site text.
"Thinglink allowed the students to explore without getting lost navigating their way around the online landscape. Everything in one place and avoiding opening multiple tabs really keeps the students focused on the task at hand."

Jennifer Ivory
How can you make a virtual escape room for students?
To add even more atmosphere to the gameplay, the teachers added audio of a beating heart. They ensured that the task could also be used with a VR headset for even fuller immersion. The class worked in groups, each group having to start a countdown timer when they began. As a result, it increased the suspense and sense of competition with the rest of the class!
Let the games begin…
The teachers knew from research and also from Fatema's experience with incorporating ESports in her teaching, that students usually work harder on tasks in a game format. Jennifer reports that the whole class enjoyed taking part in such an immersive task – plus they enjoyed the competition that the problem solving provided! Feedback from parents has similarly been very positive.
"As a whole school platform ThingLink has amazing potential – it was a great investment!"

Jennifer Ivory
Tips for creating a virtual escape room
Clues should be easy enough for students to find the right answer – and make sure they receive some sort of reward – even if that is just recognition!
The spooky icons are from Flaticon – and used to great effect. Flaticon has a huge range of free icon svg. (scaleable vector) files with which you can populate and individualise your ThingLink tags.
Think about elements of your own virtual escape room which can "gamify" it. A timer adds to the sense of suspense, and adding audio to match your 360 image can really help set the scene.
Further online escape room ideas using the gamification concept
To help teachers create a ThingLink escape room, Jennifer has created this fabulous tutorial with lots of tips and tricks. And take a look at Fatema's inspiring education blog where she explains how ThingLink has helped her develop online material.
You could also use ThingLink to create a virtual scavenger hunt, exploring the linked scenes and finding objects within the tags!
Escape room games in ThingLink and shared via Zoom or similar are great for improving teamwork, especially remote teams. A team can work together to improve their team problem solving skills – questions could be based on trivia or riddles. See how this was put into practice with interdisciplinary medical teams in these case studies: Virtual Escape Room created for medical students, based on a real-life physical escape room!
Want to keep a copy of this case study? A PDF Version of this Case Study can be found here.
Meet a product expert
If you'd like to learn more about what ThingLink can offer to your school, you can schedule an online meeting with one of our product experts below.