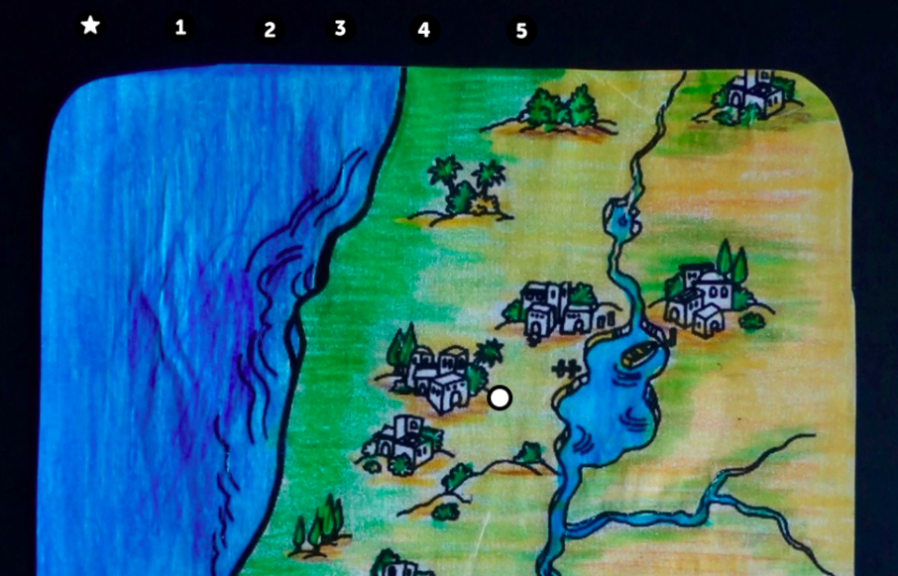 Digital storytelling skills: 10 home learning ideas for developing students' creativity
When schools are closed, students spend lots of time on their laptops and mobile devices. How can you put those devices to use in a way that develops their creativity and digital storytelling skills? We share 10 top home learning ideas using ThingLink.
Drawing, doodling, and digital storytelling: a multi-channel strategy for learning at home
Research suggests that handwriting notes is better for long-term memory than typing notes using a keyboard. However, drawing, colouring and doodling also improve memory. They help the student's motor system connect with the visual system and brain regions associated with memory. For this reason, teachers in classrooms use various visualization techniques to engage and help younger students who are having trouble focusing and reading. When students work from home, there are several ways that they can combine handwriting, drawing, photography, or arts and crafts with digital storytelling using ThingLink. Students can then share the work with their teachers and their classmates.
This article lists 10 easy project ideas from the ThingLink community. They all encourage students to 1) make handwritten, visual and picture notes, collages and artwork, and 2) enhance and explain their work using digital audio or text notes, photos and video.
1. Make an interactive greeting card
Physical distancing does not necessarily mean social distancing. Even at home, we talk to our friends and family often, and think about them all the time.
Project idea: Design an interactive greeting card for a person you miss seeing. Take a photo of the drawing or setup, and use ThingLink to add your voice greeting or other additional notes.
2. Create an interactive book report — once a week!
Most elementary school and middle school students read at least 30 minutes every day.
Project idea: Create an interactive book report for each book you have read while staying at home. Use ThingLink to add voice or text notes about the book. Add a link to Schoology or other LMS to share with your teacher.
3. Make a vocabulary poster in a foreign language
This is a true multi-channel exercise that combines an illustration of a word, its written form, as well as pronunciation in a foreign language.
Project idea: Summarise a list of new words in a chapter or article you have read. Draw or doodle an illustration of each word. Use ThingLink to record yourself pronouncing each word.
4. Introduce yourself
Between kindergarten and middle school, students engage in several art projects to introduce themselves to the rest of the classroom.
Project idea: Create an all-about-me poster. Use your phone or tablet to take a photo of it. Then explain it using text, video or voice notes.
5. Create an interactive herbarium
Making your own herbarium is a great way for students and their parents to learn about botany and the plants.
Project idea: Go outside and find plants that you don't already know. Take lots of photos of each plant in their natural habitat. If you have brought them home, position each on a surface for a photo. Use ThingLink to add more information about them.
6. Make your own comic strips – real digital storytelling!
Self-made comic strips can be used to visualise any subject. In this example, a 1st grade student took screenshots while playing Minecraft.
Project idea: Make your own comic strip! Add the speech bubbles and sound effects using ThingLink.
7. Create an interactive timeline
Timelines are a great way to memorise a sequence of historical periods or events.
Project idea: Create a timeline using your preferred technique. Use ThingLink to add more information about each detail.
8. Explain details of a painting
Several museums have recently opened their image archives for public use.
Project idea: Choose a painting and find more information about it online. Use ThingLink to explain the details of the painting to someone who does not know it.
9. Create an interactive map
Drawing maps is another great way to summarise facts in social studies or science.
Project idea: Draw or paint a map, and use your phone or tablet to take a photo of it. Use ThingLink to add additional text, music, sounds, or interviews to the various spots on the map.
10. Build a diorama
Diorama, a 3D miniature model, is a really creative way for illustrating a story or a sequence of events.
Project idea: Use a combination of materials, techniques or toys to build a scene. Then, add voice or video narration to your story using ThingLink.
Get started:
Schools, districts and cities: Contact us at education@thinglink.com to activate your ThingLink account today.
Project examples and photo credits: Students of Astrid Hulsebosch, Adriano Bernasconi, Eliel and Ella Engestrom
Read more:
In this blog we look at further ideas to increase students' digital storytelling skills