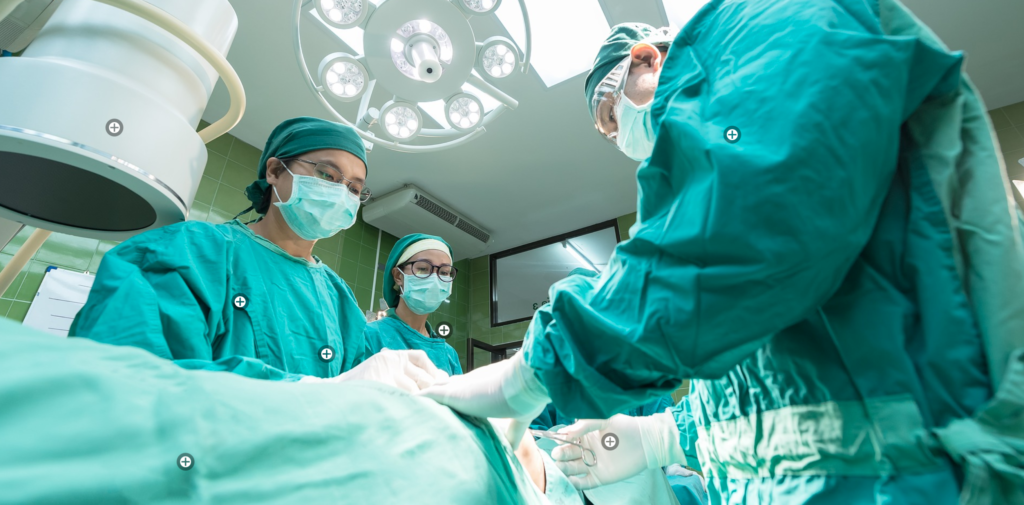 9 Use Cases for Interactive Media in Medical & Health Care Communication and Training
Medical and health care facilities, such as
hospitals, clinics, outpatient 
care centers
, and specialized 
care centers
,
are continuously evolving high-tech working environments that operate under specified rules and regulations shared with hundreds of workers and thousands of patients daily.
New remote learning solutions for medical training and health care communication are in high demand when equipment, regulations and recommendations need to be updated regularly — and often times in multiple languages.
Can medical students learn to operate a range or medical appliances and devices remotely? How can we help physicians to produce and share diagnostic imaging with colleagues and patients online? Is it possible to train diagnostic or communication skills remotely using 360 videos?
Featuring several use cases from medical technology and education service providers, hospitals, laboratories and public health organizations, this
 article shows how interactive images, videos, and virtual tours can be used to improve, not only patient experience, but also clinical training of
physicians and other healthcare professionals. 
1. Virtual tours of laboratories and treatment rooms
Virtual lab tours, similar to virtual campus tours, is one of the most popular an immediately useful application areas of interactive media in medical training. The first virtual tour of
SCC
Radiology Lab by Phil Baucom is a great example of how how a single image can include use instructions, in this case instructional videos, for each of the appliances in the room. The second example by Paul Driver is a virtual tour of an ambulance created for Emergency Medical Technicians (EMTs).
 
2. Health, safety and PPE training for health care workers and volunteers
One of the everyday challenges at hospitals and care facilities is having enough resources for training employees and volunteers about health and safety matters, such as the use of Personal Protective Equipment. This example of a virtual walk through in a hospital including safety and PPE training information was created by Jenny Taylor.
3. Maps, floor plans, and digital signage solutions
Interactive maps and floor plans on large touch screens can help patients to quickly get an overview of a physical facility, the location of different departments and services. The first examples is an interactive illustration of M.Y. Phoenix, a 40-metre vessel equipped with two Schiebel CAMCOPTER S-100 (drones), high-speed rescue boats and a fully-stocked clinic to provide emergency search, rescue and medical aid. The illustration was created by Doctors Without Borders and featured on the
MSF website.
Metrasens provides advanced magnetic detection and screening technologies to a wide range of sectors including medical facilities. This example features an interactive floor plan of a health care facility showcasing applications of screening technology for improving health security. The map is embedded on Metrasens' website.
4. Patient experience
Many patients, especially children, can feel anxious about visiting a hospital or other health care facility. For them, it can be helpful to see a 360-image of the reception area or treatment room before the visit. This example of a dentist treatment room was created by
Nearpod
.
5. Diagnostic imaging
Annotating diagnostic imaging such as X-rays with text and audio notes can not only help doctors to share diagnostic information with medical students and colleagues, but it can also help doctors to communicate with patients from different language backgrounds and reading abilities using integrated Immersive Reader. This example shows an X-ray image with embedded anonymized patient information and diagnosis.
Here is another example
of what may have happened to Ötzi, a
well-preserved natural mummy of a man who lived between 3400 and 3100 BCE.
6. Medical vocabulary
Starting from the basics, learning the names of the different medical equipment is part of clinical training. Here are three great examples by Idiomas on ThingLink of how simple image annotation can be used to learn medical vocabulary. Two other examples: Hospital units and Operation room.
7. Educational videos 
The main benefit of annotating educational videos for medical and health care training is the ability to provide students a visual learning experience with instant access to additional information at various stages of the video.
This example by Altzheimer 's research UK, walks the viewer through dementia using a video from patient's home. 
8. Virtual trainings for physicians and first responders  
If trainings cannot be arranged in physical locations, medical professionals and students can to certain extent practice patient treatment and communication in virtual trainings. In this example,
Savonlinna Vocational College
tested the use of 360 videos for training first aid responders.
9. Health protection and promotion in public health campaigns
The purpose of public health education is to help groups of people, from family units to large urban communities, by developing educational campaigns and programs to promote healthy habits and environments. Images and videos with interactive hotspots and even audio narration are an engaging, scalable and cost-efficient way to educate millions of people on important public health matters.
The first example features a collaborative project by Aviemore Medical Practice, local green health activity providers and other third sector partners,
which aims to develop a green health referral pathway through which patients could be 'prescribed' contact with nature for improved physical and mental health and wellbeing. The second image is an interactive guide to viral hepatitis by Doctors Without Borders featuring a pharmacist distributing medication at a clinic in the Harandi area of Tehran, Iran's capital.
Interested in testing ThingLink at your workplace? Sign up today or contact Andrew from our sales team at andrew@thinglink.com.