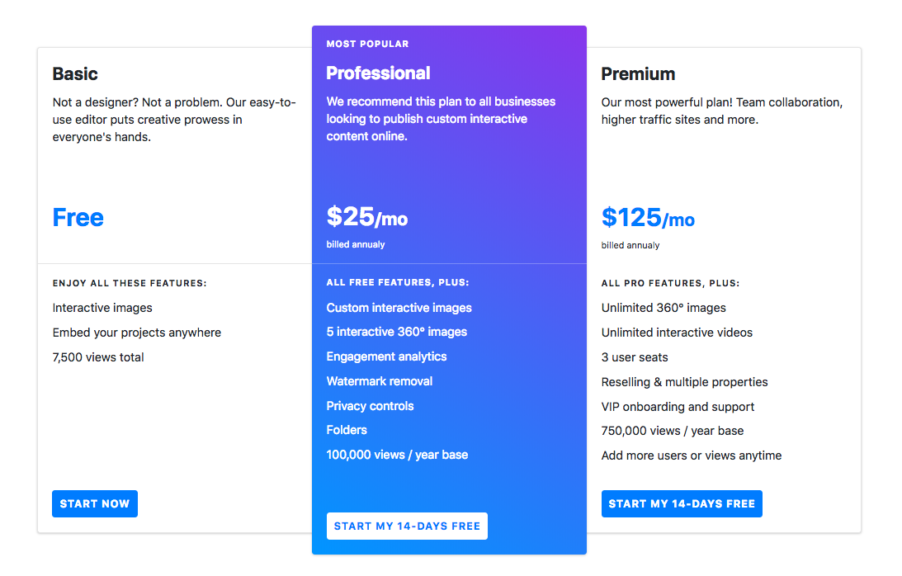 The New ThingLink Professional Plan Is Here: 10 Reasons Why You Should Get It
Have you been interested in creating interactive infographics and 360° experiences for your organization or customers, but could not yet commit to a full Premium plan? We have exciting news for you: ThingLink just launched a new Professional business plan that gives an individual content creator the most flexible and affordable way to get started with creating stunning interactive visuals!
Here are 10 reasons why you should get ThingLink's new Professional plan!
1)  Best price & quality: You will get the highest quality interactive 360° image editor on the market at the most affordable price. This plan includes five 360° experiences that can be linked to each other or published as separate campaigns!
2)  Get two for one:  ThingLink's new editor supports both regular and 360°  images, so you can create a variety of interactive assets: infographics, maps, timelines, product breakdowns, virtual tours, and more.  Browse the recent posts on the right of this page to browse live examples! 
3)  Anyone can use it: Our editor is the most intuitive and easy to use on the market and will save you time and money from looping in development resources, tech support, or third parties.
4)  Better ROI: With our new price, you can monetize interactive images and 360° experiences through customer campaigns with bigger margins.
5)  New tag templates for great mobile experience: Our new tag templates look gorgeous on mobile and respond to any screen size, including large touch screens and mobile VR headsets!
6)  Flexible usage: You can add more views as they're needed to align with seasonality or specific campaigns.
7)  More customization options: Match the look and feel of your business and clients with color styling, branding removal, custom icons and more.
8)  More audio options: You can now add an extra layer of immersion to your ThingLinks by incorporating audio within tags, or in the background of 360° images.
9)  Measurability: ThingLinks = engagement.  Measure the engagement of your images with an analytics dashboard detailing key metrics like clicks, hovers and time spent.
10)  Easy sharing: ThingLink content can be embedded into any website, LMS, and Microsoft Teams and OneNote environment.
We know you will love it, but if you want to test it first, professional comes with a 14-day trial that you can use with no-strings-attached and experience the added value firsthand!  If you have any questions about this new plan or need inspiration for how to use ThingLink for your business, email sales@thinglink.com.
{{cta('6c95297d-e18b-45de-b73b-5a064b157b32′,'justifycenter')}}
Watch this short video for an overview of our three plans: